Secrets of the Museum, BBC Two review - the incredible hidden worlds of the V&A |

reviews, news & interviews
Secrets of the Museum, BBC Two review - the incredible hidden worlds of the V&A
Secrets of the Museum, BBC Two review - the incredible hidden worlds of the V&A
From Leonardo's notebooks to superstar Dior dresses, they've got it all at the Victoria and Albert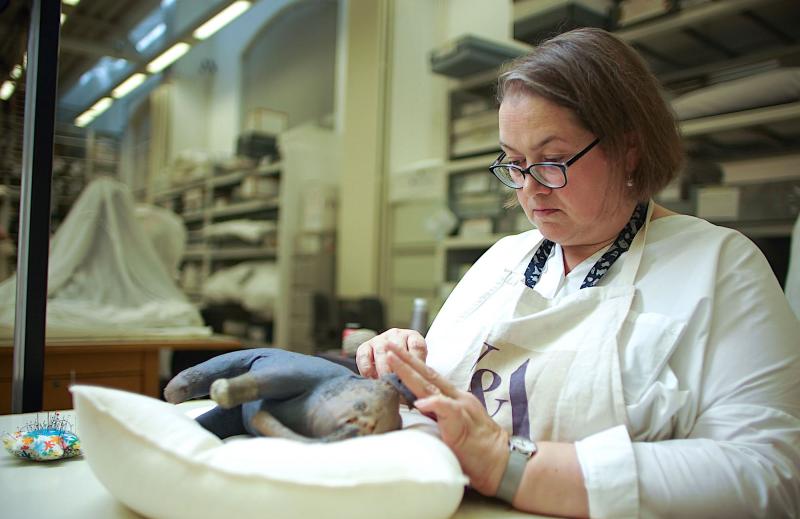 Conservator Jo Hackett restores Pumpy, the 120-year-old toy elephant
The nation's public attics – museums – hold a huge jumble of objects collected and used in all sorts of ways to tell us stories of past and present.
In this
BBC Two
film, we went behind the visible face of the Victoria and Albert, with its holdings of more than two million objects, to visit a complementary hidden world staffed by technicians, conservators and curators tending to their charges.
The breadth and depth of the collections were truly startling. Bethnal Green's Museum of Childhood, a branch of the V&A held the biggest collection in Britain of children's toys. We met the deeply tattered and wholly endearing Pumpy, a home made elephant soft toy replete in brass buttoned navel jacket. Pumpy, about 120 years old, had been loved too well by his original family of five Catterly children, and was literally falling apart: only one eye and one ear left, his trunk in a sorry state, and the moths had eaten his nose.
Nothing he was made of had been designed for longevity. In the course of our painless history lesson, we were reminded that a century ago soft toys were usually home made. He was about to be lovingly restored so he could be lent to the Wellcome Foundation's exhibition about play. It was five weeks of work by conservator Jo Hackett, who even found Pumpy's well-hidden tail. Special dyes were mixed to match the colours of his faded body, and he was put together using a plethora of special instruments including special curved needles.
There were also feats of detection. Charlotte Johnson was looking at a snuff box which has a lid with two 18th Century portrait miniatures of people as yet unknown. Comparisons with miniatures of other 18th Century aristocratic women, and visit to Ham House to compare with a large painted portrait of a Lady Carteret, and a full fledged biography of a leading beauty of the time – and mother of six – was fleshed out. And we were reminded that such miniatures were like celebrity photographs of today, although hardly mass media: gifts for the élite.
Over 170 dresses by Christian Dior are in the V&A collections, and before the hugely successful recent exhibition of Dior each had to be conserved – dresses for Rihanna, Natalie Portman, Nicole Kidman an Emma Watson were among them (Dior dress undergoes restoration, pictured above). The dresses had to be refreshed, and helped to fit with the customised mannequins who displayed them at the exhibition. Each mannequin took 40 hours of work to be the right shape to replicate the way the dress was worn in life.
Along the way there were passing glimpses into other riches: tiaras, costumes from Elton John, and Leonardo da Vinci's notebooks. We paused for 350 Victorian boxes of peep shows, made of paper. The peep shows were published souvenirs of experiences and places, mass produced, to recreate an event either as a memory for visitors or an insight for those who could not be there. The Great Exhibition of 1851 was one popular subject, and was here carefully taken apart and reassembled to give contemporary views of what was then the greatest show on earth.
And here was Kylie Minogue's dressing room from Wembley in January 2007, now in the museum's theatre and performance collection. The entertainer was filmed in situ for the Theatre and Performance collection, and her dressing room carefully preserved. It commemorated her homecoming tour after Kylie was diagnosed with breast cancer, and included even a hair piece of blonde curls, costumes, make up, and every bit of paraphernalia needed for the show. Its 226 objects are checked every year to make sure all is well.
The film made a subtle case for museums as the psychoanalysts of objects, the better to understand the society that made them. Would that humans could give such attention to each other! It was misleading, though, that all the chosen artefacts were from western Europe, even if Kylie hailed from Oz, because the V&A is a museum of the world.
The film made a subtle case for museums as the psychoanalysts of objects
rating
Share this article