Shane, Amazon Prime review - the outsized life and times of cricket's King of Spin |

reviews, news & interviews
Shane, Amazon Prime review - the outsized life and times of cricket's King of Spin
Shane, Amazon Prime review - the outsized life and times of cricket's King of Spin
Much-lamented Aussie legend tells the story of his remarkable career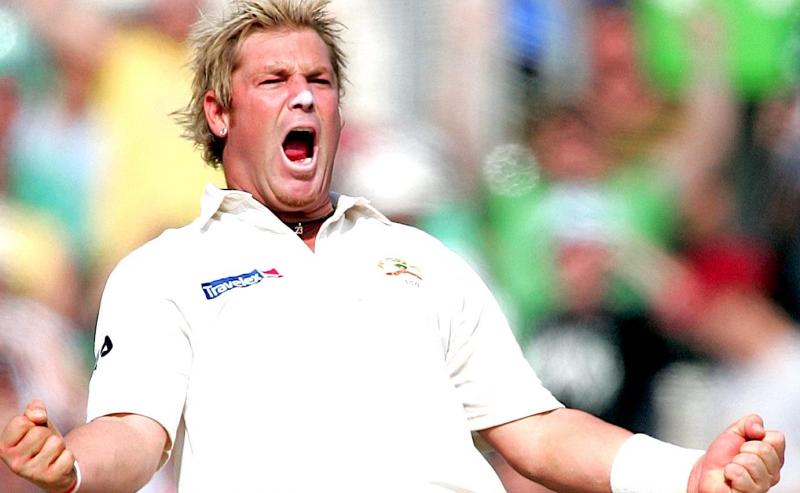 Shane takes another of his 708 Test wickets
Tragically, Shane Warne's sudden death at age 52 means that Amazon's new documentary about him has suddenly become an obituary as much as a celebration.
Directed by John Carey, David Alrich and Jackie Munro, Shane does a solid job of tracing Warne's ascent to cricketing glory, with contributions from an array of friends, teammates and family members. Best of all, there's plenty of input from the man himself, since the ebullient Warne was never at a loss for words either on or off the pitch.
As much as anything, his story was a powerful demonstration of mind over matter. Initially, he would have seemed the least likely candidate to become one of cricket's all-time greats, since in his youth he was besotted with Australian Rules football (where he earned the prophetic nickname "Hollywood"). He was crushed by the realisation that he'd never make a top-flight player, and friends surmise that it was the determination never to be second-best again that drove him onwards and upwards. Meanwhile he tried tennis for a bit, but he was no Rod Laver, or even Pat Cash.
An anarchic beer-drinker, hell raiser and fast food addict, who gained a wobbly 20 kilos when he played league cricket in Bristol for six months in 1989, he finally found his metier as a bowler of leg spin, perhaps the most arcane and difficult art in cricket. As Warne himself describes, leg spin makes ruinous demands on the body (not least because it forces the shoulder to rotate in an unnatural way), but if you can get it right it becomes a kind of magic. In Warne's hands – which had been strengthened after he broke his legs in a childhood accident, forcing him to drag himself around on a trolley using his hands and arms – leg spin became a terror weapon. He backed up his prodigious ability to make the ball curve, dip and fizz off the pitch like a striking cobra with a flair for drama and a dominating personality which frequently left opposition batsmen dazed and demoralised. As he says himself, "I wouldn't have liked to play against me. I was nasty."
The legendary delivery which bamboozled Mike Gatting at Old Trafford in 1993 naturally ranks high on Warne's trophy list – "it changed my life, that ball" – and in the film it's joined by a parade of classic dismissals where bewildered batsmen scratch their heads and wonder how on earth the ball started off over there and ended up crashing into their stumps.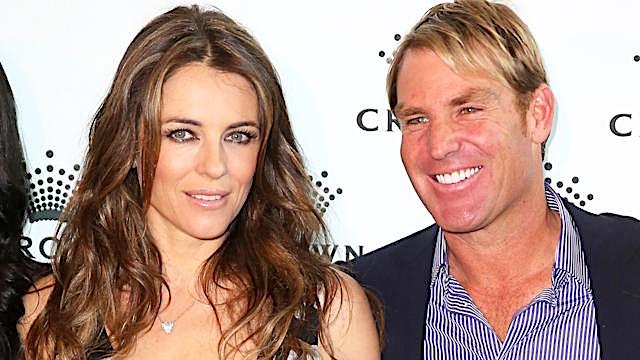 Whether umpires should have cracked down on Warne's outrageous theatrics is not addressed, but should have been. Even Warne admits that "I probably pushed it a bit too far sometimes." He tells the story of how he baited India's Sourav Ganguly into playing a suicidal shot by telling him he was boring the crowd to death when they'd only come to watch the scintillating Sachin Tendulkar, batting at the other end. Any delivery which didn't take a wicket brought a mime-show of disbelief from Warne, as if it were inconceivable that so inadequate a batsman could still dare to remain at the crease. When he was out there with the ball in his hand, as he puts it, "it was my domain, I owned it."
He knew he was brilliant, but he never claimed to be perfect. He's candid about the way he relegated his family to second place behind his cricket, while his numerous affairs drove his wife Simone away. When she landed in England to be with Shane for the 2005 Ashes tour, she was greeted by sheaves of tabloid headlines about his sexual infidelities, and promptly flew back to Australia. Yet his three children evidently doted on him, and he made a big effort to make up for lost time after he quit playing in 2007 (after helping Australia to a five-nil Ashes win over England). One of his daughters described how "he snores for Australia... he's just a dorky, blokey dad" (pictured below, Shane with his children).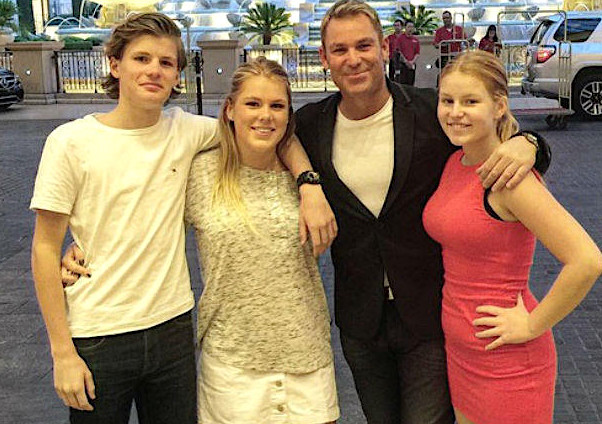 The film is careful to be revealing, but even more careful not to overdo it. His erstwhile fiancée Liz Hurley (pictured above) is barely glimpsed and not even named, and it glides rather gingerly around Warne's various scandals, like the one in 1994 when he took money from Indian bookmakers (Warne insists that he never indulged in match-fixing). His mum Brigitte helpfully cops the blame for giving him the banned diuretic which earned him a one-year suspension in 2003. Warne does, however, stick the boot in at some length to Pakistan's former captain Salim Malik who supposedly offered Shane $200,000 to bowl badly enough to let Pakistan save a Test match.
This may not be the world's finest sports documentary, but Warne was undoubtedly an all-time great, and some would even argue the greatest cricketer of all time. More recently, he proved himself a shrewd pundit and gifted commentator, too. The image of Warne, with his vivid blonde mane, streak of zinc cream across his nose, exuberantly waving another defeated batsman back to the pavilion, should be stored in a time capsule as a reminder of what Test cricket was all about.