The Test: A New Era for Australia's Team, Amazon Prime review - how ball-tampering scandal forced a cricket revolution |

reviews, news & interviews
The Test: A New Era for Australia's Team, Amazon Prime review - how ball-tampering scandal forced a cricket revolution
The Test: A New Era for Australia's Team, Amazon Prime review - how ball-tampering scandal forced a cricket revolution
Compelling inside story of coach Justin Langer's mission to rebuild the Australian side
Australia retain the Ashes at the Oval, September 2019
It was in March 2018 that Australia's cricketers were caught ball-tampering during a Test match in Cape Town. The resulting public outcry and sanctions against the guilty players and assorted backroom staff shook the Australian game to the core.
There was a sense that the team had developed a bullying, arrogant attitude, and this was their well-deserved come-uppance.
Australia's process of rehabilitation, with a rebuilt team under new coach Justin Langer, is the theme of Amazon's meaty eight-part documentary series, directed by Adrian Brown. If you're a cricket fan you won't be able to resist bingeing on this, because its intimate inside view of the turmoils of an international side is something we've never seen before (it makes last year's film The Edge look like John Craven's Newsround). However, there's no doubt that the carefully-structured trajectory of repentance and rehabilitation has been designed to elicit sympathy for our Australian cousins, which may irritate non-Antipodean viewers (pictured below, Steve Smith and Tim Paine).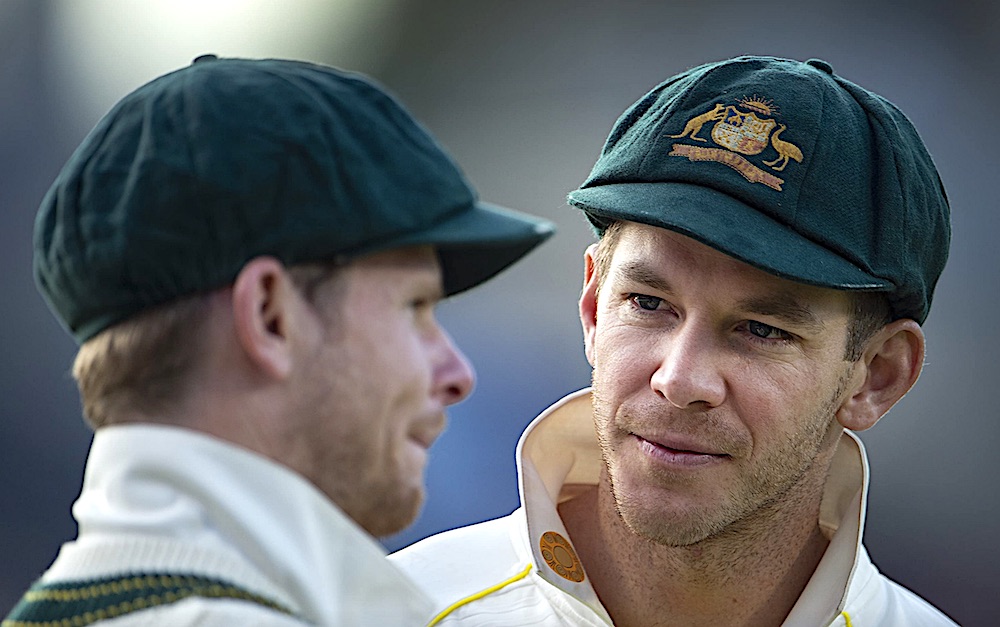 What many have found objectionable about the Australian team – apart from its habit of beating England far too often – is its mixture of outward self-righteousness and unscrupulousness on the field of play (former captain Steve Waugh, appearing here as a mentor to the current side, was the prime exponent of sledging and "mental disintegration"). We see the Australians reacting furiously to English crowds jeering and heckling Steve Smith last year, back from his 12-month ban for being the ball-tampering captain, but this must look hilarious to players who've been on the receiving end of full-on abuse from Australian crowds.
Langer maintains the Aussies' sombre tradition of visiting the war graves of their countrymen on the Western Front and Gallipoli to stir up some patriotic fervour, but bad-mouthing the opposition is no longer on the menu. He stresses that "there's abuse and there's banter. From this day forward, no more abuse." He wants his men to be "good citizens and good Australians", and in captain Tim Paine he finds a sympathetic and level-headed ally.
This new-look Australian side is still finding its feet, and we feel their pain as they suffer a five-nil battering during a one-day series in England in 2018, get hammered by Pakistan in the pulverising heat of the Gulf and get trampled underfoot by Virat Kholi's India in Australia. Andre Mauger's ubiquitous cameras skilfully capture many fraught and high-pressure moments, such as Langer haranguing batsman Aaron Finch for failing to review an umpiring decision which would have shown he wasn't out, lambasting the team for failing to press home their advantage "when you've got 'em by the fuckin' nuts", or laying into Paine's tactical errors during Ben Stokes's extraordinary innings in the Headingley Test match which transformed England's apparently inevitable defeat into victory (pictured below, Smith, Justin Langer and Pat Cummins).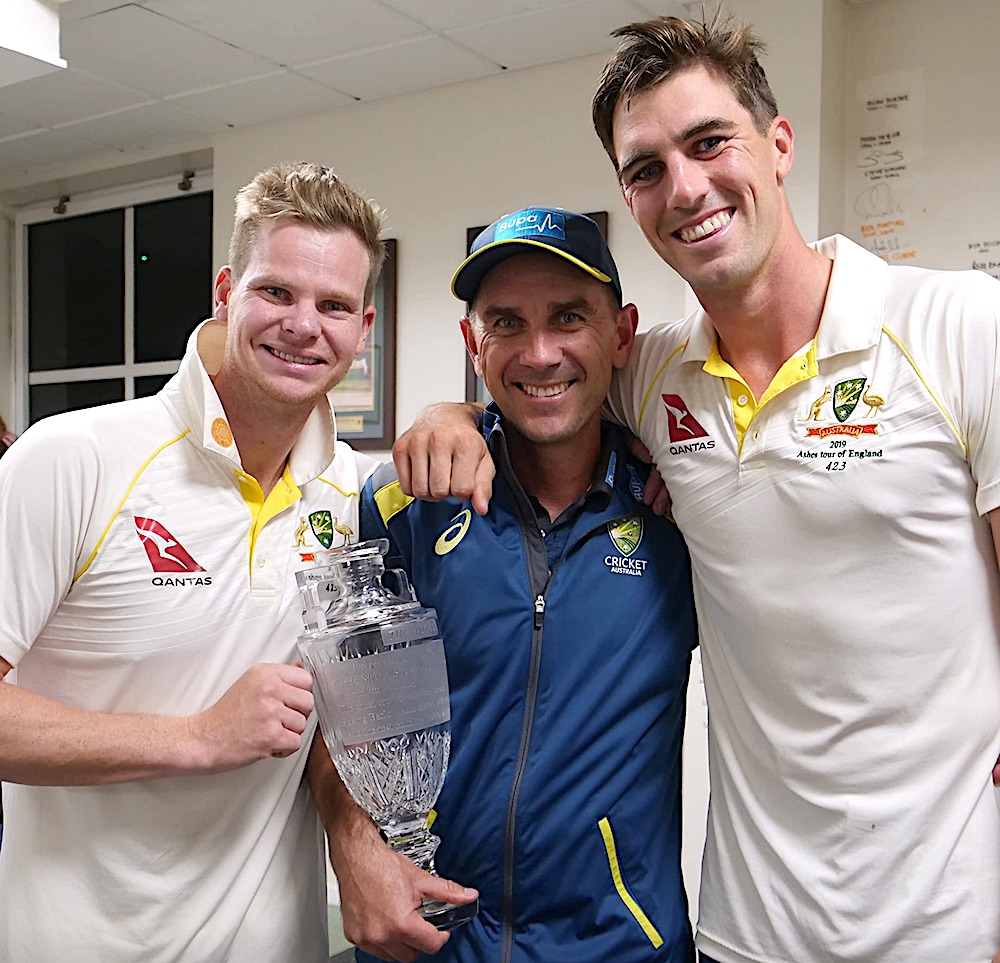 But the relationship between coach and team gradually evolves as Langer's carrot-and-stick approach bonds his inexperienced players together and begins to deliver improving results, notably the retention of the Ashes last year. A "team values meeting" hammers home mantras about "elite mateship" and "elite humility". The players, often bewildered by this strange new world, come across as likeable and straightforward characters, happy to admit they're not finding it easy. Batsman Travis Head describes confronting some disagreeably fast bowling: "I was scared shitless. It might look good on TV but it was scary."
Walk-on appearances by grizzled Aussie veterans like Ricky Ponting or Matthew Hayden make it apparent that this new team is indeed different from the way it used to be. The point is vividly made in scenes starring Adam Zampa and Marcus Stoinis, close touring buddies who look as if they're having a love affair, though it may be an elaborate practical joke. But let's face it, the traditional image of Aussie cricketers as stubbly, steel-jawed, gum-chewing macho men was crying out for an overhaul.