Strike Back: Silent War, Sky 1 review - bullets, bodies, baddies and a stolen atom bomb |

reviews, news & interviews
Strike Back: Silent War, Sky 1 review - bullets, bodies, baddies and a stolen atom bomb
Strike Back: Silent War, Sky 1 review - bullets, bodies, baddies and a stolen atom bomb
Mac McAllister and Section 20 are back to do what they do best
Action man: Warren Brown as Mac McAllister
Some things never change. About 60 per cent of this first show in Strike Back's seventh series consisted of Mac McAllister (Warren Brown) and his intrepid Section 20 squad mowing down members of a Malaysian triad gang with automatic weapons.
The triad people didn't help themselves by all wearing black suits with white shirts and running like lemmings into the line of fire, where they did a funny little jitterbug dance on the spot as they were pumped full of bullets.
But that's the way they like it in Strike Back world, where there isn't an imminent global catastrophe that can't be solved by hails of machine-gun fire and grenades, lots of insubordination towards senior officers who think they're in charge, and a quick bit of computer hacking that helpfully supplies all the information required to get the job done. Better still, get the opposition to do the computer hacking and then steal the results, as they did here by bursting into the high-security triad lair at the top of a Kuala Lumpur skyscraper, where tech genius Wan Shui (Chen Huen Phuei) had obligingly written down the required answers. To wit: the Russian Tupolev 160 aircraft which had crashed in the South China Sea had been carrying a 250 kiloton nuclear bomb. However, somebody on board had nicked the weapon, perhaps after familiarising themselves with Ian Fleming's Thunderball.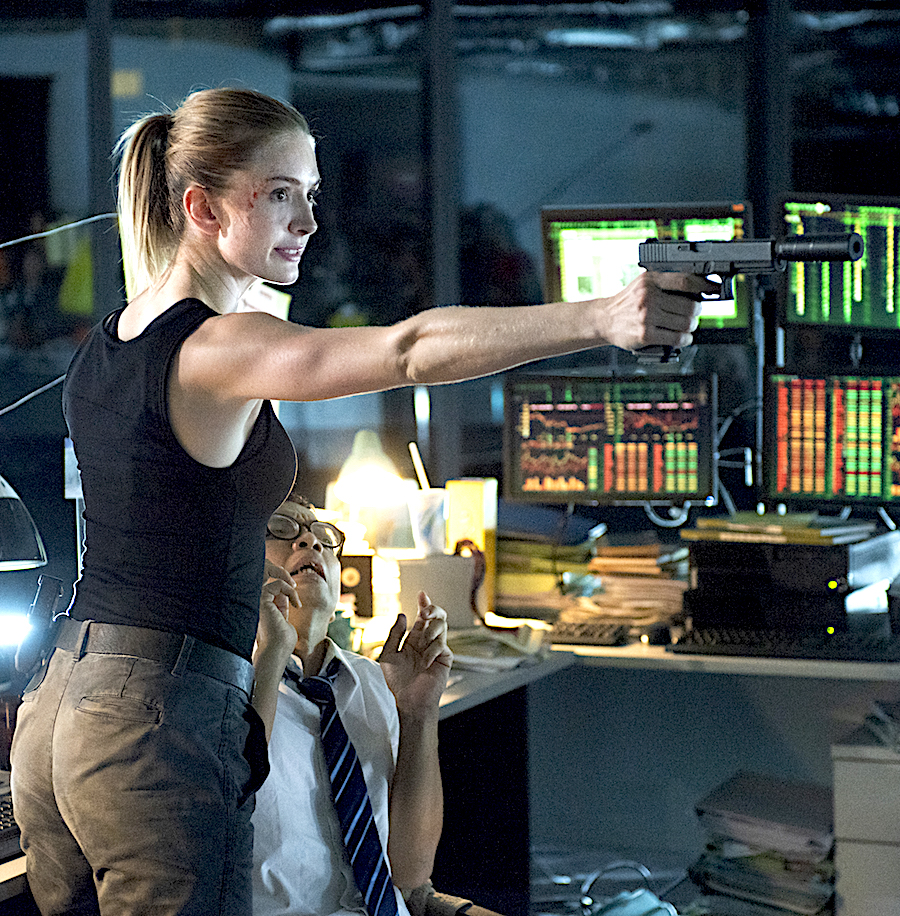 Section 20 have nine more episodes in which to track down the device, and somehow one suspects they will. In the meantime, we can enjoy the laddish banter between Mac and rugged American trooper Sam Wyatt (Daniel Macpherson, looking exceedingly manly in his Special Forces beard), and for that matter the equally laddish banter of the diminutive but super-tough Gracie Novin (Alin Sumarwata). This glossy, multinational Action Man franchise has been smart enough to keep abreast, if you will, of the #MeToo zeitgeist, and it looks like hard-boiled Gracie is going to have an entertaining sparring partner in the shape of glamorous Captain Katrina Sarkova of Russia's FSB (Yasemin Kay Allen, pictured above). After trying to kill each other during a long and bruising chase through the Kuala Lumpur subway system, they're beginning to rub along quite well. "Feel free to fuck off any time, Sarkova," rapped Gracie. Sarkova, who bears a passing resemblance to Jodie Comer's kinky Russian assassin Villanelle in Killing Eve, didn't seem to mind. Even though Captain Sarkova managed a quick soft-porn interlude with her pal Pavel (undeterred by her nasty shrapnel wound), a romantic entanglement with Gracie shouldn't be ruled out.
In other news, Section 20 have a new boss, Colonel Alexander Coltrane (Jamie Bamber), who struggles to keep a straight face as he tells them not to deviate from their orders or indulge in off-piste derring-do. Actually it's amazing what they get away with. After a torrid shoot-out at the secret lair of Sarkova and her Russian crew which left the building carpeted with corpses, Mac received only the mildest rebuke from local police chief Amy Leong (Ann Truong). As for McKitterick, the British High Commissioner, Ade Edmondson has grasped that all he's required to do is play Exasperated but Ineffectual Man in a Suit.