Mission: Impossible - Fallout review - brilliant summer blockbuster |

reviews, news & interviews
Mission: Impossible - Fallout review - brilliant summer blockbuster
Mission: Impossible - Fallout review - brilliant summer blockbuster
Indestructible Tom Cruise heads characterful cast in the best 'Mission' yet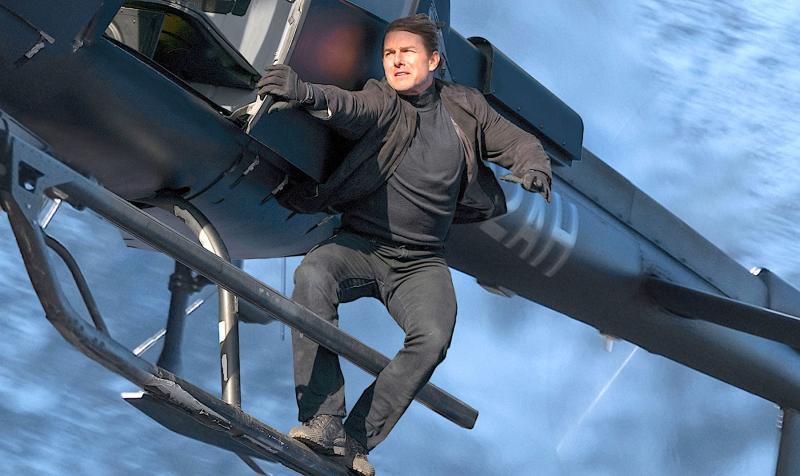 Ethan Hunt (Tom Cruise) still hasn't given up the day job
This is the second Mission: Impossible movie written and directed by Christopher McQuarrie, the first time any director has been called back for an encore on the series.
He did a smart job on 2015's
Rogue Nation
, but this time he has pulled out every stop to deliver an escalating frenzy of
action sequences
that frequently leave you wondering how the hell they did that.
The 56-year-old Tom Cruise continues to defy time and gravity. There's a batteringly physical rooftop chase in London where Cruise's Ethan Hunt has to make his way from the top of St Paul's cathedral to the pinnacle of the tower of Tate Modern. Cruise broke his foot while filming a leap between high ledges – the shot stayed in the movie – which is perhaps why the sense of a driven man dicing with death communicates itself so vividly. As the story progresses, car chases, banzai escapades on motorbikes and an astounding helicopter duel guarantee that this is one movie even the most jaded armchair critic will find it impossible to snooze through.
Plot-wise, it's a characteristic impossible-missions spiderweb of doomsday conspiracies and confusing multiple identities, played out by characters whose true motives remain unknown until (and perhaps beyond) the final reel. However, making a comeback is the morbid villain Solomon Lane, played with funereal wheeziness by Sean Harris, cloaked behind a beard that looks as if it blew in off a nearby garbage tip. Hunt and his regular sidekicks Luther Stickell and Benji Dunn (Ving Rhames and Simon Pegg) are on the trail of some stolen plutonium with which Lane's criminal cronies propose to perpetrate thermonuclear mayhem, in accordance with Lane's apocalyptic thesis that only the maximum amount of suffering will drive the greatest desire for peace. Hunt's first attempt to acquire the plutonium is scuppered when he's forced to choose between it and Stickell's life, which prompts some speculation about moral choice and the greater good. The theme of the personal cost of saving the world is reprised in a reappearance of Hunt's wife Julia (Michelle Monaghan), from whom he has separated to spare her from the repercussions of his ultra-hazardous career.
However, the film wears such brow-furrowing concerns lightly, and lifts the mood with frequent flashes of wit both visual and verbal. Pegg's Benji is a frequent source of obtuse, nerdish one-liners, while Alec Baldwin brings an undertone of ironic mischief to Hunt's boss Alan Hunley. By contrast, a fight scene between Hunt, his CIA ally August Walker (Henry Cavill) and a sinister Chinaman in the gents lavatory of Paris's Grand Palais triggers a kind of disbelieving hilarity through a berserk escalation of violence which reduces most of the building to rubble. Cavill, incidentally, is far more interesting as the taciturn Walker than he is as Superman.
Back from last time is MI6 agent Ilsa Faust (Rebecca Ferguson), a super-cool super-spy who's especially deadly in black motorcycle leathers (pictured below). New girl on the block is the White Widow, a glamorous socialite and arms broker. She's played with a kind of skittish ruthlessness by Vanessa Kirby (pictured top left), recalling something of her magnetic performance as Princess Margaret in The Crown.
There's enough meat in the characterisations to sustain some genuine human interest, which lends additional light and shade to the action sequences, but it's the latter which really stick in the mind, whether it's a thunderous Heat-style armoured car ambush beside the Seine or Hunt on a motorbike, hurtling the wrong way through the seething traffic around the Arc de Triomphe.
The narrative eventually propels the team to Kashmir, where doomsday can only be averted by Hunt's helicopter pursuit of the baddies, a scintillatingly-shot sequence in which the two aircraft swoop and plummet above steepling crags and fields of ice. The denouement threatens adrenalin-meltdown as the clock ticks down and the fate of the world hangs by a thread. If they had a competition for the all-time all-action blockbuster, Fallout would be in with a very plausible shout. Suck it up, James Bond.