Taking Control: The Dominic Cummings Story, BBC Two review - disruptive political maverick eludes pigeonholing |

reviews, news & interviews
Taking Control: The Dominic Cummings Story, BBC Two review - disruptive political maverick eludes pigeonholing
Taking Control: The Dominic Cummings Story, BBC Two review - disruptive political maverick eludes pigeonholing
How Downing Street's secretive adviser set out to create a revolution in Westminster
Sorcerer and apprentice? Dominic Cummings and Boris Johnson
This patchwork of interviews and comments from male journalists and politicians interspersed with clips from television news and films, from The Godfather to The Avengers, was a zig-zag narrative of Dominic Cummings's unique career as a political strategist.
Complete with portentous throbbing music, this
BBC Two
film was also a
Hamlet
without the Prince. Cummings was seen in moments from broadcast programmes or filmed addressing his troops, like a kaleidoscope reflected in the opinions of others.
Presenter Emily Maitlis elicited a variety of comments: he is fearless in his views (but what are his views?), antagonistic to bureaucracy, a myth-maker, a shaker-upper (is this an occupation?), a Renaissance man, and of course a genius. In early footage of him sauntering outside Parliament he had disarmingly boyish good looks – it was startling to see this unassuming student type confidently telling us that the Conservative Party was hopeless, needed to get a grip on basic politics and that Iain Duncan Smith was part of the Grateful Dead – and he graduated to the balding scruff of today, whilst always remaining unpredictably and mysteriously compelling. He has more or less invented his peripatetic occupation, that of a freelance political adviser and strategist, from special adviser to Michael Gove and now chief adviser at No 10 (pictured below, the young Cummings).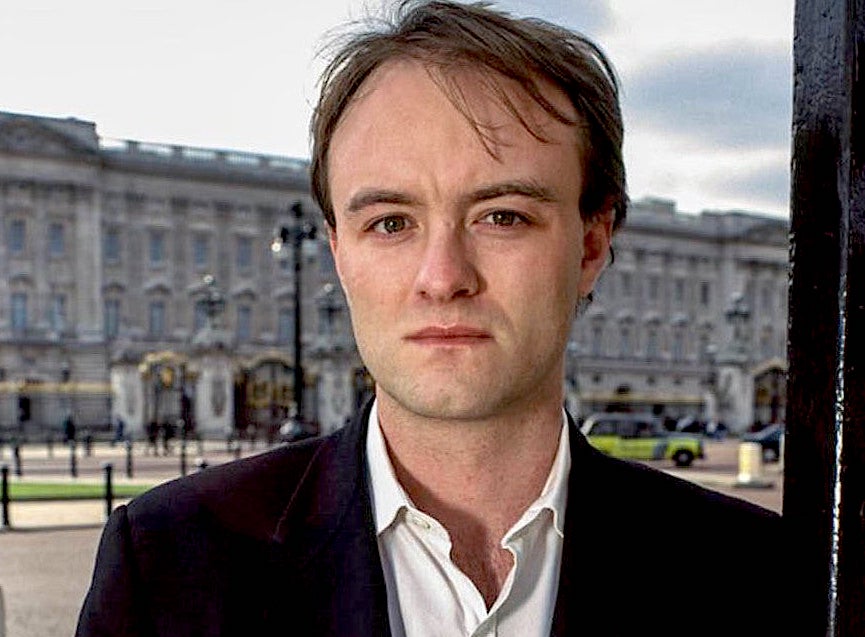 His EU battles brought Cummings to fame. He wanted to give Euroscepticism a radical new image beyond opposition to the euro. Peter Mandelson suggested the campaigns were careless with the truth, as Cummings suggested that the only thing less popular than the UK joining the euro was the Conservative Party. A confrontational campaigner, he displayed a sure touch in reframing issues and using provocative statistics to capture the public's attention. Communications we were shown could easily morph into propaganda, while Colin Perry of the CBI told an attentive Maitlis of an unpleasantly aggressive physical encounter. There were anecdotal accounts of intimidation and bullying in Downing Street.
Cummings was described as inventing a kind of punk-rock activism, thought that the Conservative Party did not take well to realism, and worked to find a core belief in radical deregulation. He was director of the New Frontiers Foundation, which in 2004 called for "end of the BBC in its current form"; he was concerned too with the biggest tribal movements of people from East to West, which became readily apparent in the fears stoked about Turkey's potential place in the EU; and while being in some measure part of the Establishment, he is cannily aware of the lack of awareness of the public on the part of politicians. He believes in the fewer politicians the better, and coined the phrase "politicians talk, we pay".
We then moved on to the Michael Gove years at education, and learned that the Gove-Cummings duo kept a photograph of Malcolm X as an example of someone who believed history was transformed by conflict and not by incremental change. The running theme throughout was that Whitehall was dysfunctional and that bureaucracy did not work.
He refused to appear before the Commons Select Committee to testify about fake news, seemingly continues to see Parliament as an impediment to the will of the people, and Brexit as the starting point for the reshaping of Britain.
What came across was the self-defined and original career of a high-functioning, incredibly bright maverick, but we were no closer to really understanding his beliefs, except in negative form. The rather melodramatic use of movie clips underlined that the narrative was really a fictional construct. Are we supposed to think of Cummings as Batman – or Robin? Or Dr Strangelove?
Capturing Cummings has certainly eluded the BBC. The wisest observation was that our politics are now in uncharted waters, and that for now at least Cummings is on board.