The Last Temptation of Boris Johnson, Park Theatre review - unwieldy at times but undeniably funny, too |

reviews, news & interviews
The Last Temptation of Boris Johnson, Park Theatre review - unwieldy at times but undeniably funny, too
The Last Temptation of Boris Johnson, Park Theatre review - unwieldy at times but undeniably funny, too
Jonathan Maitland skewers Brexit-era realpolitik and largely scores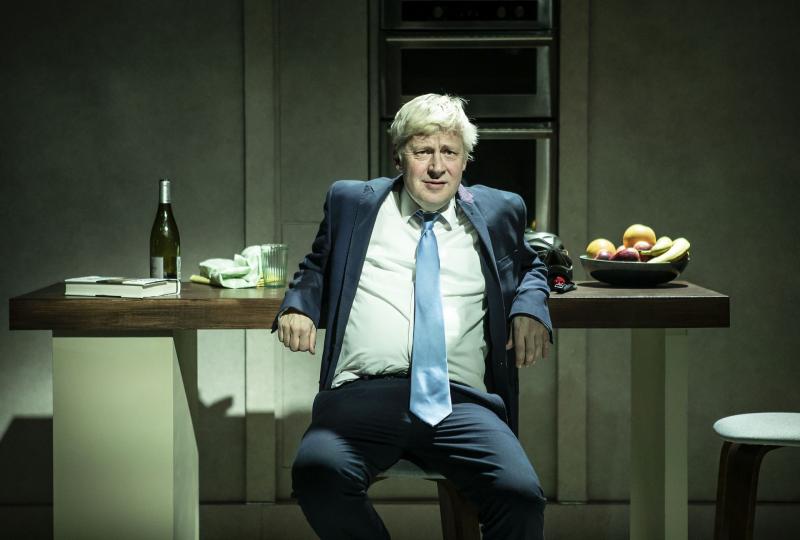 Imitation of life: Will Barton as BoJo
What could have been merely a cheap and cheesy piss-take registers as considerably more robust in The Last Temptation of Boris Johnson, journo-turned-playwright Jonathan Maitland's latest venture for his de facto home at north London's
Park Theatre on theartsdesk">Park Theatre. While one foot is surely planted in
Spitting Image
, a top-rank alumnus from which can be found amongst the cast in Steve Nallon, Maitland's vision of
Brexit
-era Britain now and to come owes at least as much to something like
King Charles III
(minus the verse). The result is as funny as one might expect and chilling, too, in its portrait of a megalomaniac whose forward march on history, one fears, is far from over.
BoJo goes to the theatre (I last saw him in the stands at Shakespeare's Globe), so who's to say whether he might not turn up to have a gander at Will Barton's portrait of a Latin-savvy lecher who will stop at nothing to advance his career? First encountered on that fateful date in Febuary 2016 when he decided to tether his wavering colours to the mast, Johnson reappears after the interval to mark the tenth anniversary of the day the UK was due to exit the EU, ie March 29, 2029. Cue Maitland's tactical authorial switch from recreating a decisive Islington dinner that has been chronicled elsewhere to his imagining of a country so wrongfooted and depleted in the intervening decade that Johnson is now advocating the newly-termed "Brentry" – a moniker that has the misfortune, affirmed from the stage, to sound like a place in Essex.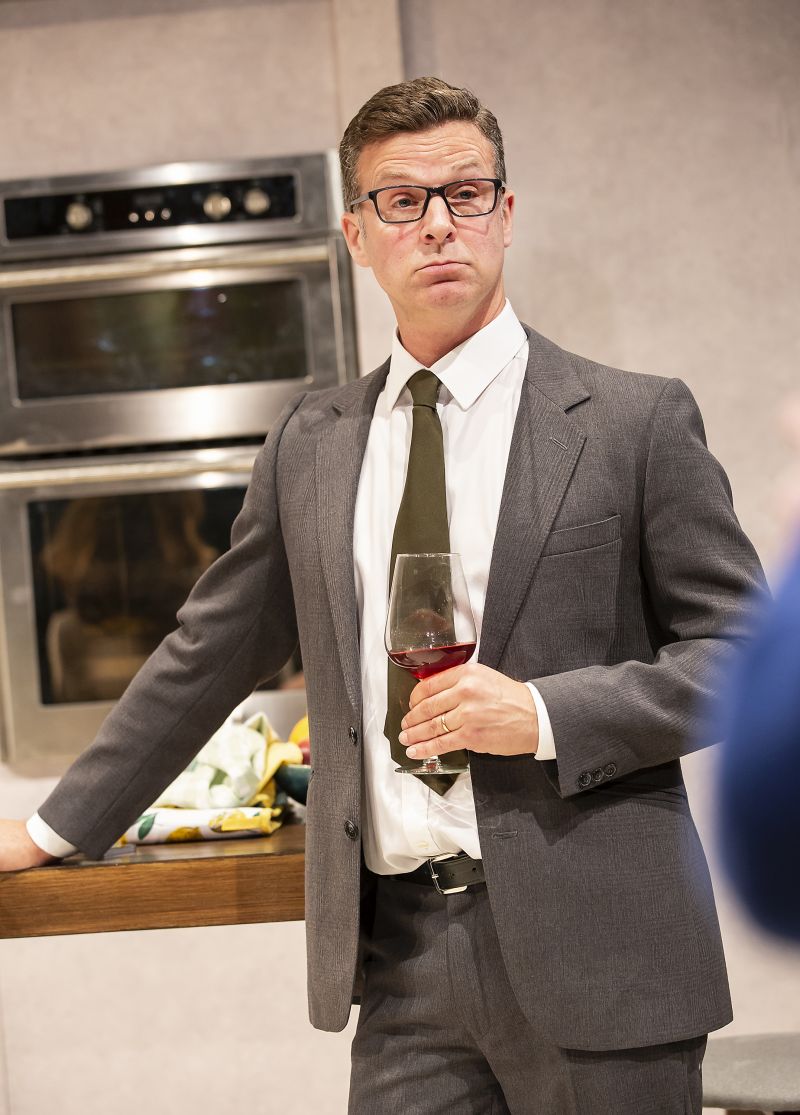 The Park is located in one of the most pro-Remain constituencies in the country, but Maitland remains commendably ecumenical in doling out his satiric jabs across the spectrum: a few lanced in the direction of Corbyn at last night's performance elicited the only actual gasps of the evening, and the playwright's vision of the fate of Jezza's memoirs has about it the very real sting of truth. At the same time, Johnson's own book fortune is here seen to be scuppered by the politico's rampant, roving eye, and Dugald Bruce-Lockhart does cunning double duty as both a bespectacled and notably prissy Gove (pictured right) and as the pragmatic literary agent, Jack, who alerts Johnson to the news that he has been replaced in the literary firmament by two of his female conquests.
Elsewhere, the lamb dinner being prepped by the pro-Leave lawyer Marina Wheeler (Davina Moon) is tackled with gusto by a guestlist that includes Mr and Mrs Gove and Yevgeny Lebedev (of Evening Standard renown), who (very funny, this) can't stop namedropping Dames even if some, like Vanessa Redgrave, haven't actually acquired that title. But like a certain Scottish thane before him, this BoJo must beat back spectres that here include Churchill, Thatcher and Blair, who collectively stalk the stage like an inevitably contradictory chorus. Nallon's Thatcher on this evidence would seem to know a thing or two about The Clash, while Tim Wallers's hilariously smiley Blair can't resist the temptation to wave at those seated in the circle. Included among a protean company many of whom field multiple roles with ease, Wallers completes a pitch-perfect trifecta as both a wine-wielding Lebedev and an omnipresent Huw Edwards, the latter depicted as the journalist Johnson loves to hate. (It's Edwards who lays waste to BoJo late on as a "selfish, opportunistic liar", as the play approaches its gloves-off finale.)
Through it all, Barton brays his way with genuinely Johnsonian sonority, and his eyes, too, possess the slightly imploring quality that endears some to London's onetime mayor. Lotte Wakeham's production delivers one great sight gag at the start as BoJo musses himself up in front of our eyes and then another, rather more dramatic scenic coup near the end which all but threatens to wipe out those seated in the front row. Such invention distracts from an occasional clunkiness to the script where characters tend to announce who they are for our benefit. At times, too, one feels a sense of too much information: I suspect I'm hardly alone in not wanting to hear BoJo's lovemaking in any context, however displaced such grunts may be on this occasion to the realm of "faction".
Still, there's value to be found in pondering both where we are now and where we are headed, and Maitland makes hay on both fronts. One feels at times a slackening of his earlier sharpness in some of the futuristic vistas laid before us: arguably the cleverest 2029 image of all consists of BoJo lying back while he lets his Alexa app do therapeutic duty. You leave this Last Temptation glad still to be able to laugh even if it isn't long into one's journey home before thoughts of the tellingly chosen exit music, "Highway to Hell", wipe any remaining smiles from your face.