What Remains, Series Finale, BBC One |

reviews, news & interviews
What Remains, Series Finale, BBC One
What Remains, Series Finale, BBC One
Gothicker and gothicker: bodies form an untidy pile in the house of secrets
Sunday, 15 September 2013
Keep practising, Len, may come in handy
A mouldered corpse, forgotten for years in a tottering Victorian house that teems with secrets? What Remains was only ever heading in one direction. Gothic from the off, episode by episode it got gothicker and gothicker. By the climax there was a messy Jenga of bodies, which was perhaps not unexpected, but did anyone guess quite how many characters would end up with blood on their hands?
Not ex-detective Len Harper, who was no closer to solving the case when he took the law into his.
Tony Basgallop's script, abetted by director Coky Giedroyc's eager eye for a creepy cranny, has pushed the unnerving hypothesis that everyboy's got something to hide. Working up from the basement, the inhabitants comprised a loathsome teacher harbouring a murderous psychopath, a recovering alcoholic journalist and (as of last week) rapist, a toxic teenager who would insist on hitting on his father's new girlfriend, a psychotic lesbian graphic designer keeping her sheepish partner captive by means of blackmail and rope, and a damaged ex-pupil bent on destructive revenge. Plus a highly pregnant home-maker (pictured below, Amber Rose Revah). Vidya alone had no secrets, unless you count the mystery of what first attracted her to a dopey sports shoe salesman with jug ears.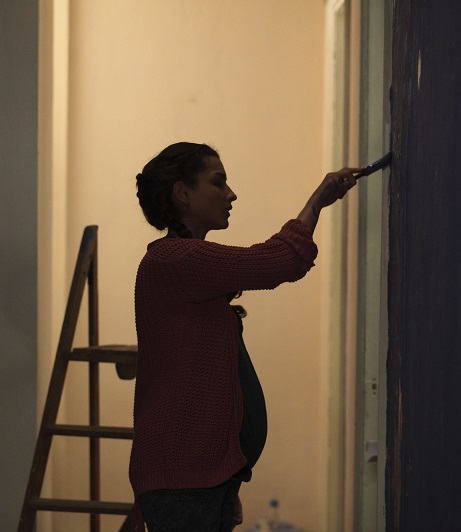 Got all that? And then there was Len Harper, harbouring his own guilty secret that he had recently retired from the force to hone his archery skills. (Just as well, it turns out.) That's a lot of secrets for one household - yes, even Len had moved in by the end.
Basgallop unspooled it all with perhaps a little too much fondness for misdirection. What remains of What Remains is the ultimate riddle of whether this really was about detection at all. We found out, but no one else did, who actually killed lovely unloved Melissa (Jessica Gurning) and left her to rot in the loft. On reflection one might have guessed in the very first episode when the culprit blatantly scarpered at the sight of the police swarming all over the premises.
Meanwhile the dysfunctional inhabitants of the ground floor worked out their differences without any further involvement in the case. The bolshy teenager's dad said he didn't like the person his son had become, and chucked him out. If all the residents had quit the building on grounds of unpleasantness there'd have been no one left in 8 Coulthard Street but for one amateur sleuth nearing full term and an ice-packed body in a bath.
While the plotting creaked like an old staircase, the acting thrummed and purred like a vintage motor. Indira Varma and Victoria Hamilton (pictured above left) explored the hellish nooks of possessive love without fear of hyperbole, while David Bamber's latest gargoyle was finally tinged with humanity. Adam Moss may want to watch it or he'll be typecast as a saturnine little teen runt in perpetuity – he was that convincing. As for dear old David Threlfall, he trumpeted his excellence through a mute, with no detectable hint of Frank Gallagher's ghost. Only Amber Rose Revah had a struggle putting flesh on the bones of the inquisitive but basically blank Vidya. No second series starring her, please. Otherwise, this was a guilty pleasure. But don't tell anyone.