What We Do in the Shadows, BBC Two review - the vampires of Staten Island are back |

reviews, news & interviews
What We Do in the Shadows, BBC Two review - the vampires of Staten Island are back
What We Do in the Shadows, BBC Two review - the vampires of Staten Island are back
Undead in the suburbs: Jemaine Clement and Taika Waititi's inspired creation lives on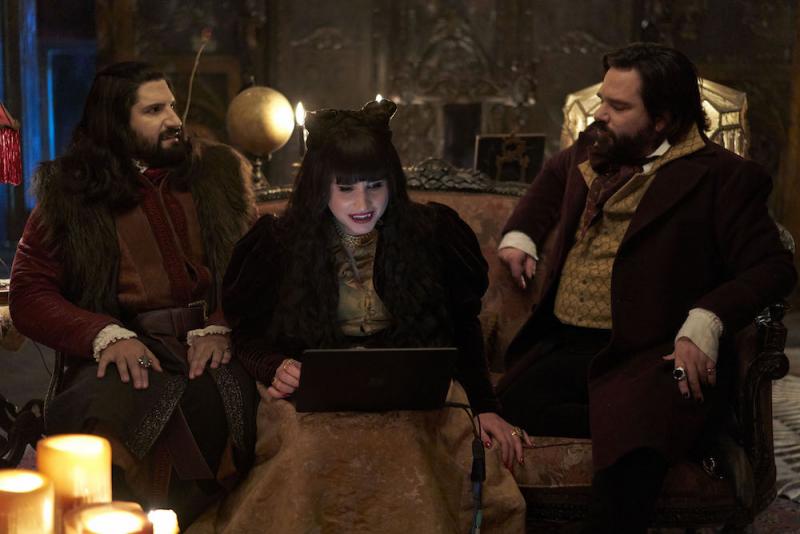 "This light box has cursed us": Nandor (Kayvan Novak), Nadja (Natasia Demetriou) and Laszlo (Matt Berry)
The first series of What We Do in the Shadows, Jemaine Clement and Taika Waititi's mockumentary about vampires in Staten Island (a TV spin-off from their cult New Zealand-located film) was a joy, and although it's a hard act to follow, it's delicious to be reacquainted with these timeless Transylvanian transplants and their mission to conquer the Americas. At least, that's what their master, a crumbling vampire baron, has told them to do.
Trouble is, as Laszlo (plummy-voiced Matt Berry;
Toast of London
,
The IT Crowd
) noted in the last series, the New World is "fucking massive". Best stick to Staten Island, then.
Living in dusty splendour in New York's most unglamorous borough are raven-haired Nadja (Nastasia Demetriou; Staph Lets Flats), her lustful husband Laszlo and heavily accented Nandor (Kayvan Novak), "relentless conqueror of thousands", now mainly reduced to dealing with Sean the human neighbour and council meetings about zoning ordinances.
The household includes Colin Robinson, always known by his full name, who is a beige-clad energy vampire (don't we all know one of those?) played by a superbly funny Mark Proksch (pictured below). He bores the people at the Department of Motor Vehicles so thoroughly that they end up just giving him a license. And there's plump put-upon familiar and would-be vampire Guillermo (Harvey Guillén).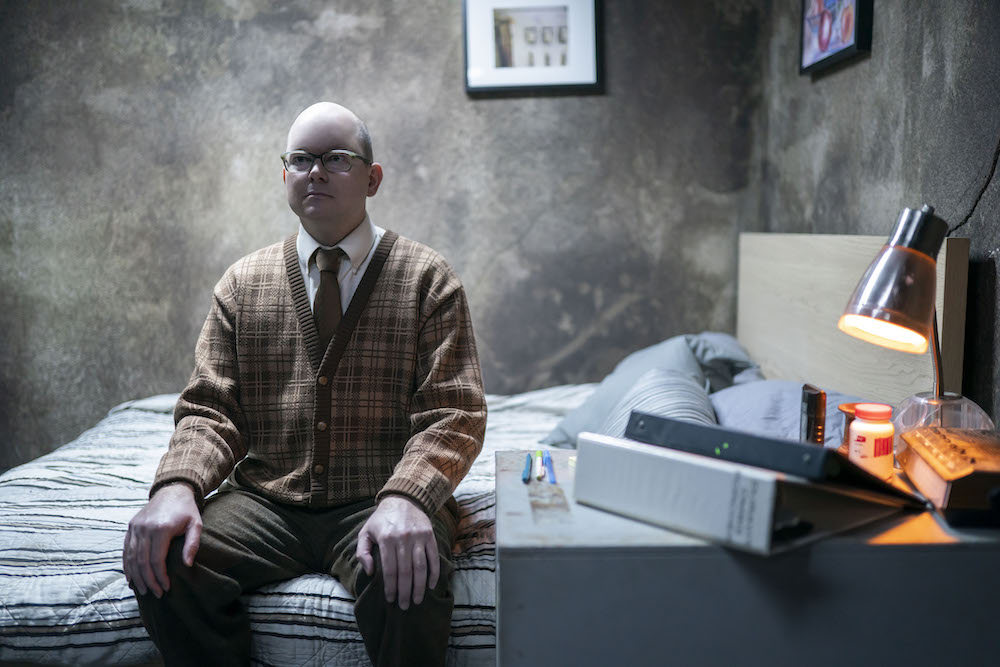 It's faithful Guillermo, in his buttoned-down shirt and patterned cardigan, who takes centre stage in the first episodes of the new series. He has his work cut out protecting his ungrateful master Nandor from an influx of malignant killer vampires. Nandor barely notices them because Guillermo's a dab hand with a wooden stake (he keeps a bunch of them, ordered from Amazon, in his fridge) and sees them off before you can say garlic. Strange, for such an enthusiastic acolyte, that he's so gifted a vampire slayer. Except we know from the last episode of series one that he's descended from Van Helsing. He remains in denial about the significance of this.
Some new characters come on board. Topher (Haley Joel Osment, pictured below with Harvey Guillén as Guillermo) is Nadja and Laszlo's new familiar (seven others have died in quick succession over the summer). He's a spoiled little hipster, endlessly high-fiving people, and he doesn't take the whole turning-into-a-vampire thing seriously enough for Guillermo's liking, but Nadja and Laszlo are enamoured by his resumé. "He's proficient in Excel and he went to Lehigh," says Laszlo, while admitting that they haven't "a whore's notion of what any of that means".
Topher soon electrocutes himself in the pond, in the tradition of his predecessors, but his employers are so fond of him that they get Nadja's old pal Wallace, a necromancer (Benedict Wong), to resurrect him from the dead. Wallace keeps getting distracted by text messages while he's casting the spell, and the result is not a success.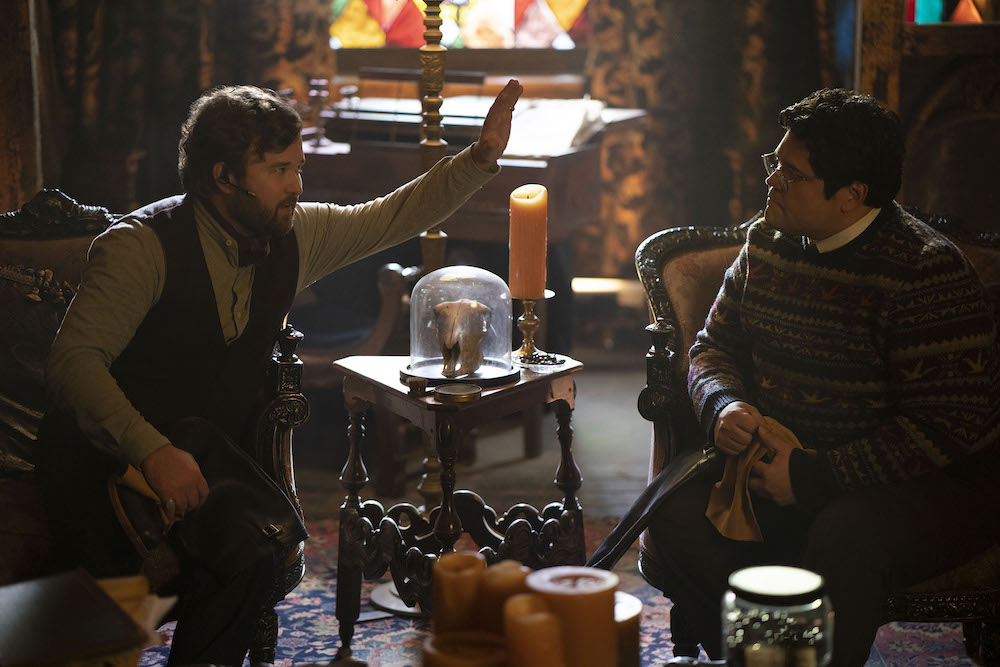 Clement and Waititi attract celebrity drop-ins: Tilda Swinton, Evan Rachel Wood and Wesley Snipes featured in an episode in series one, and Beanie Feldstein was a scene-stealer as student Jenna, the newly minted, deeply confused virgin vampire (Nadja bit her). Sadly she's not in the new series and there's no one who quite takes her place, though Mark Hamill appears as Jim, a visiting vampire with an ancient grudge against Laszlo, who's so threatened that he runs off to Pennsylvania, chosen because "it sounded like Transylvania". It's distinctly unsettling to see him in a new environment. What's more, he's a volleyball coach.
The winning combination of the mundane with ancient vampire lore (John Likens's graphics are inspired) never fails: Nandor's fondness for the Tide to Go pen, so handy for cleaning blood stains; Nadja's despair at the toxic masculinity of the Ottoman empire; the vampires' terror at a chain email that appears in Nandor's Hotmail account and has to be sent to ten friends or foes by sunrise; and the Superbowl party at neighbour Sean's house (Nandor and co are under the impression that it's a Superb Owl party in honour of their favourite noctural bird). May they stay forever young. Oh, that's right, they will.