Beuys' Acorns, Bloomberg Arcade London review – not much to look at, but important all the same |

reviews, news & interviews
Beuys' Acorns, Bloomberg Arcade London review – not much to look at, but important all the same
Beuys' Acorns, Bloomberg Arcade London review – not much to look at, but important all the same
An installation that could make a difference
Beuy's Acorns by Ackroyd & Harvey installed in Bloomberg Arcade
The City of London is an ecological disaster. Around Bank, Mansion House and Cannon Street there's scarcely a green leaf to be seen. Glass, steel, concrete and tarmac create an environment that excludes plant life, birds and insects and is detrimental to human health.
Everyone in the Square Mile seems to be ignoring the twin disasters of air pollution and climate change – everyone, that is, except Bloomberg. Over the summer, they are hosting Beuy's Acorns, an installation of 52 saplings grown by artists Ackroyd & Harvey (Pictured below right). They harvested the acorns from trees planted by German artist Joseph Beuys in 1982, when he challenged the citizens of Kassel, West Germany to improve their environment by introducing 7000 oak trees.
Since 2007, Ackroyd & Harvey have been carrying on the good work by taking Beuy's Acorns to galleries, museums and other institutions around Britain and France. Planted in pots, the saplings are arranged along the Bloomberg Arcade (main picture); there aren't enough of them to humanise this nasty space and they will be in situ for only seven weeks, but their purpose is to promote awareness of the urgent need for action.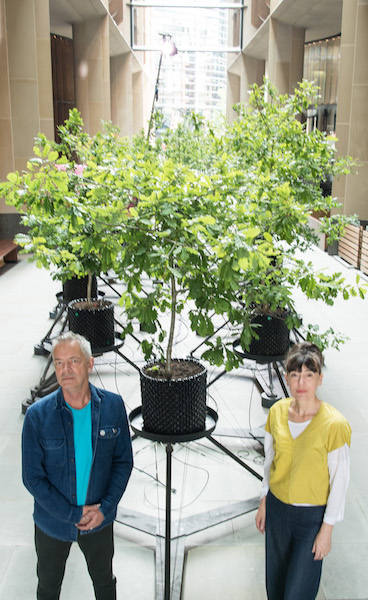 Everyone knows that trees reduce air pollution, combat climate change and soothe the nerves of stressed out employees. So why isn't the City of London Corporation urgently planting them outside schools and along main roads, and why aren't banks and other businesses planting trees and shrubs in atriums and on balconies, and creating rooftop gardens wherever feasible?
Yesterday, the Tate declared a climate emergency and pledged to adopt green measures throughout their galleries and stores. This, they say, "is just the beginning in our determination to effect and inspire change." Beuys' Acorns is part of London's National Park City Festival and maybe these joint initiatives will prompt the City to follow Tate's splendid example. They could save vast amounts of electricity, for instance, simply by turning down the central heating in winter and switching office lights off at night. Then they could begin planting trees.
The purpose of Beuy's Acorns is to promote awareness of the urgent need for action on climate change
rating
Explore topics
Share this article