Cathy Wilkes, British Pavilion, Venice Biennale review - poetic and personal |

reviews, news & interviews
Cathy Wilkes, British Pavilion, Venice Biennale review - poetic and personal
Cathy Wilkes, British Pavilion, Venice Biennale review - poetic and personal
Deeply personal sculptural installation muses on different generations of women and passing time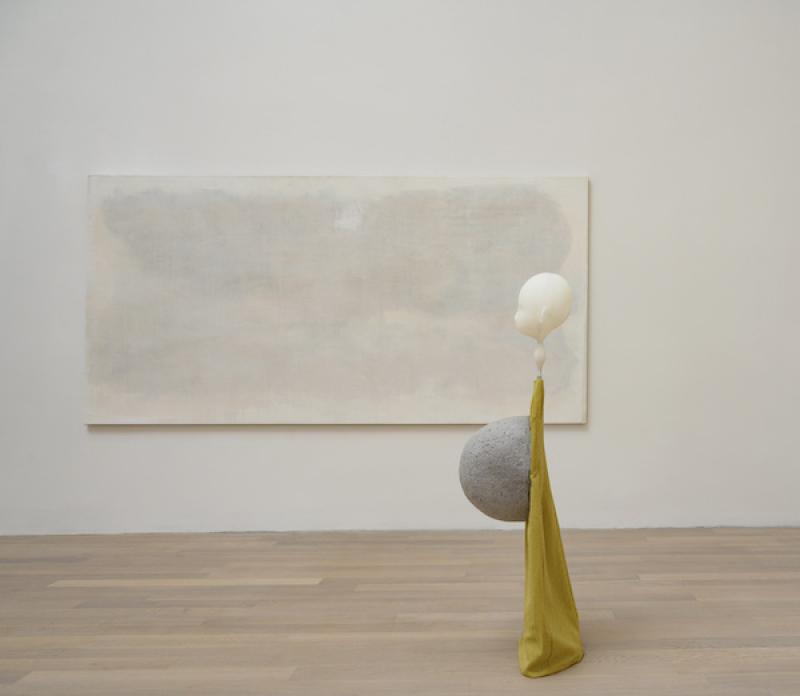 Cathy Wilkes 'Untitled', 2019 (detail)
Dried flowers like offerings lie atop a gauze-covered rectangular frame. Pebbles surround its base alongside plaster casts, a desiccated dragonfly and an animal foot charm. Their placement is purposeful; their exact significance unclear. Four rib-high figures with moon faces, sausage string necks and wafer-thin bodies face the frame. Three wear golden gowns like devotees or disciples; all bear pendulous, darkly bellying stomachs before them over their clothes.
From the first room of Northern Irish artist Cathy Wilkes' installation for the British Pavilion in Venice, it is clear this is a highly personal
exhibition
.
Through six "creations" across six rooms, Wilkes places objects including porcelain plates, ripped lace, otherworldly human figures and grimed towels into staged arrangements that imply a kind of modular narrative. An air of melancholy suffuses the show – or the sense of time held in stasis like the memory of a lost home. Aside from a short text by Wilkes in the catalogue, little information is provided. Certain concerns are more pronounced however, with the exhibition touching on themes including motherhood, tedium, obsolescence and loss.
The mental and physical preoccupations of motherhood come to the fore in the third room. A central figure stands on awkwardly curled toes, her green dress pinned with tiny photographs of an Eastern European boy furiously eating soup. At her feet, two amputated hands pack up grimed towels – the fear of dirt and hunger which might assail a child are set against the relentless, immolating cycle of laundry and cleaning.
In this context, a mother is both guardian and servant to her child, but the following rooms offer a different perspective. With one wall made entirely of glass, claustrophobia eases, breath and perspective return. A child figure on the right balances a painting on the left. Between the two are glass objects and the sense is of mother and child having attained a fragile peace. Two paintings hang on perpendicular walls in the next room suggesting equality and common understanding – taken together these rooms suggest the extent of pain and sacrifice necessary to attaining mutual respect between mother and child.
However, Wilkes discourages merely sequential readings. She refers in the catalogue to quantum entanglement – whereby "An atom here among us and another atom in a far away galaxy are inseparable epitomes of the same", which feels somehow like a comment on the distance between women of different generations – and plays with visitors' experience of space, allowing chance happenings to intrude. The pavilion's entrance is its exit, so to leave involves retracing the exhibition – a passage laden with implications of undoing and rewriting, doubling and repeating. And by eschewing artificial illumination in favour of subtly modulated skylights she opens up the exhibition daylight, to the diurnal and seasonal cycles. Scudding clouds and flashes of sun change the appearance of each room from moment to moment – visual shifts imply emotional ones, both equally out of control.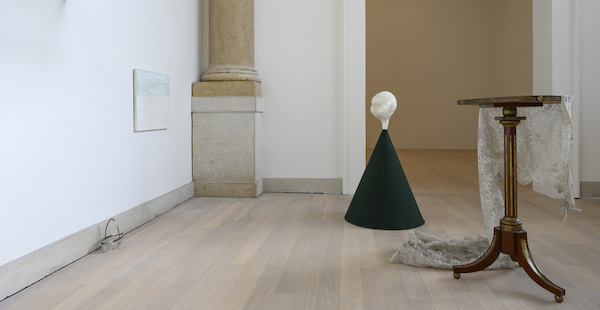 While the exhibition plays with opposed concepts, Wilkes refrains from placing them into conflict, instead preferring to counterpoint or overlay them. "I […] am every atom unfolding from the womb," she writes, simultaneously conjuring a child and a cancer, both of which "nucleate". The frame's gauze in the first room could be a shroud or a baby's muslin comforter, or even both – it recurs in smaller form in the sixth room; the blue tint of the pavilion's custom-laid floor brings out the grain of the wood, simultaneously exposing its growth and evoking dead driftwood abraded by tides. Development and destruction, memory and movement are held in balance throughout.
Like poetry, each item in Wilkes's installation is important; ritual appears to have attended their placement. By refraining from speaking explicitly about her work she invites viewers to draw their own conclusions; through this, with care and attention, a deeply personal work becomes moving to many more. Not everyone will fall for this year's pavilion, but in the frenetic heart of the Biennale, Wilkes's work rewards attention and commands a slower pace.
Like poetry, the placement of each item in Wilkes's installation is important; ritual appears to have attended their placement
rating
Share this article