High Spirits: The Comic Art of Thomas Rowlandson, The Queen's Gallery |

reviews, news & interviews
High Spirits: The Comic Art of Thomas Rowlandson, The Queen's Gallery
High Spirits: The Comic Art of Thomas Rowlandson, The Queen's Gallery
Skewering the mores of his age, the caricaturist is as much comedian as satirist
Napoleon and Death: 'The Two Kings of Terror', 1813
"High Spirits" is a multi-layered title: the caricaturist Thomas Rowlandson (1757-1827) was himself a heavy gambler and a heavy drinker, continually using up his material assets in such pursuits. His high spirits extended to the Georgian society he satirised with such robust good humour; high society and even low society attracted his interests, while he also expended enormous energy detailing political and sexual intrigues.
So while the 17th century Dutch are busy drinking and eating and being in general enthusiastic consumers in several gorgeous rooms at The Queen's Gallery, this is a complementary exhibition looking at Hanoverian society a century or more later in the form of 100 vivid prints by Rowlandson. He took on not only the reign of George III, but that of George IV as well. Both monarchs were collectors, the Prince Regent the most assiduous; later even Victoria acquired some Rowlandsons. The Royals have over 1,000 of his prints.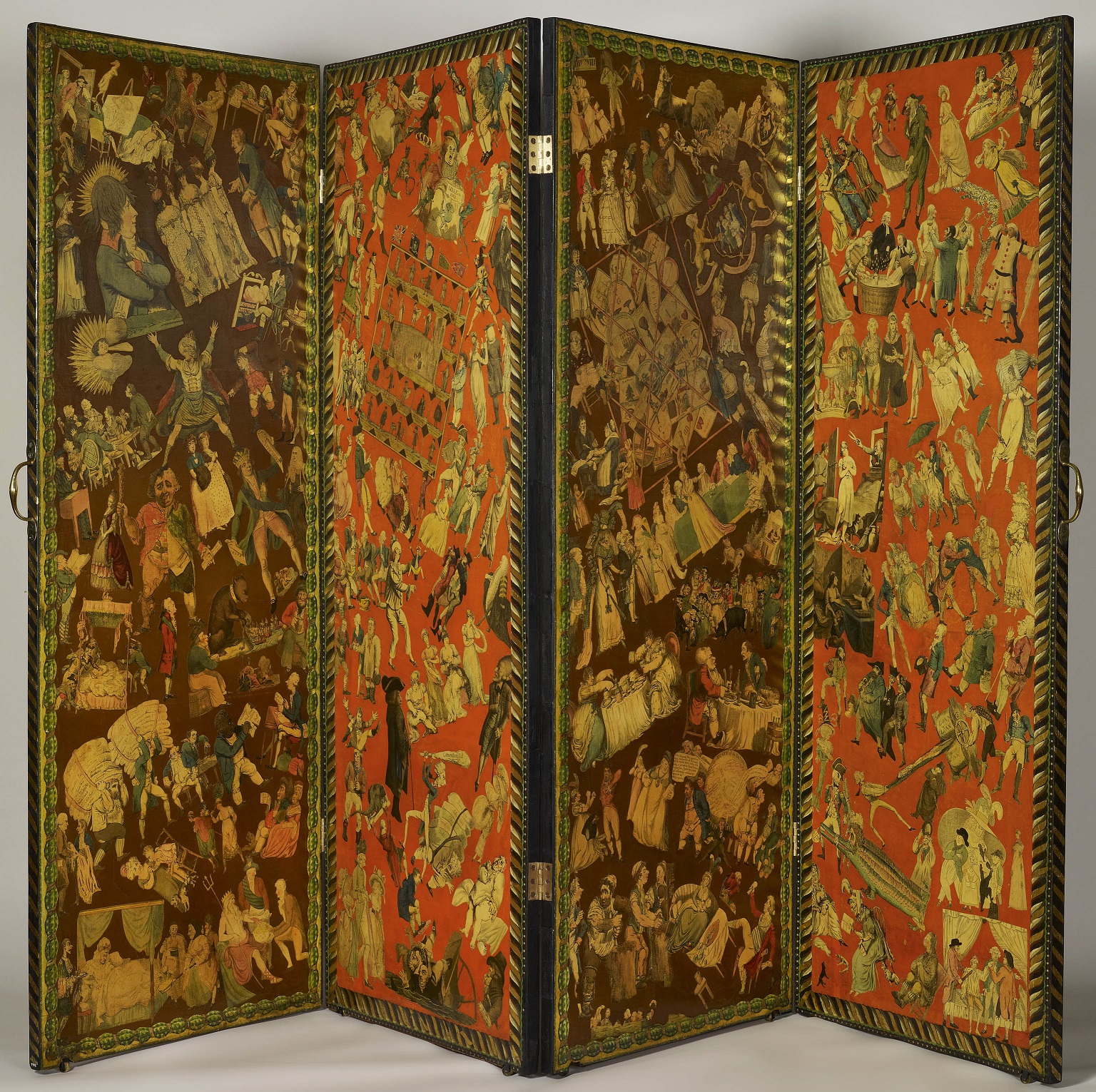 No Gillray nor even a George Cruickshank, Rowlandson is more a comedian than a satirist, but this procession of recognisable characters in all their eccentricities and foibles is fascinating nevertheless. He seems motivated more by affection than by rage. These are not merciless lampoons in a merciless age, and their underlying amiability, even oddly perhaps a kind of sympathy with excess, may explain why the Royals so happily collected his work, even during a time of attempted censorship by the Prince Regent.
The print-shops flourished in Georgian London, and no stratum of society from the highest to the lowest was spared an appearance; the edginess and anger of some of the leading cartoonists are hardly matched even today. There is something of that when Rowlandson touches on the Napoleonic wars in his most edgy and disturbing image in The Two Kings of Terror, showing Napoleon and Death, as a skeleton, together after the Emperor's defeat at Leipzig.
Rowlandson had a sophisticated education, including six years at the newly-founded Royal Academy Schools. His gift for draughtsmanship, his clever and rapid response to political and social events, and his lucrative connections with print publishers, imprinted his view of blowsy, self-indulgent men and women – characteristically exaggerated, either obese or emaciated – on the chattering classes, the literati glitterati of the day. Each image can be and is dissected in terms of a wealth of sources and allusions in this detailed exhibition. The upper classes collected the very images that lampooned them – the parallel today might be the readership of Private Eye: they were kept in portfolios, or mounted and hung in print rooms, and even made into so-called decorative scrap screens, of which there is an example in the show (pictured above).

The dissolute Prince Regent and his brothers were natural subjects; the notorious Duchess of Devonshire, wearing a superb feathered hat, in a novel public activity is depicted kissing all-comers – particularly butchers – in exchange for their votes for Charles James Fox, the Whig rival to William Pitt the Younger. And, of course, John Bull turns up.
Chaos at the theatre, and the reactions of theatre audiences to comedy and tragedy, not to mention total dismay at having to listen to an oratorio (above, Sketches at - an Oratorio!, 1800), are a rich field. Other favourite subjects include drunks, fashionable dress, and the corruption of characters such as the Duke of York. The Napoleonic wars are inescapable – they extended for 22 years. And Rowlandson was prescient: The New Property Tax Paying His Respects to John Bull, commemorating the extension of the income tax which had been introduced by Pitt to help pay for the war, indicates how the tax will affect the poor far more than the rich.
The whole is a comic fleshed-out history of his day, detailing excess and foolishness in colourful lampoon. Their immediate appeal was necessary for their commercial success and that appeal triumphs over the fact that 250 years later we need detailed captions to appreciate the nuances of Rowlandson's amiable savagery.
Gallery: click on first image to begin
The upper classes collected the very images that lampooned them - the parallel today might be the readership of 'Private Eye'
rating
Share this article