Ice Age Art: Arrival of the Modern Mind, British Museum
Ice Age Art: Arrival of the Modern Mind, British Museum
Unmissable collection of fragments finds art at the heart of prehistoric life
Wednesday, 06 February 2013
Tip of a mammoth tusk carved as two reindeer depicted one behind the other (13,000 years old approximately). Montastruc, France
Prehistory – human life before written language - enters art's mainstream with this seminal and eye-opening exhibition. This one-off show, amplified by excellent labelling and atmospheric lighting, is enormously ambitious: the largest anthology of portable prehistoric European art there has ever been, unprecedented in its scope with artefacts from museums in Russia, Germany, France, and the Czech Republic, homes to the greatest of the sites.
(Although 40,000 years ago Britain was attached by land to the rest of Europe, the place was evidently too cold for human migration and survival.)
On show are the oldest known representations of animals and people, free-standing sculptures - some tiny, others easily held in the hand, a few slightly more substantial; engravings on stone, carvings, some in swirling patterns, to decorate tools and weapons, and flutes made from bird bones and ivory.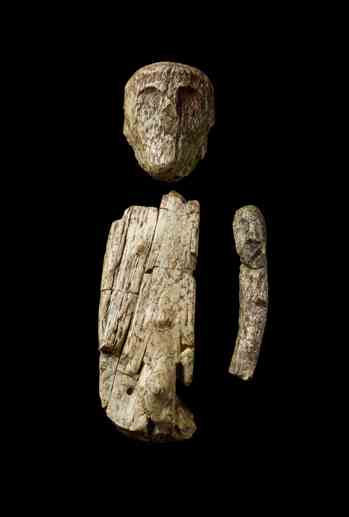 The Ice Age cave paintings of France and Spain are now shut to tourists, and their substantial sculptures and friezes cannot be moved, so this is probably the best chance actually to see some of the most important, significant and beautiful examples of the oldest European art. What is on view has travelled through time but now hardly ever travels on loan: ancient bone, mammoth ivory, wood, clay is immensely brittle and therefore immensely fragile. (Pictured right: The oldest puppet or doll, made of mammoth ivory. On loan from Moravian Museum, Anthropos Institute.)
The thesis of this examination of art of the ice age in Europe – an awesome 20,000 to 40,000 years ago – is that it was human minds physiologically like ours today which both observed and conceptualised the world around them, captured the look of living creatures and by artistic exaggeration and stylisation, created an emotional impact.
Art is also evidence, and it is the material culture that remains
This is an exhibition that decisively indicates the centrality of art to human life. We know very little about the beliefs and social structures of these early human groups, who had migrated to Europe out of Africa. We have their burial sites, their skeletons, and we know something of their environment: the vast icy plains, the shelters in caves and under cliffs and overhangs. But art is also evidence, and it is the material culture that remains. And these small groups of hunter gatherers must have valued it. Contemporary scholars have, by imitating the techniques involved and recreating the tools, estimated the large number of hours involved in the creation of individual objects. The makers, they conclude, must have been supported by their peers, their labour seen as essential, not superfluous.
We mostly do not know for whom – shamans, say, or tribal leaders – or what rituals the objects under scrutiny were used for; but even a remnant of a hunting weapon, utilitarian as it was, could be decorated. So the anthology is in part a three-dimensional detective story with no definitive answers.
Scholars can only speculate about the tantalising and amazing array of fat female torsos, small in size, monumental in effect. How enormous these mothers are, how brilliantly modelled, even imagined: it is difficult to imagine any inhabitants of the Ice Age having in reality an ounce of superfluous flesh. But the carved women – some of them pregnant - have vast pendulous breasts, great bellies, and huge backsides: were they fertility symbols, talismans, homages, made for good fortune by women for women, or by men? The bodies are powerful, imposing, even overwhelming.(Pictured left, the oldest ceramic figure in the world: modelled figure of a mature woman from Dolni Vestonice. On loan from Moravske Zemske Museum. Brno)
The oldest holding in the British Museum is The Swimming Reindeer, discovered in France in the 1860s, some 13,000 years old and showing a male and female in the posture adopted by the animals when swimming, and carved from a mammoth tusk with a full understanding of its shape and properties. Each object, be it a flying bird, leaping lion, mating deer, bison, mammoth, wild horse – conveys deep respect for these creatures and a feeling for the way they moved. Human survival depended on them.
The compound impact of these fragments is curiously affecting. The point is brilliantly made that although we can have hardly any glimpse of the reality of these far-off lives, there is a continuum to human concerns: how humans navigated their world, and how thousands of years ago modern man began to express that in art.
So-called primitive art from prehistoric to tribal had been seized on by the avant garde of the early 20th century. So the British Museum amplifies Ice Age Art with a Mondrian drawing of trees, a Henry Moore sculpture, a photograph of Picasso in his studio with his collection, and Matisse drawings. The idea that the objects of prehistory have much to show us has been gestating for quite a while, and here reaches an apotheosis in this unmissable display.
Click on the images to enlarge
The carved women – some of them pregnant - have vast pendulous breasts, great bellies, and huge backsides
Explore topics
Share this article