Making Modernism, Royal Academy review - a welcome if confusing intro to seven lesser known artists |

reviews, news & interviews
Making Modernism, Royal Academy review - a welcome if confusing intro to seven lesser known artists
Making Modernism, Royal Academy review - a welcome if confusing intro to seven lesser known artists
Women artists in Germany describe their world in paint
Saturday, 12 November 2022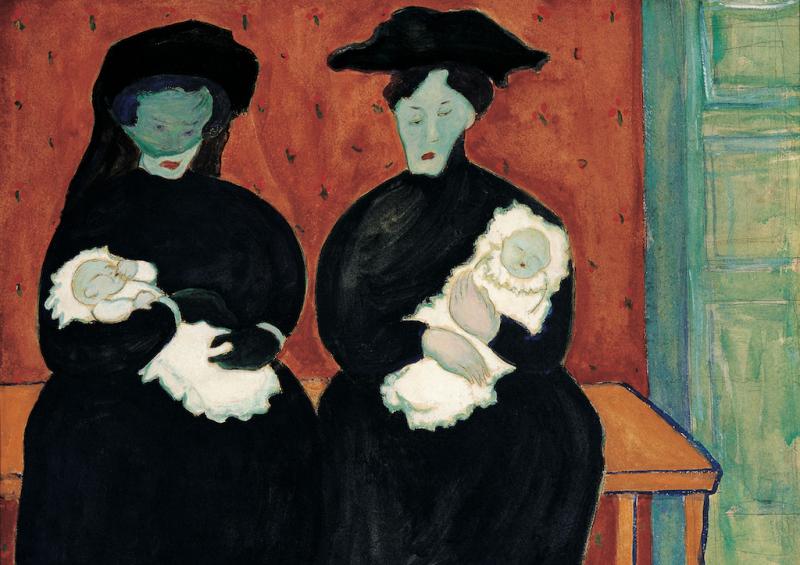 Twins, 1909 by Marianne Werefkin
The Royal Academy's Making Modernism is a welcome introduction to seven women painters working in Germany at the beginning of the last century.
It wouldn't surprise me if you'd never heard of Gabriele Münter, Marianne Werefkin and Paula Modersohn-Becker even though they enjoyed international reputations during their lives, since their male counterparts (Kandinsky, Klee, Jawlensky and Macke) are not well known here either.
Käthe Kollwitz may be a more familiar name; her harrowing prints and drawings are so powerful they knock the spots off everything else here. One of her most famous etchings, Death and the Woman 1910 shows a life-and-death struggle between a mother, a skeleton that is dragging her towards an abyss of darkness, and her child who desperately urges her to cling onto life. Kollwitz was married to a doctor; most of his patients were factory workers in a poor part of Berlin, so she witnessed first-hand the toll that poverty can take on health and happiness. And she had her own share of anxiety and sorrow; her son Hans nearly died of diphtheria, her son Peter was killed in the First World War, and her grandson Peter died in WWII.
Her ability to transform actual observations of people into archetypal images whose intensity is like a kick in the gut is revealed in a moving juxtaposition. A tender drawing of a mother gently cradling the head of her sleeping daughter hangs beside Woman with Dead Child 1903, an etching of a woman clutching a lifeless body (pictured above). Grief and rage are engraved in every inch of her hunched form; she is Everywoman, helpless in the face of death.
With half a gallery devoted to Kollwitz, it's just possible to grasp the breadth and depth of her achievements. But the show is arranged according to themes such as Ourselves and Others and The Century of the Child, the work of the other artists being split between them, which makes it hard to engage with them individually.
When it comes to Paula Modersohn-Becker, this is especially frustrating. She died at the age of 31, soon after childbirth, yet in her short career produced over 1000 drawings and 700 paintings. Her somewhat bewildering array of styles encompasses beautiful portraits resembling Renaissance frescoes, nudes inspired by Gauguin's Tahitian women, an affectionate close-up of her husband Otto asleep and nude self-portraits whose chunky forms look as if they are carved from wood (pictured right: Mother with Child on her Arm, Nude II, 1906). The first woman to be honoured with a museum dedicated solely to her work (in Bremen), she clearly merits a solo show.
Some wonderful paintings are included, but it's easy to overlook them; lumping the artist together like this does no one any favours. Gabriel Münter's impressionistic Self-Portrait of 1908 is a delight (pictured below left); so is her painting of a young Willi Blab sitting in front of an ultramarine wall. The unease suggested by the boy's anxious eyes, clenched fists and awkward pose anticipates Soutine's portraits of children by some 15 years.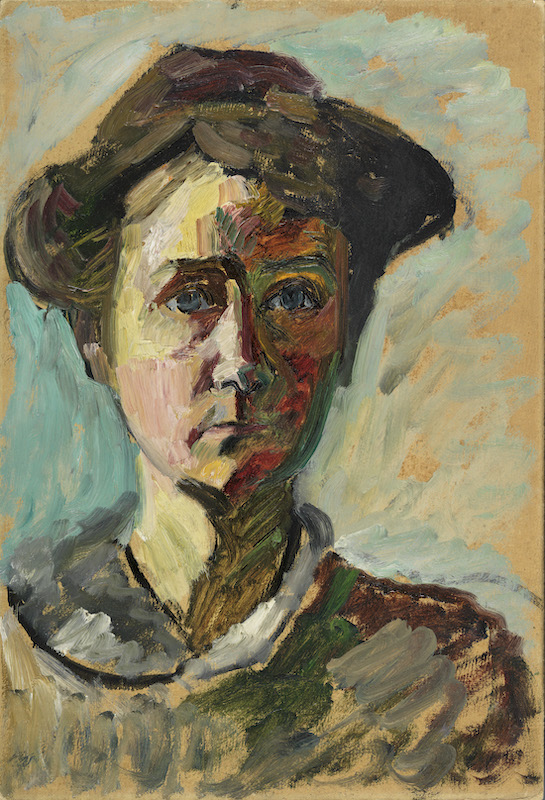 There's humour too. Hanging nearby is Marianne Werefkin's somewhat sinister painting of infant twins (main picture). Swaddled in white, the babes are cradled by two women dressed in black, whose sour expressions suggest extreme displeasure with the new arrivals. Whereas male depictions of mothers and children tend towards the charming and sentimental, this and other views from inside the domestic sphere suggest far more complex and conflicted emotions.
Sitting on the tram, Gabriel Münter spotted a woman with a pile of parcels and a pot plant on her lap. Back in the studio, she turned the encounter into Still Life on the Tram (After Shopping) 1912 – cheekily claiming this insignificant moment as a fitting example of one of painting's oldest genres.
At a time when women were meant to be content with the role of self-effacing hausfrau, these brave artists were not merely claiming the right to a voice, but also asserting that their experiences of their world were just as valid as any man's. So it's a shame that they are still being treated as lesser mortals. I don't think any institution would dare to lump their male counterparts together like this in a single exhibition.
Some wonderful paintings are included, but it's easy to overlook them; lumping the artists together does no one any favours
rating
Explore topics
Share this article