Paula Rego: Oratoria, Marlborough Fine Art |

reviews, news & interviews
Paula Rego: Oratoria, Marlborough Fine Art
Paula Rego: Oratoria, Marlborough Fine Art
Grisly goings-on in works that delve deep into the human psyche
I must admit that I enjoy killing things and, since the target of my murderous instincts are clothes moths, fruit flies and, occasionally, rats or mice, society condones my bloodthirsty instincts. But while I get some satisfaction from my exploits, the women in Paula Rego's drawings and prints appear to go about their murderous business with a mixture of resignation and detachment. These things have to be done, their world-weary faces seem to say, let's expedite them with as little fuss as possible.
The main difference, though, is that their victims are human; a series of large pastels shows a woman dispatching unwanted infants down a well. The well stands in the centre of each picture; it looks more like a bathtub or a cauldron for boiling clothes or cooking stews than a well, which makes one wonder if the babies aren't also being stewed and puts cannibalism on the agenda alongside murder. Other drawings detail the events preceding this horrible crime – a rape followed by a clandestine birth endured alone under a full moon.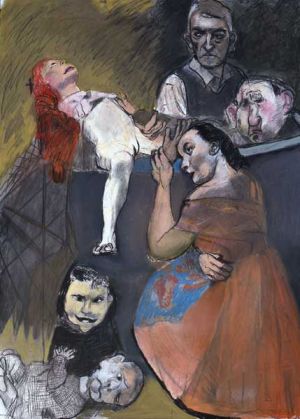 Rego showed some of these drawings last January at the Foundling Museum in London. The first shelter established in the capital for unwanted infants, the museum provides poignant reminders of the harsh realities that led desperate mothers to abandon their babies on the streets of 18th-century London. Needless to say, though, Rego does not limit herself by referring to any particular time or place. There's no need; the theme has universal application, since scarcely a society exists where the sexuality of women and girls is not viewed as a commodity to be exploited, often by those who should be protecting them.

Rego's images of sexual abuse would be unbearably grim if it weren't for the surreal characters she introduces alongside normal folk. The murderess at the well is accompanied by a bonneted crone, whose face resembles a crumpled mask, and a dwarf of indeterminate age who seems to be keeping a look out while holding the next victim. Or is she cradling a doll? Such deliberate ambiguities make it impossible to tell whether we are witnessing a real happening, a mythic event, or a scene from one of the grisly fairytales that Rego loved hearing as a child. Most likely it is a mixture of all three.
Visual puns lend further spice to these wicked tales. In
Well
, a bucket containing two babies is being lowered next to a red-haired girl (or doll) with well-developed breasts who leans back, as though luxuriating in the water. Her red hair flows in a torrent towards where an infant with its brains dashed out lies in a pool of blood the same colour as the hair. Such macabre details lend the scenes a carnivalesque air of debauchery reminiscent of James Ensor and his leering masks; in such a climate, one suspects, evil doers avoid the repercussions of their actions.
In
The
Overseer
(pictured above right)
, another young redhead shares a tub with an elderly man whose hands are being guided towards her virginal body by a hard-nosed man and a resigned woman – her parents, perhaps. The girl seems blissfully unaware of the sacrifice she is about to make for the sake of her family, including two boss-eyed halfwits in the foreground.
Tubs also feature in a group of etchings printed in monochrome, then hand-tinted in various colours. In
Steering the Boat
(pictured left)
, a woman paddles a flimsy craft with robust determination, while two infants cling to the stern. In
Guardians
(pictured below)
, she foolishly puts her trust in two protectors rising from the water – a slatternly madonna and child, who tweaks the tongue of a dragon draped round the neck of a shifty-looking cleric. These seedy characters are unlikely to safeguard her from the malevolent woman hanging on to the stern.
It's impossible to decipher with any certainty the goings-on in these wonderfully rich images. One thing is certain, though; the women and girls portrayed may have been misused but they, in turn, are no better than they ought to be and are as willing as any man to exploit their sisters. In Rego's world abuse begets further abuse, depravity spreads like a virus and stupidity breeds ever greater idiocy. She lifts the lid on the human psyche and, dredging the depths, discovers untold levels of brutishness that she makes palatable by clothing it in the colourful costume of the carnival grotesque.
For the Foundling Museum show, Rego built an altarpiece with a bench containing a motley collection of dolls dressed in Foundling Hospital uniforms; but the sophistication and ambiguity that make the drawings so deliciously perverse is lost in three dimensions. The dolls are surrounded by drawings, the most powerful of which shows a mother dangling her baby upside down; it brings to mind the photograph of Michael Jackson suspending his child from a hotel balcony and the drunken mother in Hogarth's etching
Beer Street and Gin Lane
whose baby slips from her lap to certain death. Hogarth was one of the founding governors of the Foundling Hospital and Rego follows ably in his satirical footsteps.
Explore topics
Share this article