Pioneering Women, Oxford Ceramics Gallery online review - domestic pleasures |

reviews, news & interviews
Pioneering Women, Oxford Ceramics Gallery online review - domestic pleasures
Pioneering Women, Oxford Ceramics Gallery online review - domestic pleasures
A survey of female potters explores ancient ubiquity and the allure of pure form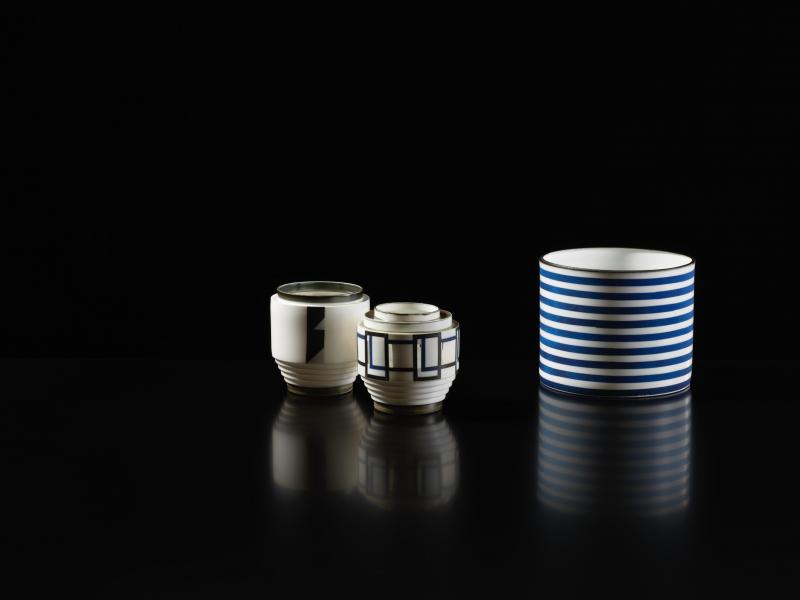 Pots by Danish potter Bodil Manz
Pioneering is an attractive adjective in this context, alerting the spectator to what has been, over the past half century, an extraordinary body of contemporary ceramics produced by women.
Underlying the notion of a gender-defined exhibition is a question: are there feminine characteristics to be looked for in an art form, if so what are they? Pots and bowls don't sound very glamorous, alluring or exciting, rather prosaic, dull and quotidian. This is so in spite of the exalted sphere oriental ceramics have historically inhabited, or the recent flurry of interest surrounding artists such as Edmund de Waal.
Of course the medium of pottery and porcelain has always been a fascinating area, as well as probably the oldest known practice of three-dimensional making. Clay and its applications carry the echoes of utility and practical use, inserted into daily life as essential receptacles. This sense of ancient ubiquity remains a subtle component of the impact of ceramics, and this of course is a fascinating riff that Edmund de Waal plays with as his work moves ever further from overt connections to millennia of domesticity and community. The most fundamental motif is that of the vase, jar, vessel, plate, container, a suggestion of domesticity. But there are also stand-alone shapes which do not play with these notions, and indeed can even riff on playful figuration.
Here on view digitally until the gallery can open its rooms to visitors are some 40 works of art by 10 women, all established stars in this specialised firmament. What they all share is an ineffable sense of something that cannot be properly put into words: a sense in each form of rightness, this material, size, scale, glaze, decoration. What is true too as every ceramicist knows is that in the firing, in the kiln, there can always be something unexpected, beyond the control of the maker. There is always a risk.
The range is wide, and begins with the Austrian refugee Lucie Rie (1902-1995) who with Hans Coper (1920-1981) remains perhaps the best known of all 20th century studio ceramicists (Pictured above right: Bronze Vase with Sgraffito by Lucie Rie). Her work exemplifies the increasing fluidity between notions of craft and art in an anthology that makes clear the accessibility of the art. We can respond as directly as we have learnt to do with abstraction; for paramount is surface, texture, colour, shape and form, plus – in this perhaps most feline of forms – a lack of pretention without the distraction of subject matter so prevalent in representational or even utilitarian art. I say feline because there is no overt attempt to attract, to relate, to communicate, these objects just are, it is at it is, which is to many minds including mine the defining definition of feline behaviour.
Why women? Is there a message about some kind of gender link, some feminine qualities that are shared among these artists? This I believe is not the point at all. But in ceramics as in other areas although there are substantial and significant numbers of outstanding women, men – from Bernard Leach to Edmund de Waal – often claim because of our semi-conscious cultural framework an attention that may be slightly balanced in favour of their gender. However ceramics is an area where probably there are proportionately more outstanding women practitioners than in other media, from paintings to sculpture. The roll call in this anthology contains some household names in modern ceramics, a handful of lesser known, and although all in a British context, a reflection of geographic and social movement: Lucie Rie an Austrian, Bodil Manz Danish (main picture) and Akiko Hirai Japanese. The chronology too is fitting for this subtle overview: Lucie Rie born just inside the 20th century, Akiko Hirai in 1970.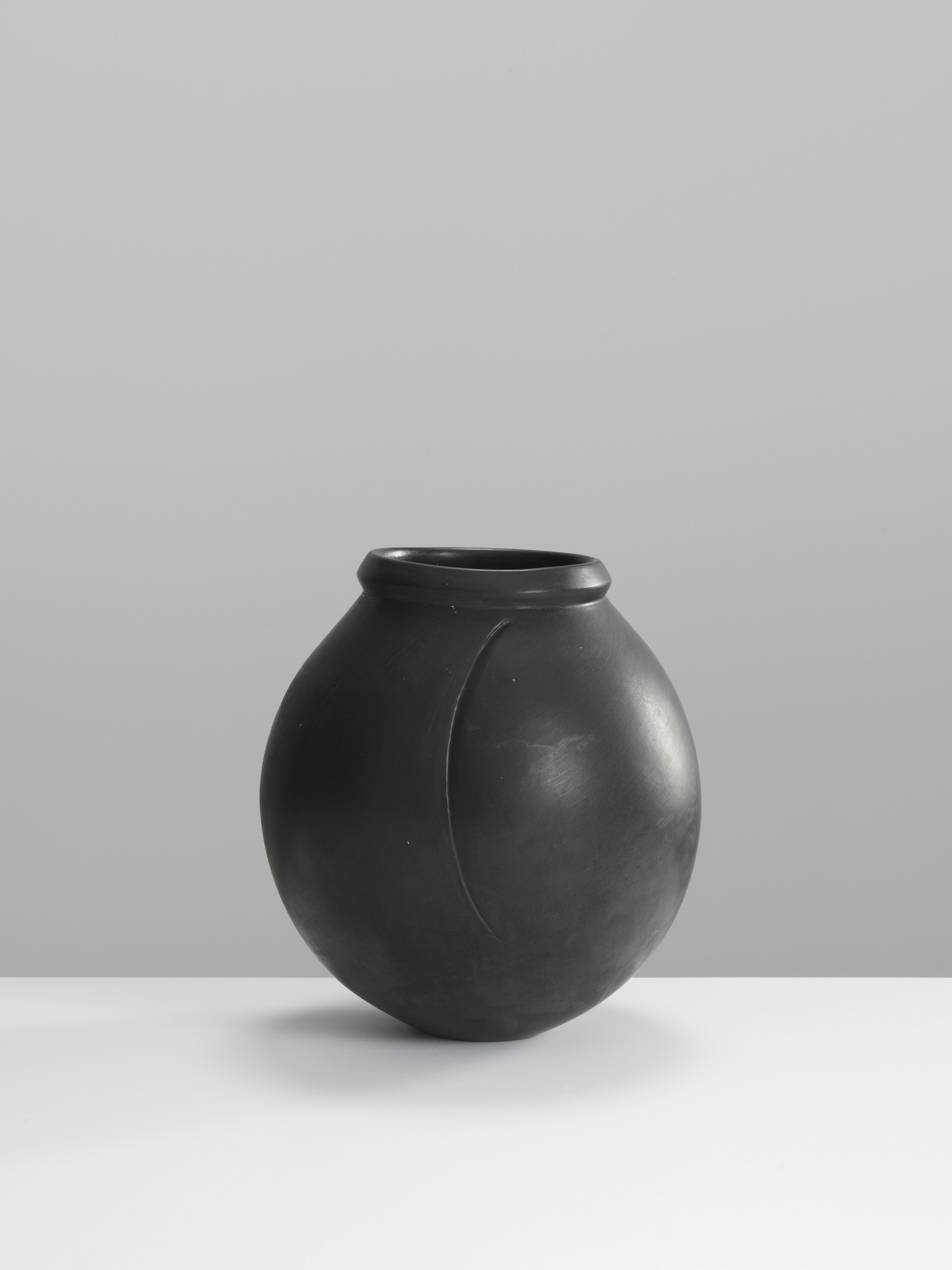 Everything is covetable, for several reasons. The domestic undertones convince you that any of these objects would be right at home in a home. And yet the objects themselves beguile because we know that they serve no purpose other than to be themselves, they are not utilitarian, they cannot be used, they are just there. What could be more complete in its robust yet delicate presence that Magdalene Odundo's Afro-British Early Vessel (Pictured left)? Jennifer Lee's poignantly simple stoneware White Bowl, of course is not completely white but teasingly plays with ingrained colour.
Lucie Rie's porcelain vases and bowls, like most of what is on view, will fit neatly into the hand. You are aware that there is a layering of process in all the making: the shaping by hand, on a wheel, using various techniques, and the glazing and the firing, a sequence combining the hand-done and what can only be completed by the machinations of the kiln. And firing has a long a history of unpredictability which itself has to be imagined and predicted. The results refer to the object that has been made, and do not bear the emotional and suggestive references say of painting, whether abstract or figurative. These objects are to be enjoyed for the vocabulary of surface, form, texture, and colour that are so imaginatively deployed. The selection is as fine an introduction to the pleasures afforded by modern ceramics as one would wish. It is the opposite of rough-hewn, and perhaps this is the contemporary sensibility which might imply a robust sensitivity allied to the gender of the makers.
Paramount is surface, texture, colour, shape and form, without the distraction of subject matter
rating
Explore topics
Share this article