Rachel Whiteread: Detached, Gagosian Gallery |

reviews, news & interviews
Rachel Whiteread: Detached, Gagosian Gallery
Rachel Whiteread: Detached, Gagosian Gallery
More casts by the artist who transforms familiar objects into potent presences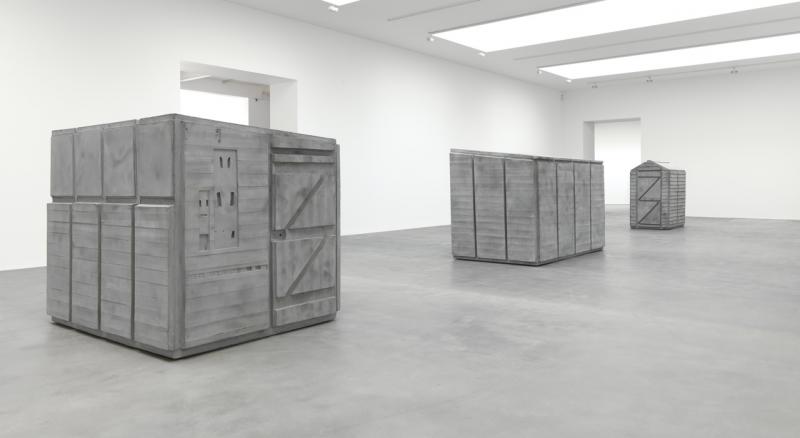 Installation shot of 'Detached' by Rachel Whiteread. Courtesy Gagosian Gallery
When I visited Rachel Whiteread two years ago, there were two old sheds gathering dust in her basement as though waiting to be loved and put to use. Why was she cluttering up her studio with such large and intrusive objects, I wondered? "Things fester," she told me by way of explanation. "I like to mull things over, so they might lie about for years. It's to do with me noticing them; they need to relate to my train of thought and investigation.
I'm drawn to things that are not too considered or self conscious like bathtubs, wardrobes and windows that are taken for granted as part of everyday life."
The sheds didn't have to wait long for her attention. Three of them now stand proudly ensconced in the Gagosian Gallery; not the sheds themselves, of course, but concrete casts of their interiors. Thanks to the casting process the structures have undergone a profound change; warm wood is replaced by cold, grey concrete and positive or negative space is transformed into its opposite, so that door handles become recesses and windows protruding rectangles. This transforms the amiable old originals into bunker-like enclosures that exude an aura of industrial anonymity – closed cells permanently sealed in sullen hostility.
The strange effects produced by Whiteread's spatial inversions are familiar to many by now. It's 20 years since she won the Turner Prize and wowed Londoners with the concrete cast of a terraced house (pictured right) that had been earmarked for demolition in the gentrification of Bethnal Green. Three years earlier, Ghost, a plaster cast of a Victorian room, miraculously appeared in the nearby Chisenhale Gallery, like a glowing white crucible newly landed from outer space.
Other large-scale projects have since followed. Room 101 was cast from the room in Broadcasting House which lent its name to the infamous torture chamber of George Orwell's dystopian novel Nineteen Eighty-Four. Then came a boathouse overlooking a lake in Norway, and casts of the staircases and apartments that would be ripped out of a former synagogue in Shoreditch during the building's conversion into a home and studio for the artist.
Each sculpture is marvellous in its own way. Each commemorates a space that has enjoyed a long history; by turning it into a sealed chamber, the artist seemingly traps and immortalises some of the memories that are evocative of this unique past. But a humble shed? We've all heard of eccentrics who have transformed these generic structures into clubs, drinking dens, studios, museums, grottos or even cinemas; rather than being redolent of people's dreams and fantasies, though, Whiteread's sculptures appear blankly inert – more like emblems of frustrated desire and stifled creative potential than celebrations of individuality.
And they exert a suffocating hold on the mind. I was peering at the door of one shed, trying to work out how the original entrance was constructed, when I was suddenly overcome by the panic of claustrophobia. I imagined becoming trapped inside an airless capsule from which there was no escape and which not only blocked action, but suppressed thought and, before long, would also snuff out life.
It was a relief to walk into the next gallery where the dull, grey obduracy of concrete is replaced by the exquisite luminosity of resin tinted subtle shades of watery blue, pink, magenta, lavender and amber. Old doors (circa 1960 (II) pictured left) have been transformed into shimmering, translucent panels that lean against the wall as though offering entry into some kind of nirvana and, hung on the wall, resin casts of windows provide a view of life permanently tinted with a roseate glow.
The contrast between the two groups is as extreme as binary opposites such as matter and spirit, life and death, heaven and hell; if the sheds epitomise the obduracy and inertia of brute matter, with their seductive luminosity, the resin casts are like emblems of lucidity, clarity and hope. If one group of sculptures bears witness to the dullness of a world in which imaginative fantasy is stifled, the other seems to celebrate the endurance and mercurial power of the human imagination.
In the next gallery the dull, grey obduracy of concrete is replaced by the exquisite luminosity of tinted resin
Explore topics
Share this article