Things, Musée du Louvre, Paris review - the still life brought alive |

reviews, news & interviews
Things, Musée du Louvre, Paris review - the still life brought alive
Things, Musée du Louvre, Paris review - the still life brought alive
Monumental Paris art show asks questions about the nature of things
Tuesday, 15 November 2022
Louise Moillon, 'Dish with cherries, plums and melon' 163(3)
Only a Eurostar day-trip away, at least from London, the Louvre is hosting an exceptional exhibition, which makes the journey to Paris well worthwhile. Things – A History of Still Life (Les choses – une histoire de la nature morte) is one of those massive shows that explores a complex theme in a thoroughly original and adventurous way.
The curator, Laurence Bertrand Dorléac, has been given free rein to author a vast and very personal survey of still lives and artists' representation and evocation of "objects" that ranges from Prehistoric Europe to contemporary work by artists such as Nan Goldin, Andres Serrano or Ron Mueck. There is a clip from a Buster Keaton film, a wonderful animation by the Czech master Jan Svankmajer, an extract from Jacques Tati's Playtime, murals and mosaics from ancient Rome, massive and vivid depictions vegetables and fruit by the 17th century Dutch painter Snyders, and a great deal more: stunning works by Roger van der Weyden, Chardin, Matisse, Picasso, Van Gogh and Dali (pictured below). Room after room immerses us in the various ways that artists have chosen to make "things" come alive. It's thrilling, a little indigestible, and merits several visits, as these grand sweeps through art history often do.
Things has a great deal in common with a previous similarly wide-ranging Paris show, Mélancolie (2005) which was curated by Jean Clair, the long-time director of the Picasso Museum. That remarkable and imaginatively authored exhibition at the Grand Palais ranged as well from classical Greece to Ron Mueck and Serrano, and took us on a cultural and metaphysical journey that was intellectually stimulating and rich in emotional depth. This is something the French do very well, taking art beyond biography and the star system we tend to favour in the UK
Although the journey proposed by Mme Dorléac is not strictly chronological, she does plunge into moments in art history, in which the representation of things takes centre stage, as in suggesting with a number of super-sized paintings from the 17th century Low Countries, a vision of the material world as "product" and the object of capitalist accumulation. But even here, she playfully interposes a comment on food as consumer product, the canvas bursting with an excess of primary-coloured goods, by the pop artist Erró, in stark contrast with the more muted and realistic tones of the classic paintings of food hung around it.
As we walk through, something important emerges: the French expression for still life is nature morte implying that, in order to capture the richness of the natural world around us, it needs to be fixed, and robbed of life. Dorléac has said that she wishes to change this view, and has put together a collection of "things" to which the artist has in fact restored, through the acts of attention, seeing and image-making, the life of the supposedly inanimate.
Things is playful and dramatic but also didactic, with very well-written text panels and illuminating literary quotes from the likes of Marx, Rilke, Francis Ponge, Walter Benjamin and even Teresa of Avila. The didacticism is worn lightly, though for those with an aversion for the poetic side of French philosophy, perhaps a little too open-ended. Don't expect a precise account of the history of the still life, but something closer to a freewheeling and often inspired excursion through images and ideas. There are many thought-provoking and joyous moments – yes, joy is present in the show, as well as shock and surprise! In the first room, we are confronted at close quarters with a wall-sized clip from Tarkovsky's Stalker, in which a girl stares fixedly at still objects on a table, willing them to move. This paradoxical image haunts a series of thematically organised rooms, and seems to open the question – from the start – as to what is alive or not. Art tunes into the soul of things, the exhibition clearly suggests, and makes them animate. It is worth remembering that the Latin word for soul is anima. Artists are in the business of re-enchanting a world of things.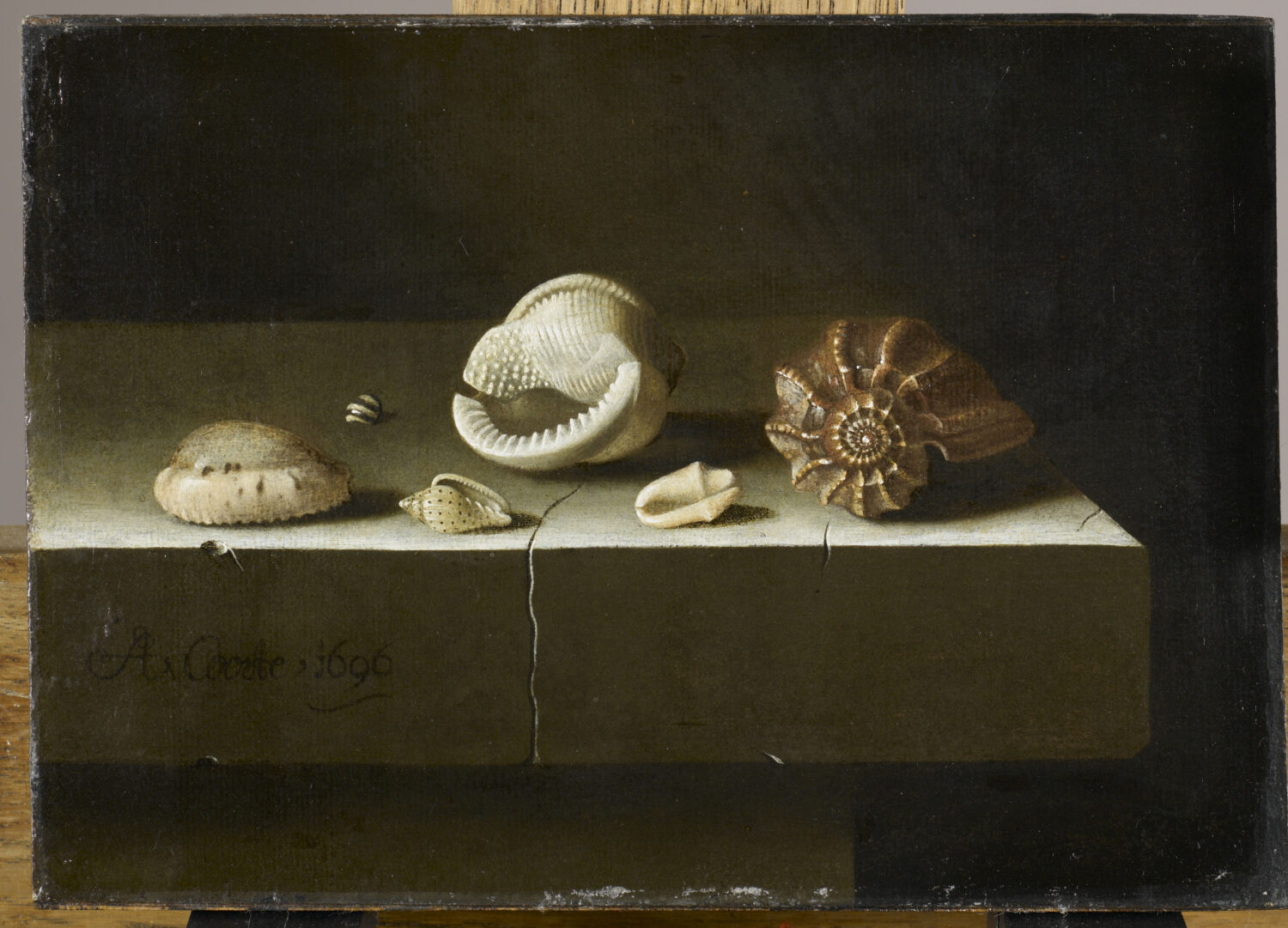 This monumental exhibition draws on themes such as collecting and classifying, religious belief, our changing relationship to the material world, accumulation, exploitation, metamorphosis and others. It thrives on juxtapositions and contrasts, as well as resonances – often across the centuries. At times it feels as if there is such an accumulation of exceptional material drawn from 70 museums around the world, that we lose our way: it's as if remarkable work were not always susceptible to being fitted into a category that doesn't necessarily showcase the work for its own sake. And yet, so much here is breath-taking: as Louise Moillon's masterpiece still life of a bowl of cherries, prunes and a melon, Adriaen Coerte's mystery-laden display of sea-shells (pictured above), Chardin's magical pipe and ceramics "La Tabagie", or Ron Mueck's characteristically oversized and disturbing plucked chicken, a living being morphed into a thing to be consumed.
The exhibition thrives on dialogues – guiding us gently towards meaning, without the need for excessive verbal explanation, an often over-rigorous approach that tends to reify and rob "things" of life. There are plenty of "aha!" moments such as the confrontation in one space of Zurbaran's celebrated painting of a lamb with his legs tied, with Serrano's gruesome and similarly tactile photo of a slaughtered cow's head on a Doric pedestal. A series of rooms nearby explore the still life as a reminder of mortality, mostly from a time when the Vanitas was a popular genre. A classic 18th century still life of a fruit bowl by Balthasar van der Ast is juxtaposed with a video of Sam Taylor-Wood's that shows the speeded-up decay of a plate of fruit. Only a plastic ball-point pen next to the bowl remains intact over time. The effect is startling as well as profoundly moving.
Mme Dorléac has created an exhilarating exhibition that is itself a work of art, combining deftly-accomplished rigour with plenty of poetic imagination. The journey she takes us on encourages us to think and to dream, to look at "still lives" in a fresh way: the attention these works of art embody with such devotion leads us to contemplate their presence, to contemplate the word of things as if they were indeed always alive, not least when touched by our attentive gaze. A message – if a message there is in this show – that we urgently need to understand today.
It thrives on juxtapositions and contrasts, as well as resonances - often across the centuries
rating
Explore topics
Share this article