A World in Common: Contemporary African Photography, Tate Modern review - pulling out the stops to address issues around cultural identity |

reviews, news & interviews
A World in Common: Contemporary African Photography, Tate Modern review - pulling out the stops to address issues around cultural identity
A World in Common: Contemporary African Photography, Tate Modern review - pulling out the stops to address issues around cultural identity
Thirty-six African artists reconnect with their heritage in dramatic and moving images
'Tipo Passe', 2014 by Edson Chagas
The introductory panel to Tate Modern's exhibition of photography, film and installation contains some stark facts that remind us of the history informing the work of these 36 African artists. Some 10 million Africans were sold into slavery and by 1914, 90 per cent of this vast continent was under colonial rule (a third of it British), which one could describe as a lesser form of enslavement.
Not surprisingly, many of these artists try, through their work, to reconnect with their pre-colonial heritage while at the same time relating to contemporary reality. But bridging the gap between a half-forgotten past and a rapidly changing present can require a complicated juggling act, both in art and life.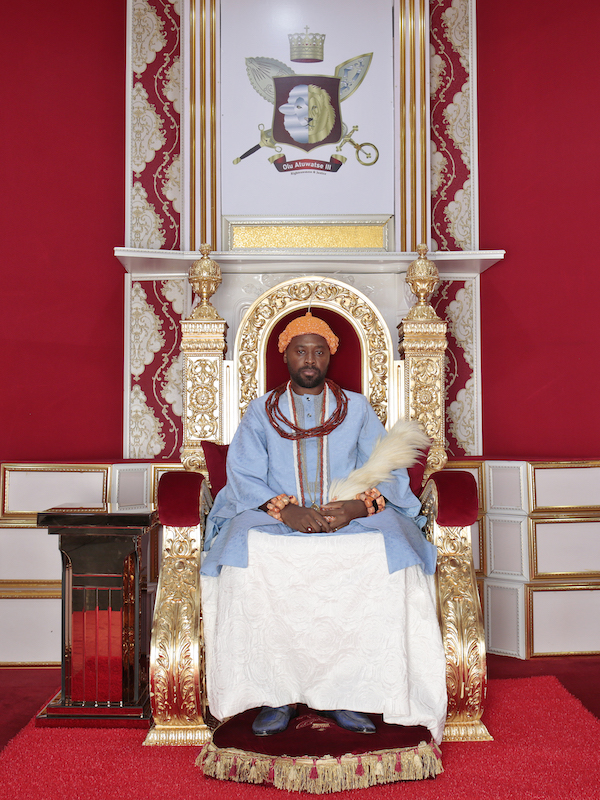 The portraits of Angolan artist Edson Chagas (main picture) perfectly sum up the complexities of this challenge. These striking images prove that the simplest approach can be the most compelling. His sitters wear contemporary clothes, but their faces are hidden behind traditional Bantu masks of the kind loved by Western collectors.
Taken head-on like passport photographs, the portraits refer to the export of masks and other artefacts and the erosion of cultural identity that this helped to precipitate. His sitters have been given fictitious names, like Pablo P Mbela, African and Portuguese hybrids (Angola was a Portuguese colony) that indicate the duality of their post-colonial identity.
George Osodi's portraits of monarchs, seated on thrones and resplendent in their finery, remind us that Nigeria is an amalgam of 14 different kingdoms all of which had their own traditions (pictured above right: HM Ogiame Atuwatse III, the OLU of Warri Kingdom). One of these is Benin, famous for its incredibly beautiful bronzes. Many of the bronze plaques that decorated the royal palace until it was destroyed by us in 1897 are now in the British Museum.
Despite our best efforts to stamp them out, some religious and ceremonial rituals survive until today. Benin artist Leonce Raphael Agbodjélou, for instance, photographs masqueraders who perform in ceremonies dating right back to the 11th century. Covered from head to toe in exquisite costumes decorated with sequins, cowrie shells, skulls, bells, bones, braiding, embroidery and appliqué, these enigmatic presences are revered as quasi-religious figures.
Rotimi Fani-Kayode is descended from Yoruba priests. He is justly famous for incredibly beautiful male nudes, but here the model poses with tribal masks while clad in fetish wear, a combination I find really problematic. Using masks as homo-erotic props is surely to debase one's heritage?
Maïmouna Guerresi's five panel piece (pictured below) is reminiscent of a Last Supper except that a Muslim blessing is painted on the back wall and only five people are at the table – four young women dressed in red robes and their teacher who reads from a large book. The students seem lost in thought, while the presence of bullets and a jerrycan imply that the serenity of this beautiful scene and what it represents is under threat.
Photography studios sprang up all over the continent in the 1950s and 1960s, soon after many African countries gained independence. Having your photograph taken became as an opportunity to dress up and present yourself to the world. Accompanied by desirable props such as sound systems or motorbikes, people pose in front of backdrops portraying dream locations. Atong Atem has taken the tradition with her from South Sudan to Melbourne, where she creates portraits of fellow Africans in the diaspora. Surrounded by a riot of decorative fabrics and bouquets of flowers, Adut and Bigoa, 2016 pose in colourful dresses (pictured above left). These gorgeously stylised images are, says Atem, a means "to mythologise our histories".
Moroccan photographer Hassan Hajjaj expands the genre to the point where the pictures become a joyful parody. Photographed from below to create added drama, a young woman in a pink djellaba sits astride a motorbike. Consisting of little boxes containing cans of local produce, the frames add another decorative dimension to the work.
Santu Mofokeng's Black Photo Album, 1997 is heartbreaking. The slide show consists of 80 photographs taken in studios in South Africa at the turn of the 20th century. Dressed in sombre attire and staring solemnly to camera, the sitters look Victorian, except that these bishops, priests, farmers, servants and washerwomen are black Africans. Known as integrationists, they emulated their colonial masters in the hope of being assimilated into white society. Little did they know that apartheid would be introduced to scotch any such dreams. "Who were these people?' asks Mofokeng in a caption. "What were their aspirations?" and "Do these images serve as testimony of mental colonisation?"
Climate change is adversely affecting large parts of Africa. Ethiopian artist Aïda Muluneh creates surreal tableaux resembling film stills. Water Life, 2018 addresses the increasing scarcity of water and the burden this puts on women tasked with collecting it. Dressed in bright red and blue with her skin painted white, a woman wades through floodwater trailing a string of plastic cans and holding aloft a blue umbrella. In Star Shine, Moon Glow (pictured above right) she sits in an arid landscape under a full moon; beneath her is a red cloth blown by the wind into billowing furls resembling wings.
Since the developed world uses Africa as a dumping ground for its waste, pollution is an ever growing problem. Returning to Senegal after several years away, Fabrice Monteiro was horrified to discover Mbeubeuss, a vast rubbish tip outside the capital, Dakar. Working with fashion designer Dulsy, in 2013 he embarked on The Prophecy, a series of dramatic photographs resembling fashion shots. Dressed in a gown made out of rubbish, a statuesque figure rises above the discarded waste. Elsewhere, a warrior queen emerges from the sea, her skirts a huge tangle of discarded fishing nets, her shield a turtle shell. In the tradition of masqueraders, these imposing figures are like avenging angels, demanding change.
Trying to do justice to African photography in a display of 36 artists is an impossible task. And many of those included already enjoy international reputations and deserve exhibitions of their own. Yet this fascinating show provides a useful introduction to some of the ideas preoccupying artists on this vast continent and to the way their heritage often informs their work.
Bridging the gap between a half-forgotten past and a rapidly changing present can require a complicated juggling act, both in art and life
rating
Explore topics
Share this article