Zaha Hadid, Serpentine Gallery |

reviews, news & interviews
Zaha Hadid, Serpentine Gallery
Zaha Hadid, Serpentine Gallery
A visionary architect who developed her ideas in paintings and drawings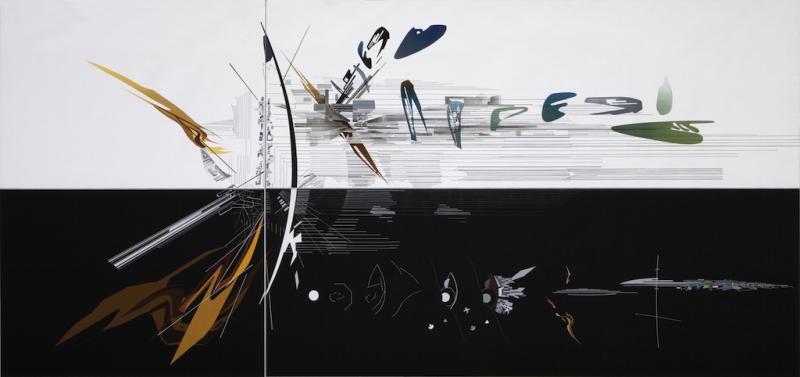 From Zaha Hadid's series 'Visions for Madrid, Spain', 1992
It is appropriate that this exhibition of Zaha Hadid's early drawings and paintings should be shown at the Serpentine's Sackler Gallery, which adjoins the restaurant she designed in 2013. The white, curvilinear extension was one of the first permanent structures she was able to build in London. And looking at her visionary drawings and paintings, it becomes clear why she had to wait so long for her work to be accepted here.
Take a project she carried out as a fourth-year student at the Architectural Association in 1977. She borrowed Kasimir Malevich's Architekton – a building-like sculpture, which the Russian Suprematist cast in plaster in the 1920s – and enlarged the original, table-top model into a full-scale hotel perched over the middle of the Thames on the Hungerford Bridge (pictured below right). Rather than employing the traditional format of architectural drawings and models, she presented a large painting that shows the river and its banks as an abstraction with Suprematist forms scattered across the south bank.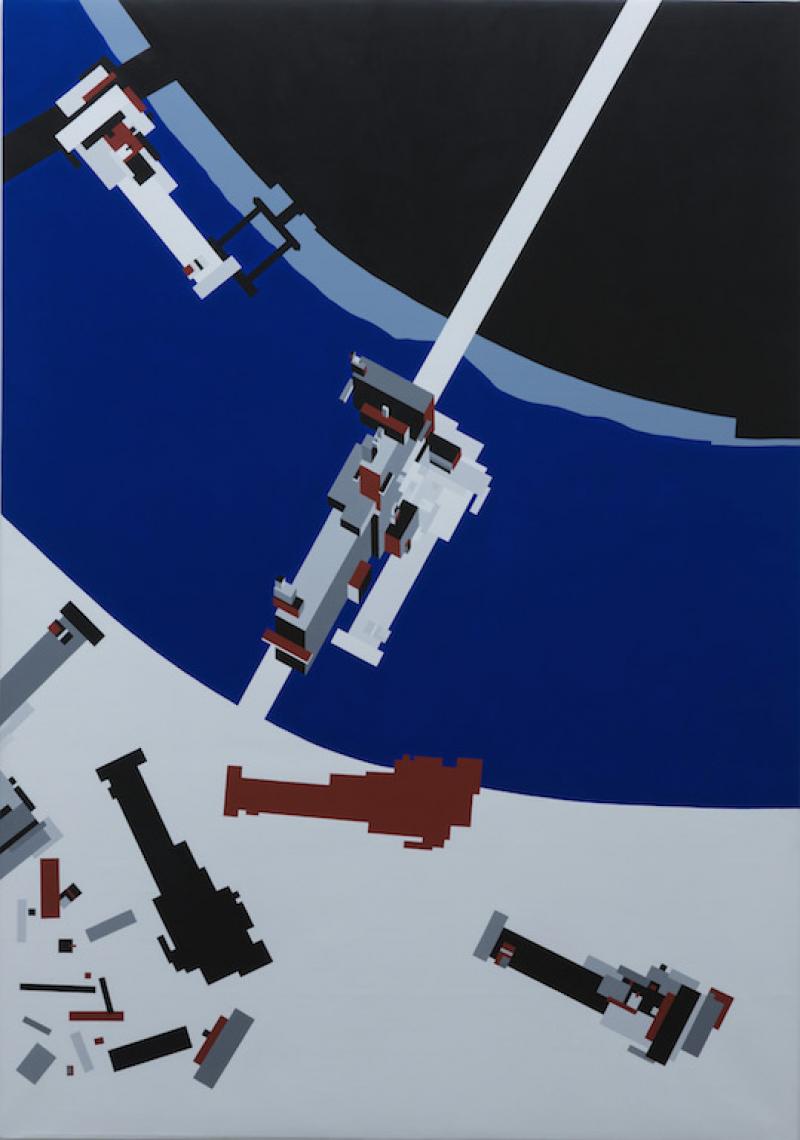 In her fifth year, she designed a Museum of the Nineteenth Century situated above Charing Cross station. The scheme was presented as a painting in which a string of buildings resembling train carriages emerges from the station and ventures across a bridge only to be derailed; the front "coach" seems to have plummeted onto the water where it floats, leaving the second "carriage" balancing precariously between river and bridge. "The Museum of the Nineteenth Century", Hadid explained, "was basically two intersecting beams, one being a hotel and the other being a museum... The idea of the bridge was that it started in the 20th century and straddled the Thames to the 21st century."
This witty concept was too innovative to be built, but the idea of combining a building and a bridge resurfaced when, in 2005, Hadid was commissioned to design a bridge that housed as an exhibition space, over the River Ebro in Zaragoza, Spain. And three years later, she built a railway station in Naples that, snaking over the tracks like a huge python, doubles as both bridge and concourse.
Meanwhile back in 1983, she entered an international competition for a leisure club to be situated on The Peak, a precipitous site overlooking Hong Kong's harbour. The design developed out of those student projects. Stacked up like the layers of the Hungerford Bridge hotel, the various floors are as long and thin as train carriages; Hadid referred to them as "horizontal skyscrapers". Cantilevered and supported on individual columns, each floor is a separate entity that apparently hovers weightlessly above its neighbours. Her ambitious proposal won the competition but the project was never built, perhaps because it was too radical, perhaps because its construction demanded major excavations of the hillside, that would have been extremely costly.

Hadid's entry came in the from of paintings and drawings (pictured left) inspired by Russian Suprematists, such as Malevich, El Lissitzky and Alexander Rodchenko. Dizzyingly complex images portray the club as a flock of interlocking forms in dialogue with the landscape and surrounding buildings. Unless you knew they formed part of an architectural proposal, you might easily mistake them for landscape paintings – futuristic visions of dramatic things to come.
The joy of this exhibition, though, is the way it allows one to follow Hadid's thought processes as her ideas unfold from dynamic ink sketches to large and complex paintings. They not only demonstrate the breadth and originality of her architectural vision, but seem to challenge the viewer (or potential client) to take risks and think big.
The process of restless exploration is most apparent in her Visions for Madrid, commissioned in 1992 for an exhibition and book that imagined what the future might hold for the Spanish capital. Hadid undertook a radical analysis of the city in a series of dynamic line drawings whose flowing lines, curves, zig zags and cross hatchings led to larger sketches (pictured below) and full-blown paintings (main picture). Together they portray the urban fabric variously as a field of explosive energy, a nervous cluster of shifting forms, a matrix of intense activity and a space to be negotiated fast and efficiently. Given that, nowadays, architects routinely work on screen and scarcely put pen to paper, we are unlikely to see graphics as confident, dramatic and beautiful as these ever again.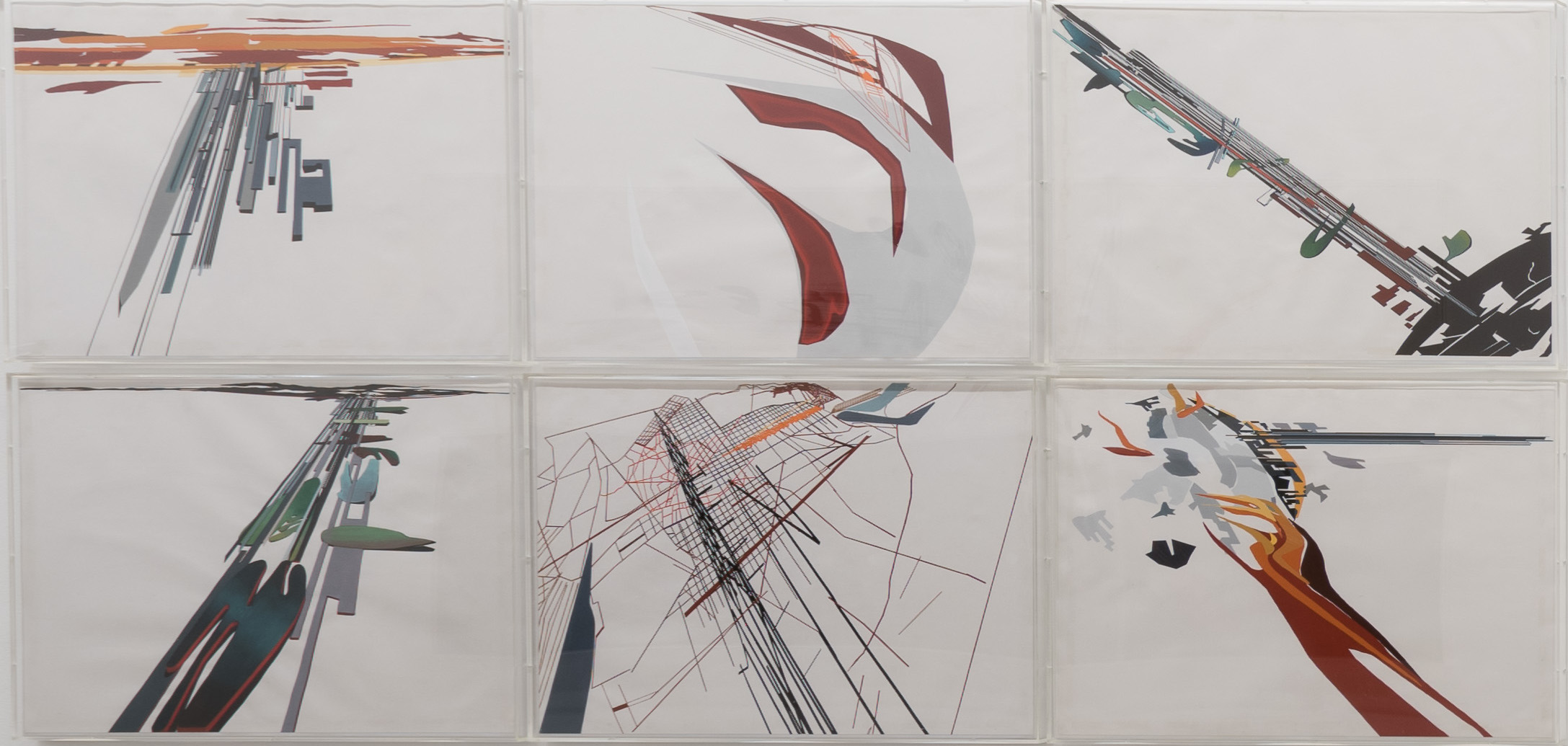 Hadid's schemes were not all serious propositions; her plan for Leicester Square, for instance, was as fanciful as science fiction. She envisaged a cluster of green and blue sky scrapers that, instead of soaring upwards, would drill their way down into the ground. Needless to say, the idea took shape only as an enigmatic painting of ribbons of colour dangling into darkness.
Don a headset, and a virtual reality tour by Google Arts & Culture based on the underground scrapers and other paintings takes you on a journey into Hadid's futuristic world. Wafting through vertiginous space as though in a capsule, you gaze down over intricate cityscapes fragmented into kaleidoscopic patterns or wander in darkness beneath ribbons of blue and green dangling into the abyss. This mesmerising trip brings to 3D life the explosive dynamism of her delicate images and the visionary ideas which they encapsulate.
We are unlikely to see graphics as confident, dramatic and beautiful as these ever again
rating
Explore topics
Share this article