We Made It: Lauren O'Farrell, aka Deadly Knitshade |

reviews, news & interviews
We Made It: Lauren O'Farrell, aka Deadly Knitshade
We Made It: Lauren O'Farrell, aka Deadly Knitshade
Graffiti-knitting pioneer talks about 'yarnstorming' Parliament Square and social media
Lauren O'Farrell in front of her monster creation for the BT Art Box charity project
Lauren O' Farrell is the founder of the UK's largest craft community, a pioneer in the world of graffiti knitting, and a published author. She battled with cancer for three years and came out the other side with a new found passion for life, craft and art. Katherine McLaughlin spoke to her about her creative process, her evolution from knitter to street artist, the way in which she has used social media to her advantage, her mini knitted Sarah Lund and her art work for Emma Freud.
Katherine McLaughlin: Why did you start knitting?
Lauren O'Farrell: I've always been creative. I wanted to tell stories. I considered myself to be a good writer before I could write. When I was young I thought I would grow up to write a bestseller book, get rich and tell stories for a living. I did a degree in creative writing and American studies and I became a proof-reader in a small office in London with no scope to become a writer. When I was 24 I was diagnosed with Hodgkin's lymphoma and it was a massive shock. I expected a big thing to happen in my life to change it, but in fact the most horrible thing made the biggest change in my life. Everything totally changed in that moment. I felt like all the pressure was taken off. I ended up having three years worth of treatment and after about three months I knew I was going to be in hospital for a while so I learnt how to knit. I bought one of my friends a book called Stitch and Bitch and in that book it says to start a knitting club, so that's what we did. It's the one thing that kept me going when everything else was awful.
Can you tell me about your evolution from knitter to street artist?
I started to notice little space invader mosaics on buildings in London and little golden frogs on plaques and toaster stickers on things. I started to notice all this street art and I fell in love with it. I went travelling around Nepal and after a trek along the Himalayas I started to think about where I fit in in this world. I was in a square in Kathmandu and I looked up and there was a space invader on the wall and I decided I wanted to be him [Invader] desperately. He travels. He makes art. And he expresses himself wherever he wants and he has no permission to do it. That's when I created the Deadly Knitshade persona – like a squishy Banksy! There's an element of fearlessness that comes with being told you're going to die. It makes you laugh in the face of danger because the worst has already happened and you've gotten through it.
Which graffiti knitting project so far do you have the fondest memories of?
We marched into Parliament Square at about 3 o'clock in the afternoon and put this cosy on a phone box and took a picture. I didn't think about it until the police came over and asked what we were doing. We told them it was a craft project and we wanted to take a photo, and they let us. The fact that they did opened the floodgates. I thought, I could now do this anywhere. It blew up online and people thought we were professionals so we ended up on the BBC shortly after that. The main reason people liked it was the storytelling aspect behind it and the way in which it was presented. That's when it clicked with me that I could tell stories with my yarn and needles. I could tell the story afterwards through pictures and words. I look back on that and realise it gave me a voice so much bigger than anything else I had tried to do before.
Which piece are you most proud of?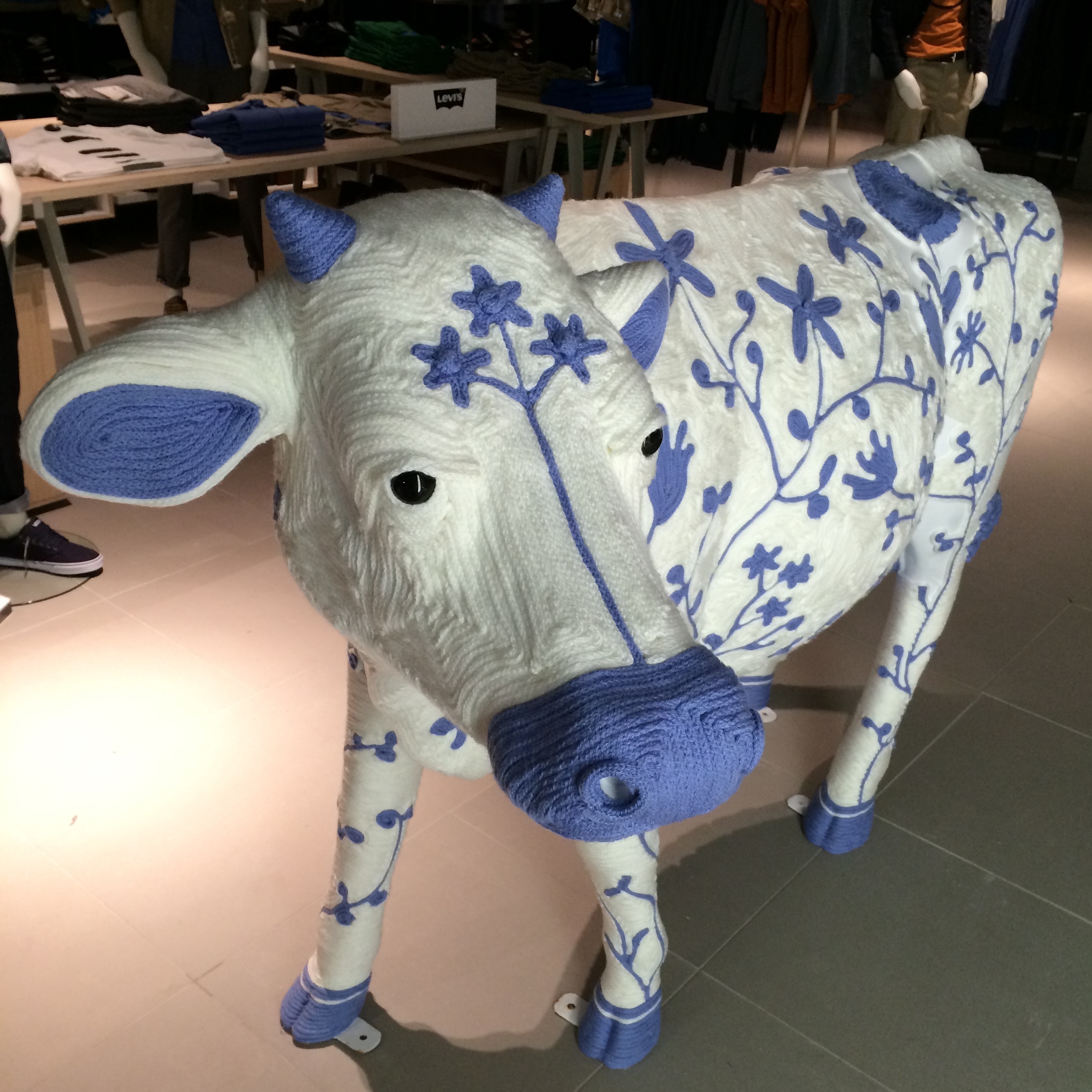 I did a piece for John Lewis for their 150th anniversary. They commissioned me to create a cow in their flagship store. They placed a fibreglass cow in the middle of the shop and asked me to cover the cow in knitting. They wanted it to look like one of those milk jugs that vomits the cream.I made yarn into four-stitch thick cord, which you can hand wind on a machine. I adapted it to use an electric drill and some vices to hold it in place instead. I made 1200 metres of this cord which took two weeks to make. I used cord to make patterns on the cow and glued it all on like a willow pattern. I haven't learned how to do this. I haven't got an art degree. It just came to me. Charlotte the Cow is the artiest thing I've done. It made me think very differently about how I make things.
How have you used social media in your career as an artist?
I love social media. I started off with MySpace with the knitting group and Facebook of course. The only people who see what I do are the people who walk past it and then someone nicks it and it's gone. So I started using Twitter. I used photography to immortalise my art. When I started to put pictures up they were sharing them with people in Mexico and Australia etc. We did the first live "Yarnstorm" on Twitter. We had a documentary team follow us round, who discovered us on Twitter and then shared their video on YouTube. Lately I've fallen in love with Vine. I started using stop motion and time lapse to show my job from start to finish so that's the perfect tool for that. Social media has become part of the process of my job really. I even document my private commissions.
Can you tell me about any of your private commissions?
I did a job for Emma Kennedy who wrote The Killing Handbook. As everyone fell in love with Sarah Lund's jumper in the show she commissioned me to make a mini Sarah Lund which is actually hanging from the rear-view mirror in Sofie Gråbøl's car. She told Emma Freud about me, who started following me on Twitter. At the time I had just finished the BT Art Box charity project. They gave me a blank phone box which I turned into a monster which sat in Trafalgar Square for six weeks. It was auctioned off for charity and Emma Freud had seen the monster in progress and loved it. She asked me to make her one. I told her I could make her anything. So she bought a shepherd's hut which is basically a good looking shed on wheels. It's about 2m x 1.5m. We had a chat about her famous family and their love of words. The fact that her mother was the girl C.S. Lewis based Lucy on for The Lion, the Witch and the Wardrobe and how they loved so many books and films. I decided to create a storytelling forest for her inside the hut, as a sort of family tree. On the branches of the tree I put all the characters the family loved, and all their favourite animals and birds, and leaves with embroidered quotes. Emma Freud's partner is Richard Curtis so on his figure I added a tiny scroll with the opening dialogue from Four Weddings and a Funeral.
There's an element of fearlessness that comes with being told you're going to die
Explore topics
Share this article