Andrea Bajani: If You Kept a Record of Sins review - where blame, grief and discovery meet |

reviews, news & interviews
Andrea Bajani: If You Kept a Record of Sins review - where blame, grief and discovery meet
Andrea Bajani: If You Kept a Record of Sins review - where blame, grief and discovery meet
Irresistibly spare narrative reckons with a mother's death in Romania
Italian novelist, poet and journalist Andrea Bajani
"I think it happened to you, too, the first time you arrived." So begins Andrea Bajani's second novel (Se consideri le colpe, 2007), recently translated from Italian by Elizabeth Harris, with the narrator's characteristic reserve. "You", that pronoun at once intimate and confrontational. "It", denoting an experience yet to be defined but which (tentatively) has already happened.
Lorenzo is addressing his now dead mother as he arrives in a Romanian airport for her funeral: a country he has never visited, for a woman he has not seen since he was a young boy, not since she left him behind in
Italy
. His "you" feels searching, hesitant, underlining the distance between speaker and addressee. The narrative itself unfolds with the pathos of a letter that will never be answered.
As he makes the journey she so often took, and encounters the places and people she knew so well, Lorenzo is alert to the shadows of his mother, Lula. In the airport, the placard that the driver Christian is holding shows her name, "like you were the one who'd arrived and not me who'd come all this way to see you put underground." Later, in her apartment, he lies on her bed: "And it was almost as if I felt your bones, under there, that I was lying between bone and muscle and had to stay very still, or else I'd hurt you." In a kind of palimpsest, mother and son share space in a foreign city as they have not done for so many years.
Bajani's title is an interrupted version of Psalm 130: "If you, Lord, kept a record of sins, Lord, who could stand?" With the absolution granted by the second clause cut short, the book stands as a hypothetical catalogue of Lula's faults and misdeeds: if you kept a record of sins… adultery, pride, abandoning a child, profiting from the vulnerable might feature. At her funeral, the psalm is resistant to being spoken; the priest chokes on the words: "If you kept a record of sins, he repeated, turning red, as if that line itself had cut him off." That stuckness seems to ask us to dwell on the question of culpability. How are we remembered? Where do blame and grief meet?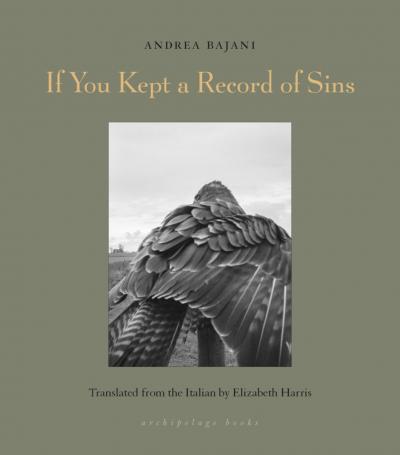 Still, rather than judgement, Bajani's method is one of lyrical indirection. From resentment to alienation, tenderness to anger, and indifference to joy, Lorenzo's feelings are never stated outright, instead emerging sideways – from the background noise he doesn't recognise, "as though the traffic spoke a language other than my own", to the souvenirs on his bedroom floor that formed "the world map of your absence", his anecdote about his mother and her business partner Anselmi making him try a cigarette as a small boy (Anselmi saying "That's how you grow up, baby") to his attentive watching of Lula's bedroom window until dawn:
At my hotel I stayed up, letting the night burn itself out, not sleeping, not doing anything else. Then it was dawn, me on the balcony, your room on the other side of the street, and all around was Bucharest and its embers of light. … Lights off now, the city was reappearing, stepping out from darkness. While in your window, the lamp, no longer needed, stayed on.
This result is a complex picture of loss, revealed reluctantly. The cumulative juxtaposition of memories with new discoveries culminates in an end that could have been a beginning (the story of how Lorenzo learned about his mother's death). Deferral is a major mode here, and startling, often surreal imagery carries the tale to its gradual end, inflecting this record of estrangement with strangeness. Lorenzo's stepfather "arrived" when he was three: "His calm furnished our entire home," Bajani writes: "when he was around, our movements were slower, like astronauts on the moon." The gimmicky weight-loss egg Lula flogs is cast as an ominous "bread machine". In Romania, Lorenzo visits an old Italian friend of his mother's, Viarengo, a coffin-maker (including of Lula's own final resting box). On Viarengo's encouragement, Lorenzo climbs inside one – something his mother loved to do – and experiences the coffin being closed and hoisted aloft. It's a joyous activity: "I felt like laughing, too, that after so much time, I was once again playing with you." It's through these acts of return repetition that their familial palimpsest is rewritten; Lorenzo's hurt is slowly excavated.
At the same time as this novel explores ideas of grief and abandonment, If You Kept a Record of Sins is also interested in cultural prejudice, creating a nuanced portrait of Romania in the aftermath of Ceausescu's regime and of the superiority presented by Italian entrepreneurs, who view Romania as a land of opportunity or "Wild West". Anselmi, Lula's repugnant partner and sometime lover, is the main mouthpiece for this exploitative logic:
You can fix anything with money, he said, Romanians are crazy for money. All around, on that terrace, small tables identical to our own, everyone Italian, French, German, all of them around tables filled exclusively with entrepreneurs, pioneers, hunters. The only Romanians, those waiting on tables, girls running from table to table, taking orders.
So it is that the errors made by Lula are set against a context of others' equal or worse faults (including the narrator's own). Bajani's irresistibly spare narrative tracks our attempts to make sense of and judge one another, but concludes without definitive answers. Still, the narrative arc skillfully suggests the second half of that unfinished title: who could stand?