Joanna Trollope: Mum & Dad review - redemption in Spain |

reviews, news & interviews
Joanna Trollope: Mum & Dad review - redemption in Spain
Joanna Trollope: Mum & Dad review - redemption in Spain
A gentle family soap opera of the English middle classes
Maestro of the genre, Joanna Trollope
In common with her literary forebear, Joanna Trollope's light hand refrains from the introverted angst so common in contemporary novels. Her immensely readable, witty renderings of English middle-class life have entertained and enlightened over almost two dozen novels. She portrays characters on journeys for which they're missing the map and exposes common dilemmas along the way. Her characters search for answers to situations obscured by habit and solutions to personal problems they hardly recognise. Her underlying optimism is alluring – from recognition may come change.
In Mum & Dad we are introduced to three generations of a single, self-conscious family. The parents, Monica and Gus, decamped to southern Spain in the 1990s to start a vineyard. Organic, innovative and a prize-winner, its acclaim is unmatched by commercial success. Beachem's Bodega is named after Gus' own financially solvent and psychologically abusive father. Gus is a failure at loving relationships but passionate about his Tempranillo vines. He and his small work force get on just fine but one morning, everything changes. Monica, his loyal yet semi-detached wife (she is used to his apparent indifference and borderline hostility), finds him the victim of a stroke.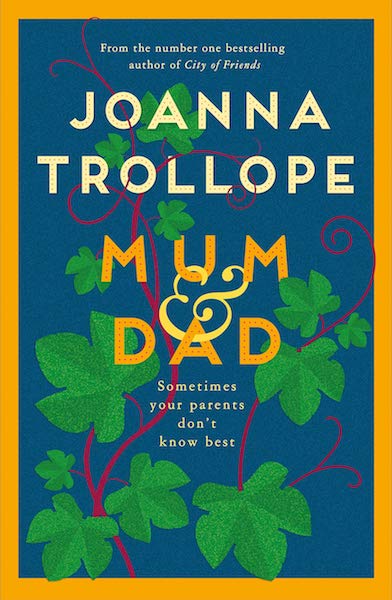 Enter their children from London with their families in tow: Sebastian, who runs a thriving cleaning business, with his wife Annie and their two sons; lawyer Katie with her partner Nic, a teacher, and three angsty adolescent daughters; and happy-go-lucky third sibling Jake, complete with wife Bella and baby daughter Mouse.
These three are the sandwich generation. Their livings, ploughed into family life and their offspring, are suddenly required by the formerly self-sufficient grandparents. As sibling rivalries and resentments re-emerge, and prices are paid or avoided for ways out, the actions taken by each become indicators of how each is sleep-walking through their own life.
Evocative descriptions of the Mediterranean light, the atmosphere of the Spanish village, the vineyard, the Spanish family that has twined itself as housekeepers, shopkeepers, farm workers round the Beachems over decades – all these beguile. All the more so for the contrast to London, where habits are fixed, insights dim, and vague unrest permeates.
Trollope's characters are hardly conscious of their dilemmas – daily life is just too busy. But their lack of insight exacts a high price. The novel's strap line – "sometimes your parents don't know best" – is misleading; in this familial cast no one knows best – for themselves or for others. Each of the three generations has a lot of growing up to do.
Katie finds her mother is able to better draw out her uncommunicative and deeply depressed 13 year-old daughter, Marta. Sebastian pulls himself from his own depression to stand up for himself, in the process reintegrating himself with both parents and quietly stepping into a role in the future of the vineyard. Jake, initially the most appealing of the three, is finally forced to come to terms with his dangerous irresponsibility. Gus and Monica, and their three almost middle-aged children, slowly transform their relationships and behaviour.
Anchored by elegant description and persuasive writing, the novel is a fairy tale: everyone changes for the better. Gus's stroke, which is both minor and life changing, is the catalyst. It sharpens the vision of each family member, making for healthier, more robust and more loving relationships all round. I enjoyed it all – but thought if only! Happy endings – and, indeed happy beginnings – are not the inevitable outcomes of crises, however minor. If you are in the mood for middle class dilemma and minor redemptions, this is delightful escapism. A gentle soap opera for the soul.
Mum & Dad by Joanna Trollope (Macmillan £18.99)

Each of the three generations has a lot of growing up to do
rating
Explore topics
Share this article