Thora Hjörleifsdóttir: Magma review - love burns in debut novel from Iceland |

reviews, news & interviews
Thora Hjörleifsdóttir: Magma review - love burns in debut novel from Iceland
Thora Hjörleifsdóttir: Magma review - love burns in debut novel from Iceland
A raw examination of the destructiveness of a toxic relationship
Thora Hjörleifsdóttir
Thora Hjörleifsdóttir's Magma is certainly not an easy read. It describes, in short chapters, the obsessive and ultimately destructive power of an abusive relationship.
It is, at times, patchily written (perhaps because we have been programmed to recognise the clichés in doomed
love
affairs), but is ultimately compelling, at least in part because some of the aspects of her experience will not be unfamiliar to some readers.
This is Hjörleifsdóttir's first novel – previously, she has only published poetry. Her poetic history is clear in Magma, each chapter acting as a vignette, one memorable page just a repeated "he loves me." This poeticism is conveyed well in the excellent translation by Meg Matich. The titles of each chapter feel as though they should be significant, in part due to their proliferation. There are repetitions – "Compromise" and "Vanity" – and perhaps most significantly, "The Ex", which runs to five chapters. Under these headings, the subjects and styles differ but inevitably return to the unnamed boyfriend.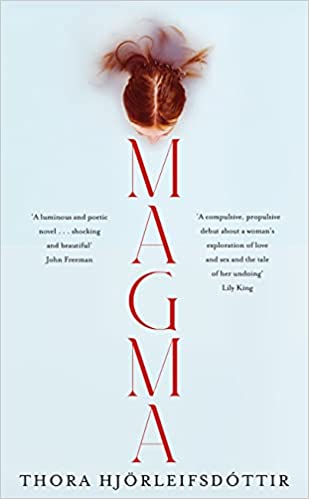 The narrator of Magma, Lilja, is young and romantically inexperienced, trapped in the painful exultation of a relationship that, to the outsider, is horrendously toxic, but to her, is a deep, affirmative addiction. There are clear indications of why she might be more susceptible to this sort of love. A relatively long chapter deals with Lilja's loss of her virginity to rape, but then the narration snaps back to short chapters about her partner, in an eloquent demonstration of how much a life can revolve around one person when it has been shattered by another. The impact of this assault is emphasised later in Magma, when the "Ex" gossips about it, and Lilja's friends defend her.
It is pretty painful to read about one woman's unravelling through love; at times, it is also difficult to not feel that this is at least slightly overblown. Her boyfriend is so terrible, so narcissistic, that it is almost unbelievable that Lilja would stay with him. He comes to dinner with her family and starts reading his book at the table. He sleeps with multiple women, very obviously, and is both emotionally and sexually abusive towards Lilja. It can feel crude at times, especially given the strongly implied link between this relationship and the loss of her virginity. I certainly felt at points that I couldn't suspend my disbelief. Lilja has friends, as well as a supportive, if slightly misguided family – she is not totally alone in the world – but her experience is so deeply personal, so within the head and heart of Lilja, that it is hard to see her public life through the intensity of her private life. Lilja is trapped within it, punishing herself and her boyfriend for their shared misery. She starts to unravel, at which point Magma begins to focus more on Lilja and less on the boyfriend. The moment of dissolution is also the moment of return.
Despite its occasional off moments, Magma draws the reader in, pulling us deeper into the relationship in the desperate hope that Lilja will leave. It deals particularly well with the mutual corruption of an affair that is ultimately, terribly doomed, and spares no details. By the time the book ends, it is hard not to feel as though one has taken part in this, and watched a woman become utterly broken.
Magma by Thora Hjörleifsdóttir, translated by Meg Matich (Pan Macmillan, £14.99)