theartsdesk in Orkney: St Magnus Festival 2018 - choral music to the fore |

reviews, news & interviews
theartsdesk in Orkney: St Magnus Festival 2018 - choral music to the fore
theartsdesk in Orkney: St Magnus Festival 2018 - choral music to the fore
No visiting orchestra, but Orkney's annual cultural celebration felt as rich as ever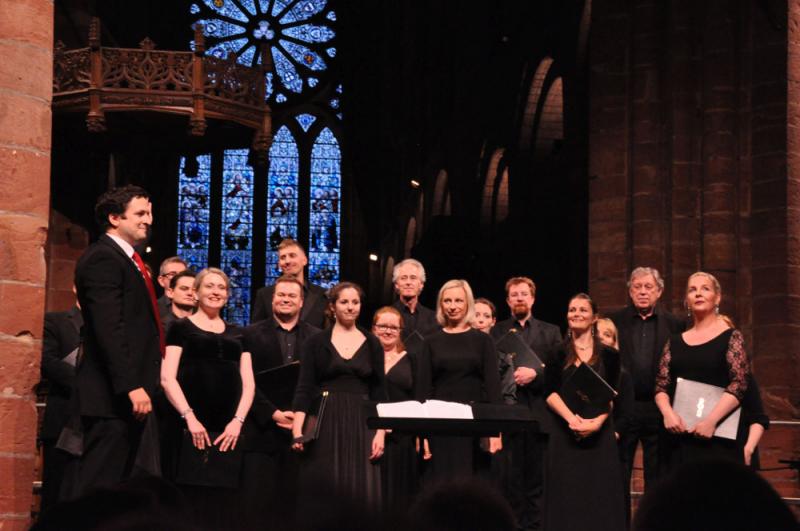 Resplendent Rachmaninov: chamber choir Sonoro and director Neil Ferris at the St Magnus Festival's opening concert
With – unusually – no visiting orchestra at this year's St Magnus International Festival in far-flung Orkney (the fall-out from delayed funding confirmations, we're assured), there was a danger that the annual midsummer event might have felt a little – well, quiet.
Not a bit of it. In fact, if anything, this year's festival felt more densely packed than ever – perhaps with events that were smaller in scale, admittedly, but they were no less ambitious and captivating for that. Famously founded by Orkney's most famous musical resident – Peter Maxwell Davies, who died two years ago – all of 42 years ago, St Magnus is continuing in fine form under fellow composer Alasdair Nicolson's leadership.
And among its tightly scheduled events, choral music was firmly to the fore in 2018. And it was a simply resplendent Rachmaninov Vespers from newly formed chamber choir Sonoro that kicked off the festival in Kirkwall's intimate St Magnus Cathedral. Supple and sensuous in the hands of conductor Neil Ferris, the music benefited brilliantly from these smaller forces in a performance that was as glowing and luminous as it was richly coloured. The Sonoro singers bolstered the ranks of Orkney's own St Magnus Festival Chorus in a joyous Rossini Petite messe solennelle two nights later. Packed onto the impromptu Cathedral stage, the singers clearly loved every moment, and their enthusiasm was wonderfully infectious.
There were plenty of slots for chamber music, too, among the festival's morning, noon and night activities (and at times it really did feel that packed). Young Irish pianist Fiachra Garvey – sporting one of festival director Nicolson's suits, since his own luggage had gone AWOL on his connecting flights north – gave an attractively wide-ranging solo recital, also in St Magnus's warm acoustic, although here the results were rather mixed. His second book of Debussy Images was beautifully delicate, arrestingly volatile and impetuous, and exquisitely watercoloured in subtle, shifting hues, but it seemed simply too restrained to show real power in the composer's climaxes, while his two Chopin pieces felt like rather hard work. He excelled, however, in an illuminating oddity – the Op. 1 Variations on a Theme of Schubert by Helmut Lachenmann, five brief, gnomic utterances putting an innocuous, little-known tune through strange, atonal twists and turns, and, in Garvey's hands, a glittering showpiece demonstrating a sure control of light and shade, weight, balance and density.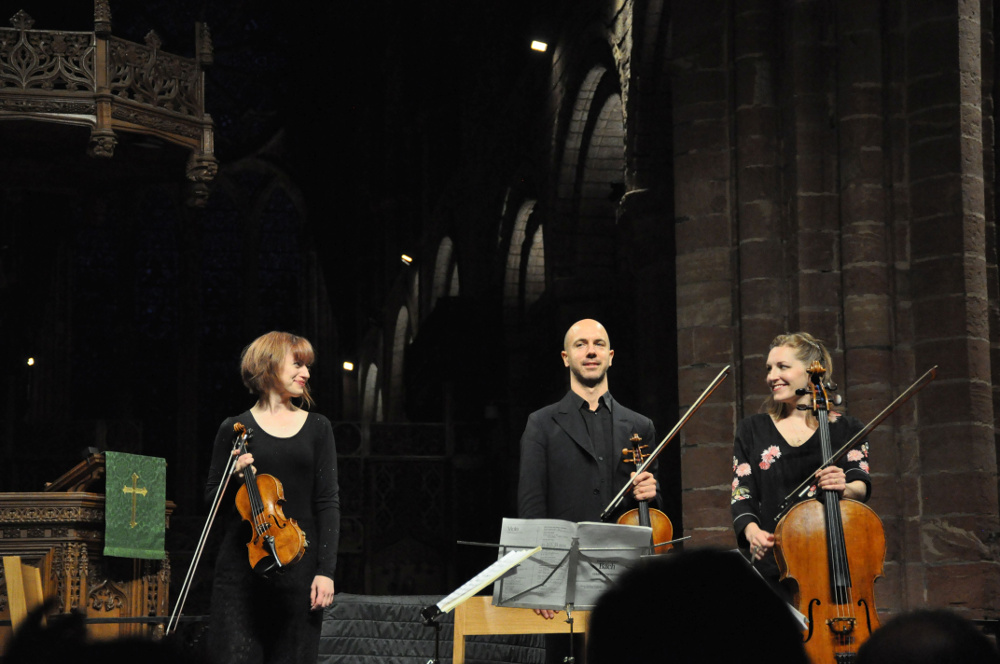 Across in the west of Orkney, further down the road past the neolithic Ring of Brodgar and Maeshowe cairn, Stromness Town Hall was the setting for a blistering recital from violinist Elena Urioste and pianist Tom Poster. Simply making it through to the end of Richard Strauss's dense, demanding, symphonic-scale Violin Sonata in one piece is an achievement in itself, but to couple the work with Grieg's fresh, charming Second Sonata as well as showpieces by Kreisler and Heifetz made this a thoroughly rewarding event, if taxing on listeners and performers alike. Urioste and Poster played with unshakable commitment and an intense identification with their music's sometimes indulgent emotions, and there was a natural, unforced sense of ensemble between them. They completed their programme with brief romances by Clara Schumann and Amy Beach – little-known miniatures that showed, as Urioste explained, what might have been had these two women composers received the same support and encouragement as their male colleagues.
Back in St Magnus Cathedral, a late-night recital of Bach's Goldberg Variations in Dmitry Sitkovetsky's string trio arrangement from Ensemble Perpetuo (violinist Fenella Humphreys, violist Simon Tandree and cellist Cara Berridge, pictured above, photo by Lesley Bugher) had its moments that were gutsy, sharply etched and plangent by turns, but didn't entirely capture the work's epic journey, nor its transfigured return to its starting point in an ending that felt slightly thrown away. But five new responses to the Variations by contemporary Scottish composers made for arresting bedfellows – from the strident harmonies of Alasdair Nicolson's own Insomniac's Jig to the expansive stillness of Donald Grant's Taladh, by way of – best of the lot – David Fennessy's An Open Field (come closer, come closer), full of gently swelling harmonies and fragile, exquisite textures, and played with enormous sensitivity by the trio.
Back in Stromness, the following evening's late-night event was far more raucous and irreverent in comparison. The Alehouse Sessions from Norway's Barokksolistene ensemble (pictured above, photo by Knut Utler) looked back to the time of Cromwell's Commonwealth, when musicians from theatres, courts and churches were forced out into the streets to earn their living, many ending up entertaining punters in inns and taverns. Under Bjarte Eike's charismatic direction, the eight-strong group danced, sang and serenaded their way through Purcell songs, bawdy folk tunes and plenty more, in a free-flowing mix of equally freestyle arrangements. At its best, it was jaw-droppingly effective, mixing serious period scholarship with exuberant theatricality – and they played, on fiddles, bass, harmonium, guitars and drums, with enormous spirit and gritty verve. But there were times, too, when it felt like things had simply gone too far – in an anachronistic reggae arrangement of an English folksong, for example, or a long-drawn-out slow-mo fight sequence at the end. Nevertheless, with its pub tables and bottles of Orkney craft beer replacing music stands, it was a long way from a stuffy, po-faced early music recital, and proved a provocative, compelling addition to St Magnus's rich programme this year.
The festival felt more densely packed than ever - perhaps with events that were smaller in scale
Explore topics
Share this article