Black British Musical Theatre 1900-1950, Wigmore Hall review – a disappointing missed opportunity |

reviews, news & interviews
Black British Musical Theatre 1900-1950, Wigmore Hall review – a disappointing missed opportunity
Black British Musical Theatre 1900-1950, Wigmore Hall review – a disappointing missed opportunity
Lecture-recital leaves more questions than answers about an interesting subject
Wednesday, 22 September 2021
Sean Mayes, Esme Sears, Jonathan Andrew Hume and Sarah Whitfield at the Wigmore Hall
The Wigmore Hall is a bastion of white musicians playing the music of white composers to a largely white audience and it is to the credit of the management that, in seeking to diversify, it staged this lecture-recital on the history of black musicals in Britain from 1900-1950 in a main evening slot.
But while it succeeded in bringing a different audience to the hall the event itself was a disappointing mish-mash that failed to satisfy in any respect.
The evening launched a book – An Inconvenient Black History of British Musical Theatre 1900-1950 – co-written by Sarah Whitfield, a (white) British academic, and Sean Mayes, a (black) New York-based music theatre practitioner. It took the form of readings from the book, performances of some songs and a round-table discussion involving the authors and the two singers, Jonathan Andrew Hume and Esme Sears.
The subject matter of the book sounds promising: telling the forgotten and marginalised stories of the black performers, arrangers and conductors of British musical theatre in the first half of the twentieth century. Employing archival research of, for example, contemporaneous newspaper reviews, there is clearly an interesting story to be told. Unfortunately, judging from the excerpts, it's not clear this book does it justice. Written in a mixture of academese and impassioned contemporary rhetoric, the readings did not entice me to buy the book – and it's not clear who its audience might be. The more informal, unscripted discussion was better, but still left interesting threads unexplored while foregrounding things of no real moment, such as how the co-authors met.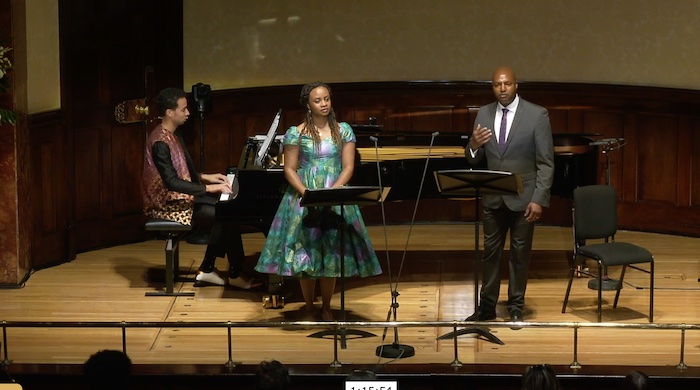 I wanted to know how these black performers were written about in reviews of the time. I wanted to know whether they were marginalised at the time or did that happen later? For context I wanted figures (even approximate ones) on what the black population of Britain was in that time period, and how much that was reflected in the musical profession. But instead, Sean Mayes, when asked, was unable to identify an individual story most impacted him, or to explain cogently the meaning of the intriguing word "inconvenient" in the book's title. Sarah Whitfield did a better job of keeping the conversation on track, talking about events like the "secret" fundraiser in 1928 at the London Pavilion for which Josephine Baker flew over from Paris, or characters like Mabel Mercer, a black woman photographed conducting an orchestra of white men. (One fascinating detail that did emerge was that a number of black performers had appeared at the Wigmore Hall in the 1920s, which cast an interesting light on the venue.)
Above all, though, I was there to hear the music. But there were only eight songs performed in the two-hour event, which seemed thin pickings, and didn't seem to reflect the British focus of the book. There were two American spirituals, a Jerome Kern song and the anthem of the NAACP. There was a recreation of a recording by John C Payne's – the only surviving music of his – and of Alberta Hunter and Lovie Austin's "Downhearted Blues", made famous by Bessie Smith, but I felt short-changed. I left without really feeling I knew what black musicals of the time sounded like: what I heard of the arrangements sounded like generic Edwardian harmonisations, so I didn't sense a distinctive "black" harmonic soundworld, and I was unconvinced this repertoire holds more than historical interest (although that interest is real).
Of the songs, "Lift Ev'ry Voice and Sing" is stirring, but we didn't need to hear it twice. "Downhearted Blues" was sung stylishly by soprano Esme Sears (pictured above). The standout song was certainly "Weepin' Mary", in which Jonathan Andrew Hume found a richness of expression and a moving sense of stillness. Unfortunately all the singing was drowned out by Sean Mayes' unsubtle piano playing. He is clearly used to his singers being miked – which they weren't here – and his heavy-handedness ruined the balance. In the end I was left with more questions than answers, and a strong sense of a missed opportunity.
The standout was "Weepin' Mary", in which Hume found a richness of expression and a moving sense of stillness
rating
Share this article