Amidon, Clayton, SCO, Kuusisto, Queen's Hall, Edinburgh review - profuse and outstanding musicianship |

reviews, news & interviews
Amidon, Clayton, SCO, Kuusisto, Queen's Hall, Edinburgh review - profuse and outstanding musicianship
Amidon, Clayton, SCO, Kuusisto, Queen's Hall, Edinburgh review - profuse and outstanding musicianship
The Finnish violinist and conductor steers an insightful and exciting trio of concerts
Nothing short of wonderful: Pekka Kuusisto recent residency with the SCO draws to a close
On paper, the formula shouldn't be that special. Really good music played by really good people is hardly a groundbreaking concept; but in actuality it's seldom found with such honesty and diversity as in Pekka Kuusisto's recent residency with the Scottish Chamber Orchestra.
The first two of the triptych of concerts were with Americana/Folk singer and multi-instrumentalist Sam Amidon, and began with a set centred around Janáček's First String Quartet "The Kreutzer Sonata". The quartet takes its name from a novella by Leo Tolstoy whose protagonist is an abusive and jealous husband convinced of his wife's infidelity. His only reason to conceive his wife's unfaithfulness is that she – a keen amateur pianist – enjoys spending time with his violinist friend playing pieces together, including Beethoven's Sonata no. 9: "Kreutzer''.
A few years ago I came up with what I liked to call the "Kreutzer Sandwich": listen to the Beethoven, read the Tolstoy, listen to the Janáček. Though there definitely wouldn't have been time for a reading of Tolstoy's novella in a usual concert format, if I'd been in charge of programming I would have started this concert with the Beethoven. I would have been wrong – which is very far down in the list of the many reasons Kuusisto was in charge of programming and not yours truly.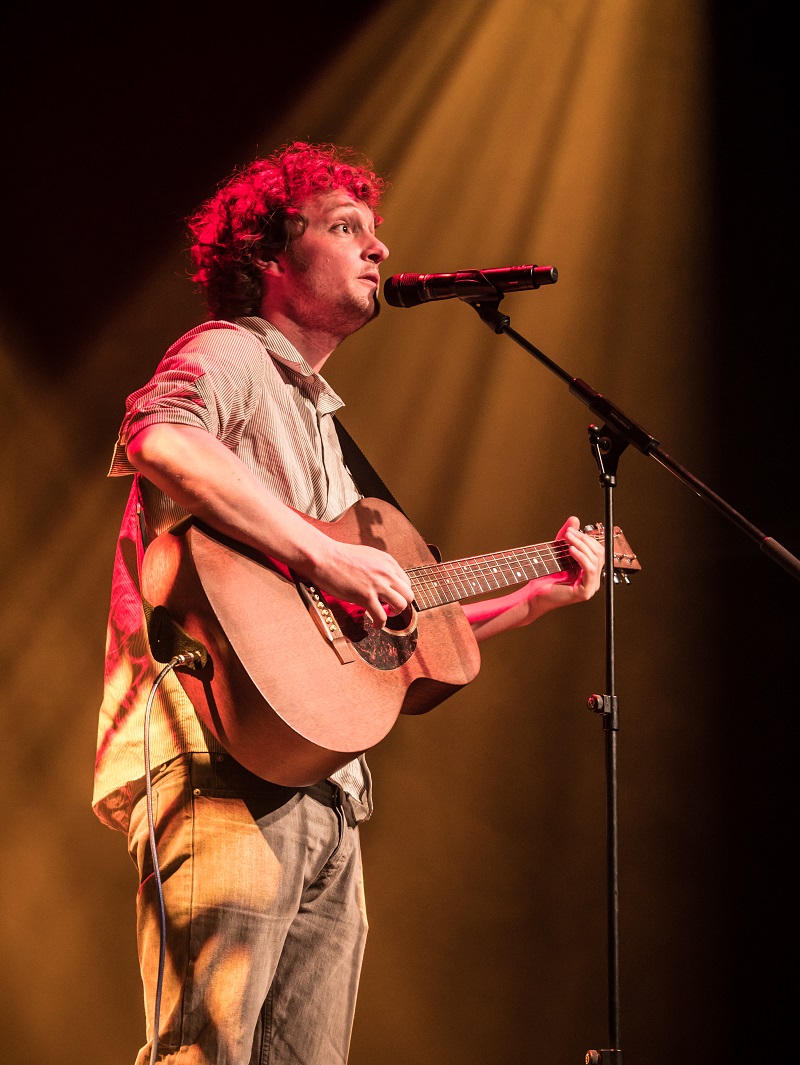 In a somewhat different "Kreutzer Sandwich", Amidon's set of Appalachian folk songs – mostly traditional tunes evolutionised through Amidon and orchestrated by Nico Muhly – were steeped in the novello's ever-present themes of lust, rage, jealousy and violence against women. I've never met anyone in their right mind who's suggested splicing a string quartet like this! It disrupted and disjointed the flow of Janáček's music in a way that was noticeable, pertinent, downright uncomfortable and wholly correct.
Post interval, Kuusisto took to the stage alone for a powerful performance of Missy Mazzoli's Dissolve, O My Heart. Based on the famous Bach Chaconne, it is both a display of the violinist's command of their instrument as well as a poignant harmonic experience. Although throughout the concert Kuusisto would take a mic and speak to the audience in a fun and friendly way, it felt like he's most comfortable communicating when it's just him and his violin. That said, though his conducting style may be unconventional, he's skilled with a baton in hand too. Taking to the podium for Sibelius's Third Symphony, Kuusito explained to the audience that the symphony is rooted in folk music. And indeed, with the way the cross-rhythms between the strings just clicked, the way the more tender harmonies just landed and the overall feel of lightness, the influence of Finnish folk traditions was apparent.
Amidon rejoined Kuusisto a few days later for a shorter concert still inspired by folk music. A set of songs with orchestrations again by Nico Muhly were powerful and poignant, and fed straight into a performance of John Adams's Shaker Loops. Once again, the synergy between classical and folk music was displayed. This rendition was a beautiful example of how the two genres can coexist, fuse, and learn from each other.
In Kuusisto's final concert, Muhly was to the fore as a composer. Allan Clayton shone as the vocal soloist in Muhly's Three Songs for Tenor and Violin, faithfully conveying Mary Ann Caws's text with an honesty in vocal tone which perfectly suited the poetry.
Muhly's Violin Concerto, Shrink – a co-commission from Norweigian Chamber Orchestra, Australian Chamber Orchestra, Mahler Chamber Orchestra, St Paul Chamber Orchestra and the Scottish Chamber Orchestra – received its Scottish premiere. Echoes of Philip Glass,whom Muhly assisted for a while, are clearly heard in the score, but with quirky harmonic shifts which are distinctly Muhly's. Kuusisto as soloist and conductor led with aplomb. His relationship with the orchestra felt almost symbiotic, and the musical ricochet between him and leader Joel Bardoet was captivating both to watch and to hear.
Clayton then returned to the stage for Les Illuminations, a shimmering, viscous song cycle written by Benjamin Britten in 1939-40. It takes its text from the oeuvre of 19th century French poet Arthur Rimbaud, whose surreal and angsty poetry mirrored his life. "Villes" felt like a rip-roaring ride through the titular towns, while "Antique" was calmer, with delicately suggestive harmonies. Clayton conveyed the poems' many moods with powerful vocal prowess – and, delightfully, appeared to be having great fun while doing so. The cycle's final number "Depart" had a strong sense of finality and gravitas – a fitting farewell (for now) to Kuusisto, whose trio of concerts with the SCO were nothing short of wonderful.
Kuusisto's trio of concerts was nothing short of wonderful
rating
Explore topics
Share this article