Andsnes, Eriksmoen and friends, Bergen International Festival online review - from Mozart to Widmann |

reviews, news & interviews
Andsnes, Eriksmoen and friends, Bergen International Festival online review - from Mozart to Widmann
Andsnes, Eriksmoen and friends, Bergen International Festival online review - from Mozart to Widmann
Youth and experience perfectly blended in three outstanding chamber concerts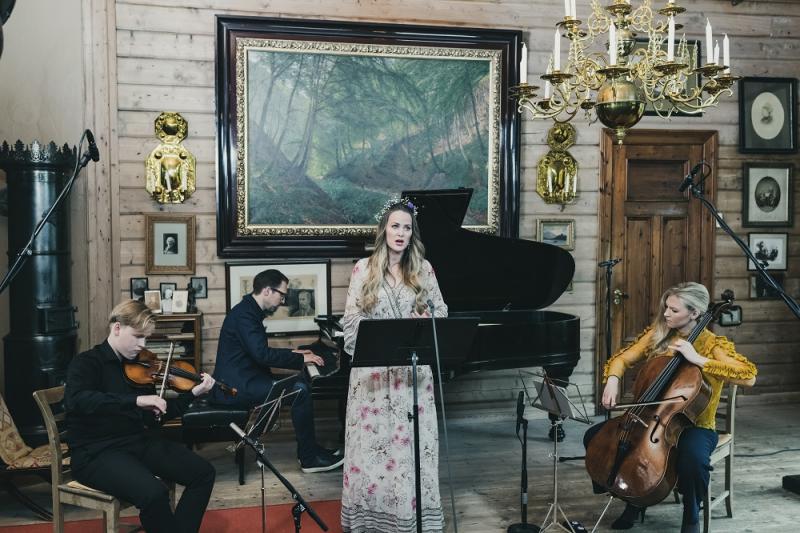 Mari Eriksmoen sings Beethoven folksong arrangements in Grieg's home at Troldhaugen with Ludvig Gudim, Leif Ove Andsnes and Amalie Stalheim
This is as close as we're going to come now to the real festival experience. The enviably well-funded Bergen International Festival is serving up on average three or four events a day, livestreamed from atmospheric venues around the city and all available for a month.
For those of us lucky to have witnessed the more intimate strand within the international programme curated by great
pianist
Leif Ove Andsnes, teaming up this year with outstanding
soprano
Mari Eriksmoen and young players from the (also well-funded) Crescendo mentoring programme, it was close to teleportation. But whereas fiv years ago there had been a privileged 40 of us in Grieg's main room at Troldhaugen, and for another event many more lying on the floor of the ancient harbourside Håkonshallen for Stockhausen's
Stimmung
, the artists this time shared their space only with first-rate camera crews.
Nevertheless, the all-Schumann programme in the Håkonshallen was the most immediate and moving online concert I've witnessed so far – and that with excellent offerings from Oslo, Prague and Stockholm. The composer's elegiac side means that tears are never far away, but the absolute miracle here was Andsnes' support for Eriksmoen in a selection of Lieder from the Myrthen (Myrtles) set. Her fresh, youthful soprano has surprising reserves of strength which were briefly unleashed here; but above all what a joy it must have been for her to coast above and alongside piano-playing of this suppleness and mastery, above all in "Der Nussbaum" ("The Nut-Tree") with its heartleap refrains. The familiar "Widmung" ("Dedication") sounded like a new song, the originality of the piano lines leaping out.
Andsnes' partnership with young cellist Sandra Lied Hage in the Five Pieces in Folk Style at the start of the concert was equally fine-tuned; her introspection suited most of the music, but Norwegian reserve wasn't entirely overcome. Which it was, and with smiling, complicit exuberance, by her four fellow-Crescendists in the great Piano Quintet: violinists Sonoko Miriam Welde and Edvard Erdal, viola-player Eivind Ringstad (already well establshed on the international scene) and a cellist of stronger presence, Amalie Stalheim (pictured above with Andsnes). The slow movement is so apt to our feelings at the moment, the sombre-wistful Funeral March lit up by the rays of subtle, billowing hope in the major-key sequences. Watch the Håkonshallen concert here.
With one change of violinist – Ludvig Gudim taking over from Erdal – the Crescendo performers excelled themselves in the second concert, from the state-of-the-art small hall built on Grieg's Troldhaugen estate with its window out on to trees and water (there's been some development around this inlet, but it's still beautiful). The familiar west-coast rains eventually yielded to sunshine in the scene beyond, creating some difficulties of lighting for the otherwise superb camerawork, as the quartet music became more embattled, from stylishness and elegance in Mozart's "Hunt" Quartet – Welde properly found her well-turned feet for the sudden depths of the Adagio – to featured festival composer Jörg Widmann's Third with the same title (the Crescendo quartet pictured below).
It rollicks from crazy takes on Schumann to obsession with the dactyllic rhythms familiar from Beethoven's Seventh and Ninth, making it a curious companion-piece to John Adams's Absolute Jest for string quartet and orchestra. But this is more vocal – literally, as the players shout and shriek, three of them eventually turning on the cellist in a violent endgame. Nothing less than total togetherness and a wildness these Norwegians seem to be able to access will do; superlative work here from the four young players.
Andsnes had a less rewarding task with Widmann's Idyll and Abyss; somehow Schubert's late piano sonatas handle those extremes more effectively than this mix of pastiche and seeming improvisation. Watch the Idyll and Abyss concert here. The opener, Schubert's yodelling Scherzo D593 No. 1, was paralleled by the opening number in the house itself the following day: Beethoven's Tyrolean in a sequence of his folk songs arranged for piano trio with voice. Andsnes played Grieg's Steinway beneath the striking painting of a Danish lane by Gotthard Christensen, as he had in a programme of Liszt and Kurtag I attended here in 2008 .Eriksmoen plumbed the full sadness of "The Sweetest Lad was Jamie" – one of several Scottish numbers here homaging Grieg's ancestry (the family name was Greig, of course, when his great grandfather emigrated to Norway). "Auld Lang Syne", with a neat little twist in the instrumental coda, and one of Beethoven's several quirky homages to "God Save the King" made an amusing mesalliance.
Then we had Welde and Gudim in a wide-ranging selection of violin duos from Bartók's set of 44, the pair's sparkling engagement and eye-contact a joy to watch, with Welde operating the pedal to turn her iPad pages with rhythmic exuberance. And if Hage brought more inwardness to Beethoven's early C minor Piano Trio (Op. 1 No. 3 than it always needed, Andsnes (pictured above) kept it light and flowing, while Gudim's precociously cultured playing was a revelation. Watch the Grieg house recital here. What a powerhouse of world-class string players Norway is nurturing; all the more thanks to the government and enlightened institutions like Oslo's Barratt-Due Institute of Music for valuing continuity of culture. As that comes under serious threat elsewhere in the world, it's good to know at least one country which will ensure it goes from strength to strength.
Links to viewing of all three concerts given above. Andsnes will appear in the closing concert on 5 June, while he and Eriksmoen can also be seen in the opening concert
Widmann's 'Hunt' Quartet rollicks from crazy takes on Schumann to Beethoven's dactyllic rhythms
rating
Explore topics
Share this article