Bach and Pärt St John Passions, Voces8, ECO, Cadogan Hall / Gesualdo Six, St Martin-in-the-Fields review - contrasting Easter stories
Bach and Pärt St John Passions, Voces8, ECO, Cadogan Hall / Gesualdo Six, St Martin-in-the-Fields review - contrasting Easter stories
Baroque and minimalist Passions weave magic in their different ways
Owain Park and Gesualdo Six sing Arvo Pärt's Passio
Having not heard a Passion live for several years I decided to do two in close succession, to compare pieces from different ends of the musical spectrum.
Bach's 1724 setting, a masterpiece of the baroque, dramatises the story through emotional engagement and expressive characterisation. Arvo Pärt's Passio (completed 1982) is by contrast severe and minimalist, its declamation deliberately flat and detached, until a blazing climax, one of the hardest earned releases in all music.
I borrowed the CD of Passio from my local library as a teenager, when the Hilliard Ensemble's premiere recording first came out. It was my first encounter with Pärt and I wasn't impressed, but to be fair to my younger self it is a challenging listen. Coming back to it now in a performance by the Gesualdo Six at St Martin-in-the-Fields, I was more taken with Pärt's self-denial: the Latin text of St John's gospel is delivered with a ritualistic flatness, avoiding all word-painting or expression, apart from a couple of choral interjections. It is an extreme idea, followed through with obsessive singlemindedness.
It is a feat of stamina, not least for the conductor, who has to lead 70 minutes of very slow music without a break. Gesualdo Six's leader Owain Park (pictured below) did a fine job, pacing things faultlessly through conducting that was as undemonstrative as the music. It is also a test for the singers – solo voices for Jesus and Pilate, as well as a quartet collectively representing the Evangelist. Sam Mitchell as Christ perhaps lacked the depth of sound the part really needs but had the requisite stillness, where Josh Cooper as Pilate was compelling but perhaps more operatic than quite fitted.
There was a general avoidance of vibrato – in both the singing and playing by the instrumental quartet – and this was heard to best effect in the Evangelist quartet. The pick of these were countertenor Guy James and the chillingly austere Rachel Ambrose Evans. They worked through acres of narration in an unchanging slow tread, the melodies circling round the same few notes, the accompanying tintinnabuli parts outlining the same triad. It is the modern equivalent of medieval chant, performatively being the liturgy, rather than illustrating it.
And yet… Pärt can't resist a final, glorious musical coup de théâtre. In literally the last minute of the 70, the accompanying choir (the very impressive Choral Scholars of St Martin-in-the-Fields) rises through a vertiginous crescendo to an ecstatic, glistening D major. It is the most deferred of deferred pleasures, both undermining Pärt's previous self-denial and yet also somehow re-affirming it.
Where Pärt takes over an hour for his first climax, Bach's takes just a minute before the thrilling first entry of the choir. Voces8 and the English Chamber Orchestra gave us a much more familiar Passion at Cadogan Hall, although in the smaller forces style that is now so prevalent. This meant Voces8 were augmented to 20 singers, but the soloists came from within these ranks. This is for me more satisfying than the traditional choral society style where the alto soloist sits and listens for all but two solo numbers.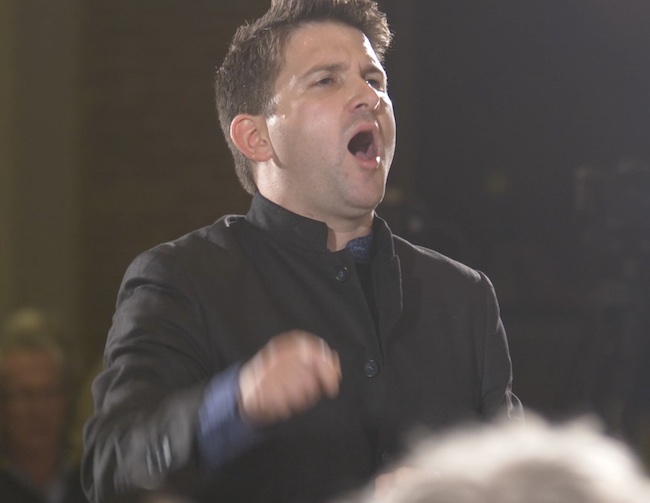 This performance, conducted with complete commitment by Voces8's artistic director Barnaby Smith (pictured above), actually took a little while to find its feet – the opening chorus wobbled a bit – but once it did was gripping. Where Pärt is abstemious, Bach feasts on the dramatic riches on offer, in the dialogues between narrator and the other characters, including Jonathan Pacey as a world-weary Christus. James Way was an energetic Evangelist, moving smartly through the text with crisp German consonants and revelling in his brief moments of emotion, such as Peter weeping.
But it was in the arias that things really took flight. Hilary Cronin's golden-toned "Ich folge dir gleichfalls" danced around a pair of flutes, and Chris Moore's "Betrachte meine Seel'" captured its sense of "fearful pleasure" with dulcet lute and veiled violins. The chorus, from their bitter interjections of "Kreuzige" – "Crucify him" – to their gentle superimposition of the chorale "Jesus, der du warest tot" over Jonathan Pacey's final bass aria, grabbed the musical moment. The final consolatory chorus – "Rest in peace, you sacred limbs" – was quietly moving, while the concluding chorale, driven home by Smith like a champion charioteer, gave a tantalising final glimpse of glory, as had Pärt's Passio, in its very different idiom.
In literally the last minute the choir rises through a vertiginous crescendo to an ecstatic, glistening D major
rating
Explore topics
Share this article