BBC Proms 2022 - silence after Mass |

reviews, news & interviews
BBC Proms 2022 - silence after Mass
BBC Proms 2022 - silence after Mass
No official Last Night, for the first time ever, but it's been an extraordinary season
Monday, 12 September 2022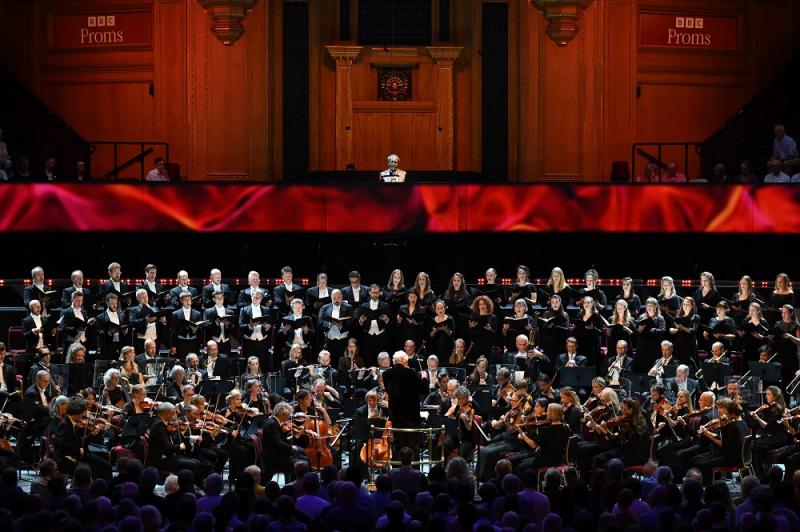 Unofficial last night: Gardiner conducts Beethoven's 'Missa Solemnis'
So John Eliot Gardiner's fire- and-air way with Beethoven's Missa Solemnis turned out to be the last night of the Proms. Just as I was about to cycle to the Royal Albert Hall for the first of the Philadelphia Orchestra's two Proms the following evening, a notice came through: following the news of the Queen's death at 6pm, the evening's event had been cancelled.
In fact, for those who went – I now wish I had – there was "God Save the King" and "Nimrod" from Elgar's "Enigma" Variations, and then a respectful departure. It must have been a good way of coming-together – as a Last Night undoubtedly would have been; and surely at least the Funeral-March second movement from Beethoven's "Eroica" Symphony, which Yannick Nézet-Séguin had been due to conduct that evening, would have made perfect sense. At least the Philadelphia had got to play at the Edinburgh Festival, so the long journeys across the Atlantic weren't entirely wasted.
The following day came another message from Camilla Dervan, head of Proms press – her last, alas (for us), as she moves on to the National Theatre: "following the very sad news of the death of Her Majesty The Queen, as a mark of respect we will not be going ahead with Prom 71 on Friday 9 September, or the Last Night of the Proms on Saturday 10 September". Frankly, what's more respectful – silence or going ahead with a modified programme? That happened four days after 9/11 in 2001, when American Leonard Slatkin conducted appropriately adjusted repertoire including Barber's Adagio for Strings – actually in its original quartet a lovesong for partner and fellow-composer Gian Carlo Menotti, but used as funeral music for Franklin D Roosevelt and JFK – the spirituals from Tippett's A Child of Our Time and culminating in the "all people should be one" anthem of Beethoven's Ninth.
Watch the second half of the 2001 Last Night of the Proms
Questions remain. If technical crew were needed for other events over a momentous week, it would have been good to know. We must presume everyone was paid, freelancers included (I asked, and haven't had an answer). The Saturday evening TV schedule should have been adjusted to show appropriate Proms filming: for example, the opening night this year, a fine performance of Verdi's Requiem could have taken re-screening. Meanwhile, BBC Radio 3 has been doing a fine job, I'm told, fitting the bill of mourning with an appropriate range of music: infinitely preferable to endless commentary.
Anyway, let's celebrate a remarkable season. Above all it gave tens of thousands what they needed most of all: big choral celebrations and memorials, with frequent assemblies of two choruses (though the Missa Solemnis was slimmed down to a magnificent professional ensemble, the Monteverdi Choir). So much is still up on TV and radio iPlayers: you can (and should) watch Simon Rattle's much-feted performance of Mahler's "Resurrection" Symphony, and what could more appropriate for now than Elgar's The Dream of Gerontius (sound only, alas, but with the best protagonist we may ever hear in Allan Clayton).
Tallies will be made of the finest when theartsdesk's classical and opera critics come to make their "Best of Year" choices in December, but there's no shadow of a doubt that the Mahler Seventh with Kirill Petrenko conducting the Berlin Philharmonic will stand as one of my most vivid concert memories of a lifetime (alongside Bernstein's Vienna Philharmonic Proms Mahler 5 and Abbado's Mahler 9 with the Lucerne Festival Orchestra). Meanwhile, this year's abundance has been more than enough to prove that the BBC Proms live(s) up to the much-vaunted title of "the biggest music festival in the world".
Tomorrow, we celebrate with master photographer Chris Christodoulou's annual selection of unusual conductor shots. And it was Chris who reminded me that never before, whether in the Albert Hall or the Queen's Hall, September or late autumn, war or peace time, has a Last Night been missed. We'll just have to settle for respecting the Queen's 70 remarkable years of service. But from now on, please, do it with music.
Above all, the 2022 season gave tens of thousands what they needed most of all: big choral celebrations and memorials
Explore topics
Share this article