Benedetti, Kanneh-Mason, Grosvenor, RSNO, Søndergård, Usher Hall, Edinburgh review - gorgeous textures, starry soloists |

reviews, news & interviews
Benedetti, Kanneh-Mason, Grosvenor, RSNO, Søndergård, Usher Hall, Edinburgh review - gorgeous textures, starry soloists
Benedetti, Kanneh-Mason, Grosvenor, RSNO, Søndergård, Usher Hall, Edinburgh review - gorgeous textures, starry soloists
'All Star Gala' shines as much in the contributions of the regulars as in its guests
Nicola Benedetti and members of the RSNO Youth Chorus
What's better than having a star soloist on the billing for a concert? Three star soloists! The Royal Scottish National Orchestra billed this concert as its "All Star Gala", and that's more than just a shrewd marketing move (though it was that: this was the busiest audience they've had all season).
It's an entirely fitting title for a concert that features Nicola Benedetti on
violin
, Sheku Kanneh-Mason on
cello
and
Benjamin Grosvenor on
piano
, all brought together to perform Beethoven's Triple Concerto.
While they're here, however, the orchestra wisely decided to put their guests' talents to wider use by performing three short, relatively new choral pieces with the RSNO Youth Chorus, each of which has a solo accompaniment from violin, cello or piano. The pick of them was Caroline Shaw's Its Motion Keeps, a gorgeous texture of overlapping musical lines that often seemed entirely disconnected from one another but produced an overall effect was nothing short of bewitching, helped by Benedetti's violin hovering above.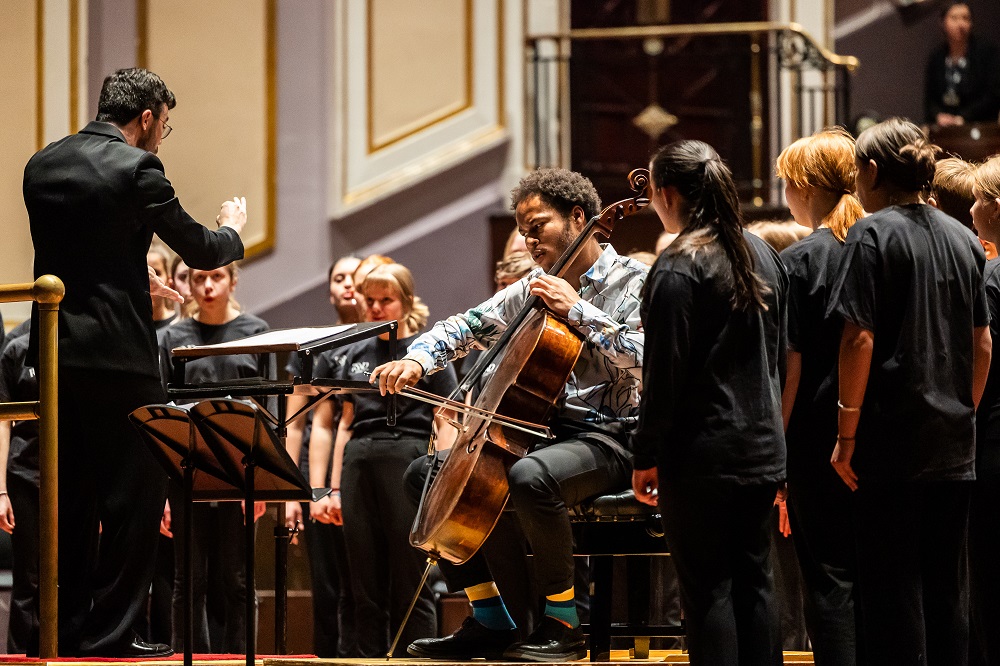 I also enjoyed Russell Hepplewhite's The Death of Robin Hood, a theatrically paced and dramatically coloured narrative with an ever-changing line of energy for Kanneh-Mason's cello (Kanneh-Mason and RSNO Youth Chorus members conducted by Patrick Barrett pictured above). I was less gripped by Errollyn Wallen's Inherit the World with its mostly unison vocal line and a piano part so rhapsodic that it sounded simultaneously improvised and uninspired. The singing of the chorus in all three, however, was superb, their sound admirably focused and wonderfully controlled, with all the nuances brought out delicately but firmly. That's a testament to the marvellous work that Patrick Barrett has done with them in recent years. As their choral director, his work has been little short of transformational.
The performance of the Triple Concerto (Benedetti, Kanneh-Mason, Grosvenor, Søndergård and RSNO pictured below) was no doubt helped by the fact that this trio of soloists has performed it together several times across the UK this Spring. That meant there was lots of listening to one another and never any sense of one instrument stealing the spotlight.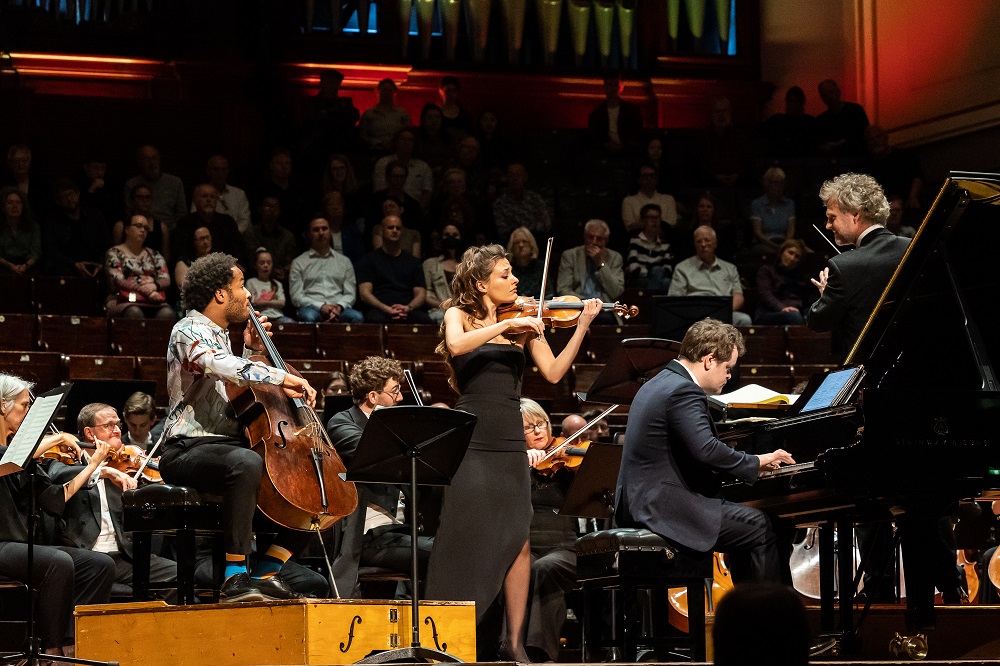 The orchestra played with energy, too, though conductor Thomas Søndergård kept the weight of the sound on a pretty tight leash, presumably for reasons of balance. That was a pity because it's a rare treat to hear this piece in the concert hall at all, let alone hearing it performed by a full-scale symphony orchestra. Only in the gorgeous slow movement, rich with bass tone, did some of that luxurious sound come through.
Brahms' First Symphony, on the other hand, benefited from it hugely. This was large-scale, old-fashioned Brahms, and was all the better for it. I've never been convinced by the chamber orchestra approach to Brahms' symphonies: for me the losses outweigh the gains, and I'd much rather the music was allowed to sweep you up in its scope. Here, it did, both in the strength of its overall sweep and in its beautifully played solos. Each of those orchestral players who got a final ovation deserved it every bit as much as did their special guests.
The overall effect of Caroline Shaw's 'Its Motion Keeps' was nothing short of bewitching, helped by Benedetti's violin hovering above
rating
Explore topics
Share this article