Charles Hazlewood On Music In Bristol |

reviews, news & interviews
Charles Hazlewood On Music In Bristol
Charles Hazlewood On Music In Bristol
The globetrotting conductor explains why his latest project is closer to home
Charles Hazlewood: 'The intention is that there will be a sense of discovery, a kind of collective odyssey'
Next Friday, my amazing period-instrument orchestra, Army of Generals, begins a new residency at St George's Bristol. The aim of this unconventional and high-octane series of concerts - which will be performed by what I refer to as my crack squad of period instrumentalists - is to raise the bar for people's engagement with music and to bring some musical protein to a city which I think is so desperately in need of it.
As someone who was born and raised in Somerset, I have for a long time been frustrated by the low provision of music in the West Country. If you drive south and west from London, in the general direction of Cornwall, the last full-time professional orchestra before Lands End is in Bournemouth; Bristol, the capital of the West, is unique compared to any other city of equivalent size, for not having a full-time orchestra. Or opera company. Or dance company. Its main concert venue, Colston Hall, is disfigured by the fact that Colston was a prominent slaver, and plans to build a concert arena which could play host to first-division bands were recently scotched by a city council blighted by inertia, low imagination and ineptitude. Don't get me wrong, there are some fantastic people doing some great things – the Bristol Ensemble, and St George's itself are wonderful examples – but it's simply not enough.


My first attempt to redress the situation was Play the Field (pictured above), a festival which took place on the Somerset Levels in the summer of 2009, and took that rarefied beast, the symphony orchestra, out of the narrow confines of a concert hall and set it free in a field. Thanks to modern technology we can make an orchestra sound great in the open air but, and this is what really appeals to me, audiences don't have to suffer the ludicrous etiquette of the concert hall – don't whisper, don't eat sweets, don't shuffle about – which merely alienates people and makes them feel self-conscious.
In fact, these rules are a late-19th, early-20th-century convention; until that time, people would go to a gig and they'd drink and chat to their mates – they might even play cards – and if the music was any good, they'd sit up and listen. Play the Field was an attempt to return to those halcyon days when, as the music critic Alex Ross puts it so eloquently, concerts were more like "eclectic hootenannies". People could engage with the music without worrying about whether or not they were clapping in the right place or wearing the right clothes.
Play the Field was an enormous success. It was attended by 4,000 people, over half of whom had never heard an orchestra live before, and will be back in June - but what of Bristol?
The residency by Army of Generals, which is called Abstractions and Refractions, at St George's Bristol is the first of what I hope will be many projects to respond to this need. I founded Army of Generals to record with me all the music for my BBC films on Mozart, Beethoven and The Birth of British Music. They have been seen and heard by millions on telly and at St George's they go live! As all the instruments are from the 18th century, the effect is quite unlike a modern orchestra - there's a world of difference between the sound that a body of string players make if they're playing gut strings as opposed to tungsten steel.
A period-instrument orchestra can play much lighter, more dramatically – more fleet of foot, you could say – and it can play quieter, summoning up a completely different, translucent, set of colours. Obviously, musical instruments continued to evolve and became more sophisticated over the years - a modern-day oboe works much better than an 18th-century one – and one of the things that I value highly about working with period orchestras is that in order to make it sound good, the players have to invest more of themselves in what they are playing.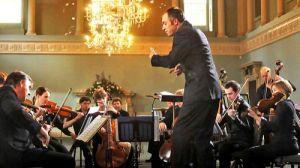 The whole essence of the series at St George's is to look at some great glittering jewels of 18th-century music and, because Army of Generals (pictured left) is a rather unconventional period orchestra, we will also be exploring some contemporary music that comments on that 18th-century spirit. It's very rare to find a period-instrument orchestra playing contemporary music but I think there is an absolute logic in doing so – after all, modern orchestras think nothing of playing Bach or Mozart and jump around from period to period, so why shouldn't a period-instrument orchestra? Because the instruments sound so different, it sheds a completely different light on the music.
I have a peculiar, almost perverse obsession with the idea of an artist of today looking down the long lens of history
Which is why, in addition to pieces by Haydn and Mozart, we will be playing Moz-Art à la Haydn by Russian composer Alfred Schnittke. I have a peculiar, almost perverse obsession with the idea of an artist of today looking down the long lens of history and taking some truly great work, breaking it down and creating something which is simultaneously completely new and yet true to the original. In Moz-Art à la Haydn, Schnittke takes little fragments of a pantomime score of Mozart's and snips it up like a collage. Sometimes it is very discernibly Mozart and at other times it is as if Schnittke has thrown a bottle of hydrochloric acid over it or sprayed it with glitter. It is a fantastically playful take on both Mozart and Haydn.

Of course, St George's is a traditional concert hall, albeit a spectacularly beautiful one with a gorgeous creamy acoustic, so to give it a slightly mellower vibe, Gavin Pretor-Pinney (author of the bestselling book The Cloudspotter's Guide) will be projecting cloud images onto the walls and ceiling of this beautiful old space, as a kind of visual counterpoint to the music – after all, clouds are a perfect example of abstraction and refraction.
It won't be a conventional concert. The intention is that there will be a sense of discovery, a kind of collective odyssey. I'll talk about the music as we go along. Everyone is welcome and every response is valid – and if the audience goes away just slightly changed by the experience, so much the better.