Chasing the Night, Echo Vocal Ensemble and Friends, Latto, Kings Place review - midwinter songs from around the world |

reviews, news & interviews
Chasing the Night, Echo Vocal Ensemble and Friends, Latto, Kings Place review - midwinter songs from around the world
Chasing the Night, Echo Vocal Ensemble and Friends, Latto, Kings Place review - midwinter songs from around the world
Imaginative programming in a seasonal concert with a difference
The Echo Vocal Ensemble at Kings Place
At this of year there is always a good range of seasonal choral concerts on offer in London – and an audience for them all, weather and strikes permitting. But while I enjoy a canter through Carols for Choirs as much as anyone, I am perhaps more drawn to something offering some novelty.
I was well-rewarded in this respect by Echo Vocal Ensemble and Friends in their programme "Chasing the Night" at Kings Place yesterday.
The conceit was simple: celebrating midwinter music from around the world by travelling west from India to the USA, following the path of night as it moves across the globe. This resulted in a delightful diversity of styles and composers' voices, with the energy and fast tempo of so many of the pieces a notable – and very welcome – feature.
The performers were Echo Vocal Ensemble, a relatively new group of relatively young singers who came together originally as part of the Genesis Sixteen choral programme. Their "friends" on this occasion were the table player Shri Gadhvi (pictured below), the pianist Christopher Glynn and the Ganda Boys, a Ugandan singing duo. Sarah Latto was billed as "conductor" but was actually so much more: she ran the show with an enjoyable informality, a relaxed looseness that drew the audience in. Her conducting was excellent, her speaking between items well-judged, and she had the confidence to do some things other conductors might shy away from: to not conduct when she didn't see the need, to join in singing herself, to have another member of the group conduct an item. Latto also included an arrangement of her own – a terrific mashup of Nina Simone's "Little Girl Blue" and the traditional "O Come Emmanuel" – and added in extra items and dropped others on the fly. It was all completely admirable and speaks to a well-justified musical self-assurance.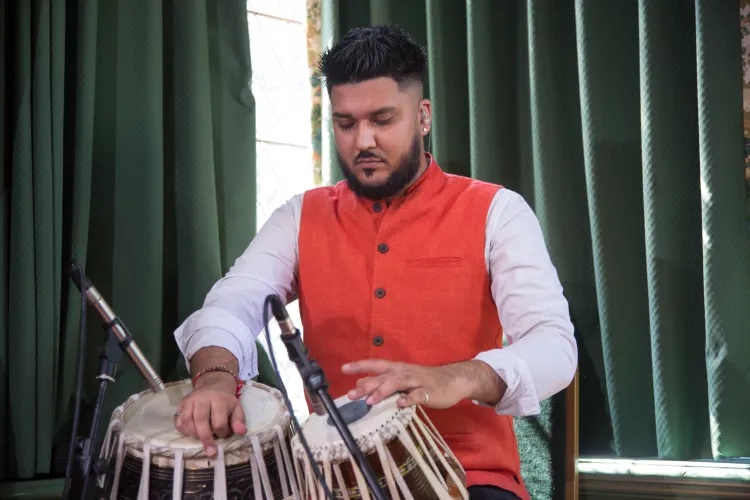 The programme kicked off with two numbers from composers of Indian heritage: Shruthi Rajasekar's "Jayjaykar" had a powerful declamatory opening and blended European choral textures with the distinctive slides and glides of Indian classical singing. It was all bound together with the beautiful tabla playing of Shri Gadhvi. Shivani Rattan's "Patake!", marking Diwali, is a layer song, new looping elements constantly being piled up. It was sung with infectious enjoyment by the choir, relishing the strong consonants and I hope this spirited and accessible song will be taken up by many other choirs.
There was European music from Rachmaninov, Praetorius and Sweelinck, all of which showed the choir's versatility, not least in tackling, by my reckoning, nine different languages through the evening. Perhaps the most magical moment was the choir coming and sitting on the front of the stage to sing "Stille Nacht" – a touching solo from tenor Sam Oladeinde – with the audience invited to join in. Audience participation can be a bit icky, but this felt very natural, and I enjoyed this "Christmas standard" all the more for being no more than a little island of familiarity.
There was a slice of harmonic deliciousness from Poulenc (the only time in the evening where there was a momentary loss of unanimity in the tuning) and a premiere from John Barber, which had notes of Michael Nyman and the Flying Pickets, and which explored ideas of social isolation at Christmas. Anna Þorvaldsdóttir's "Heyr þú oss himnum á" was sublime, the slow music coming as a welcome change, rather than the predominant mode. The singing was hymnic and fragile, and yet completely assured.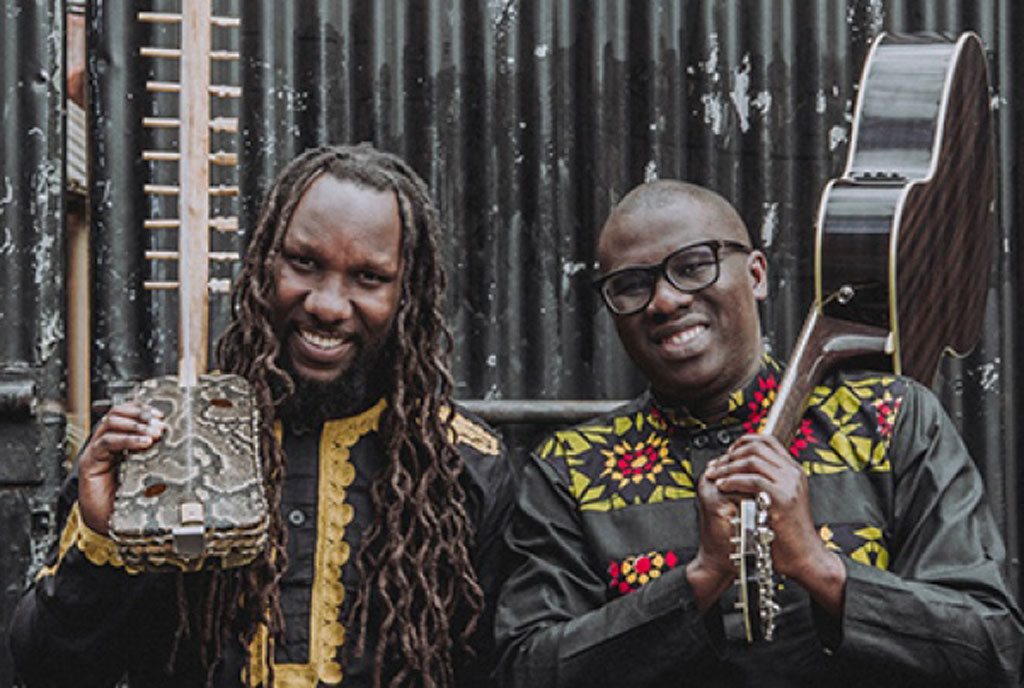 The Ganda Boys (pictured above), Denis Mugagga and Danny Sewagudde, are a UK-based duo bringing traditional Ugandan songs to life in contemporary Britain. They brought a humour and energy that was utterly joyful, coaxing the choir into a different sound, earthier and more spirited, the insistent looping phrases linking back to the Indian-inspired music at the start. Chris Glynn then accompanied the choir and soloist Lucy Cronin in some heartfelt Nina Simone – I really loved Sarah Latto's understated and subtle arrangement – and then the last number saw Shri Gadhvi return to the stage for a take on "The Little Drummer Boy" with tabla. Not perhaps the drums that the original composer Katherine Kennicott Davis would have had in mind, but, within this programme, a perfect fit.
Shruthi Rajasekar's "Jayjaykar" blended European choral textures with the distinctive slides and glides of Indian classical singing
rating
Explore topics
Share this article