The Chevalier, St Martin-in-the-Fields review - virtuoso journey into a shamefully neglected past |

reviews, news & interviews
The Chevalier, St Martin-in-the-Fields review - virtuoso journey into a shamefully neglected past
The Chevalier, St Martin-in-the-Fields review - virtuoso journey into a shamefully neglected past
Music is the star in this retelling of the remarkable life of black composer Joseph Bologne
Pride and prejudice: Chukwudi Iwuju, Braimah Kanneh-Mason, Kate Oswin and David Joseph
Shimmeringly urbane, shifting effortlessly from intricate agility to muscular intensity, the music of the 18th century composer Joseph Bologne is remarkable not least in the fact that it has remained an obscure part of the repertoire for so long. This hybrid theatre concert, created by Bill Barclay, former director of music at Shakespeare's Globe, is part of a growing swell of initiatives to recognise the dynamism of a composer who has been overlooked because he was black.
The thrilling LPO performance – which took place last night at St Martin-in-the-Fields and premiered in Snape Maltings at the weekend – clearly demonstrated that there was no other possible reason for the fact that Joseph Bologne is not more widely known. Yet despite the virtuosic, Mozartian sheen to his compositions, a Times feature by Neil Fisher earlier this month rightly carried the headline "Don't call him the black Mozart" – not least since Bologne was Mozart's senior and just as likely to have influenced him.
The violinist Braimah Kanneh-Mason – Sheku's older brother and another of the family's rising stars – appeared as the musical aspect of Bologne's personality (pictured below), alternating between passages delivered with galvanising rapidity to moments where the violin sang out like a bird at dusk. It was left to Chukwudi Iwuji – dressed, like Kanneh-Mason – in the red and gold uniform of the "Chevalier" or "Knight", to act out Bologne's life story as he was thrown between the barbs of Parisian prejudice and the capricious compliments of the court at Versailles.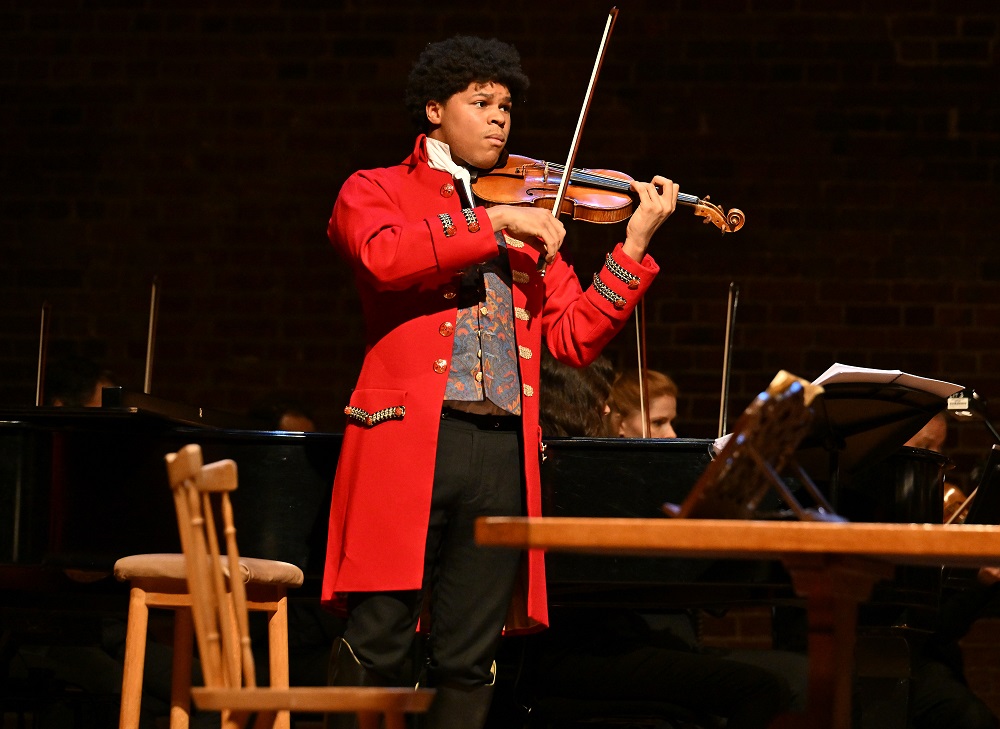 As Barclay has rightly identified, Bologne's was a remarkable life – an American biopic, starring Kelvin Harrison, will be released in the US in April and in the UK in June. This particular play focuses on 1778, a year in which Bologne, who was born in the Caribbean, shared accommodation with Mozart for two and half months and gave lessons to Marie-Antoinette, whose interests here go some way beyond baked goods.
Barclay has taken the tactical decision that the music should be the star of the evening – with apologies to Marie-Antoinette for the metaphor, the story is essentially icing to the millefeuille of the compositional cake. At St Martin-in-the-Fields, the LPO opened with the Allegro Presto moment of Bologne's Symphony in D, in which the triumphant opening chords gave way first to effervescence and then a deeper lyricism. After this, in the Adagio movement of the Violin Concerto in D, Kanneh-Mason demonstrated the full nuance and eloquence of Bologne's range, distilling every note into liquid gold.
The intriguing clutch of characters who helped tell Bologne's story included novelist Choderlos de Laclos – of Dangerous Liaisons fame, played by Barclay himself – Mozart, played as a man-child by David Joseph, and Marie Antoinette played by Merritt Janson (pictured below second from left).
"Marie Antoinette played as an immigrant!" exclaimed a man loudly next to me in the crypt before the evening began. "That's a sort of woke nonsense, isn't it?" Yet Marie Antoinette's status as an Austrian did, without doubt, make her both an outsider and meat for French political machinations. In the story that unfolded it proved illuminating to look at her plight as part of her motivation for championing the Chevalier as he fought off a very different kind of prejudice.
To be frank some of the hammy jokes could have been ditched and the dialogue wouldn't have suffered from going into slightly more depth about each character's motivations. Yet as the evening progressed we gained a fascinating picture of the violinist, conductor, legendary fencer, and commissioner of Haydn among other composers. The LPO – presided over by conductor Matthew Kofi Waldren – was on ravishing form, managing both to convey the chattering-class sophistication and lurking anger in Bologne's work. It left this critic feeling rather like I did when I saw the National Gallery's exhibition of seventeenth-century artist Artemisia Gentileschi – a real thrill at witnessing a talent about whom I knew all too little, combined with anger that history had chosen to ignore it.
Kanneh-Mason had immersed himself in the Chevalier's work in preparation for this, and it showed – through his performance we really felt the richness and the physicality of it. The Violin Concerto in A, Op 5, no 2 was sensational – swooping from spiky wit to passages that were as rich with intensity of thought as they were with emotion. At moments his bow ricocheted back and forth over the strings at lightning speed, at others he effortlessly scaled to vertiginous heights on the E-string. One of many high points in an evening which made a compelling case that hopefully this is just the beginning of Bologne's long overdue recognition as a household name.
Kanneh-Mason demonstrated the full nuance and eloquence of Bologne's range, distilling every note into liquid gold
rating
Explore topics
Share this article