Classical CDs: Musical saws, keyed fiddles and kestrels |

reviews, news & interviews
Classical CDs: Musical saws, keyed fiddles and kestrels
Classical CDs: Musical saws, keyed fiddles and kestrels
Czech symphonies, contemporary chamber music and a well-matched quartet coupling
Saturday, 14 January 2023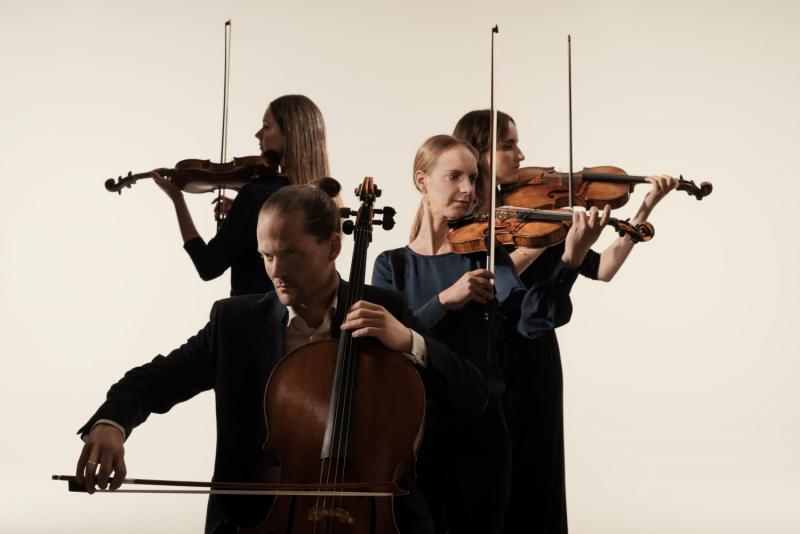 Amsterdam's Dudok Quartet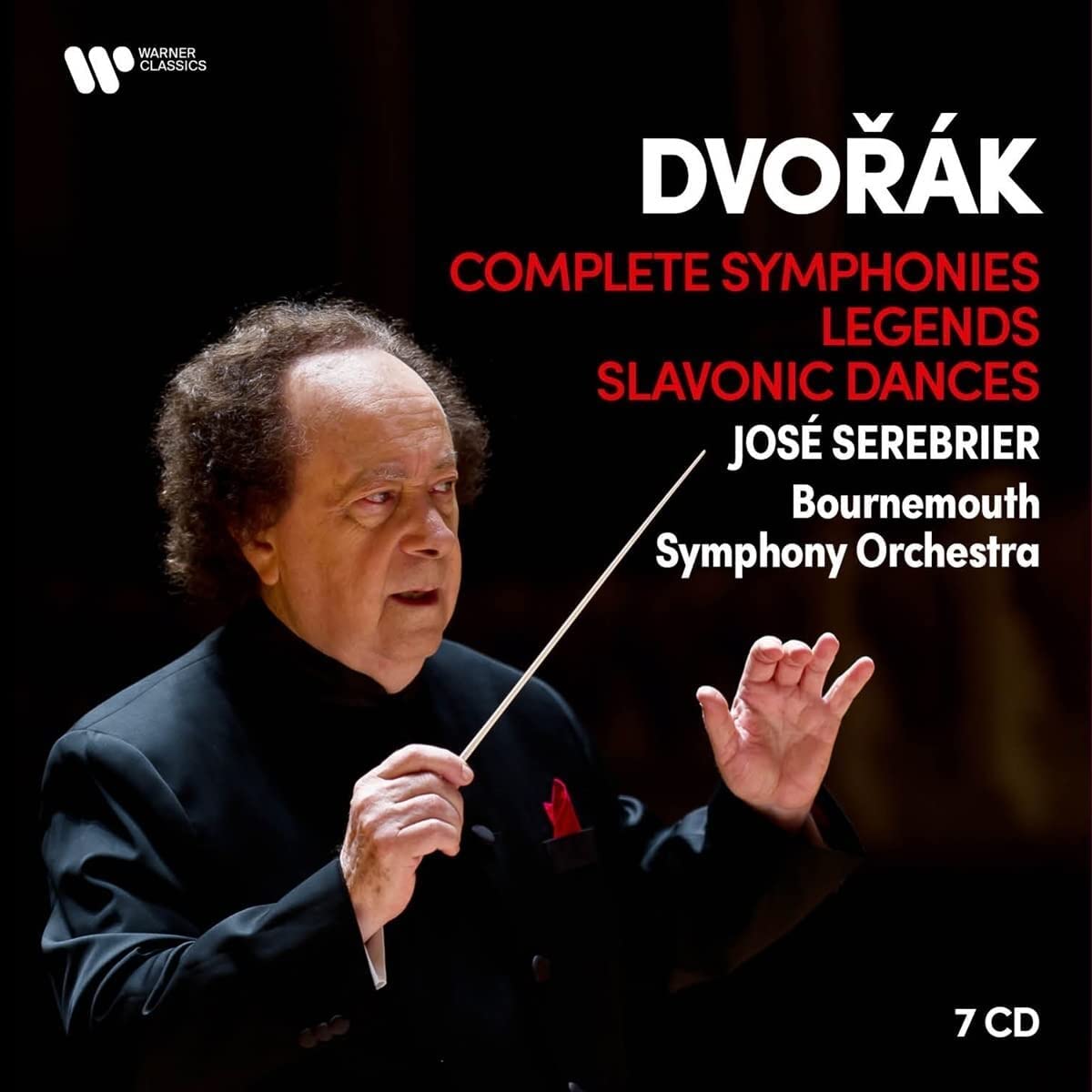 Dvořák: Symphonies 1-9, Legends, Slavonic Dances Bournemouth Symphony Orchestra/José Serebrier (Warner Classics)
The advantage of having all the Dvořák symphonies in one handy box is that you can explore the works that rarely get an airing; apart from playing through the scherzo of Symphony No. 4 in a youth orchestra many years ago, I've never heard a note of Nos. 1-6 performed live. More's the pity. There's some fabulous music in the early symphonies and it's interesting to hear pre-echoes of Dvořák's late style. The luminous string writing in No. 4 looks ahead to the radiant G major 8th, and the Sturm und Drang of Symphony No. 1's huge opening movement prefigures 7 and 9. We're lucky to be able to hear this symphony at all: Dvořák completed the work in 1865 as a competition entry but never heard a note of it, the score getting lost and only resurfacing in 1923. If you've not heard the work, start here. José Serebrier's performance is full of fire, and he secures taut playing from an audibly enthused Bournemouth Symphony Orchestra. Symphony No. 2 followed shortly afterwards and nearly suffered a similar fate, Dvořák's binder keeping hold of the manuscript when the composer couldn't afford the fee. It's a delight: sunny, inventive and brilliantly orchestrated.
Symphony No. 3 contains an arresting funeral march, anticipating the late tone poem The Wood Dove. And do sample this version of No. 5, the irresistibly perky opening paced to perfection by Serebrier. Horns and winds blaze in the Brahmsian Symphony No. 6. It's all good. Serebrier faces stiffer competition in the last three symphonies. No. 7 takes time to warm up, though the finale is exciting. No. 8 is a delight, with excellent contributions from winds and brass. Only No. 9 sounds a little faceless, but Serebrier's hit-rate is still impressive overall. This bargain-price box is a steal, the recordings made at the orchestra's base in Poole between 2011 and 2014. You also get Dvořák's complete Slavonic Dances, the Op.59 Legends and the Czech Suite. Serebrier's notes are a good read, and the engineering is sound throughout.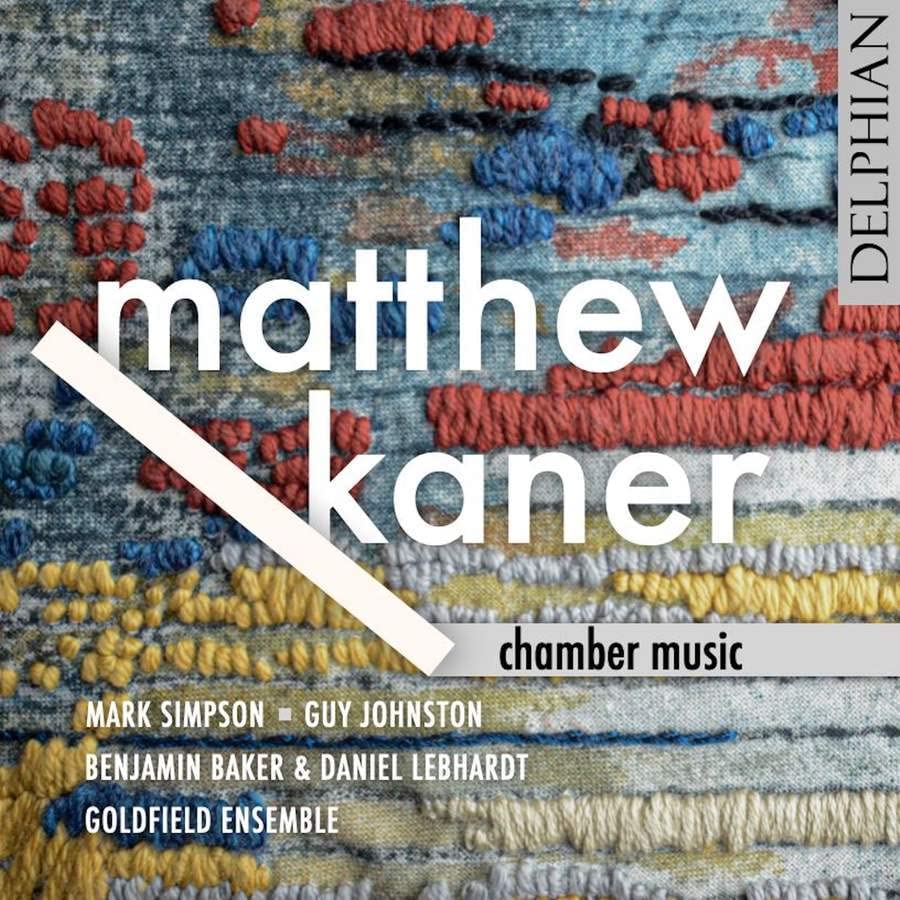 Matthew Kaner: Chamber Music Mark Simpson, Guy Johnston, Benjamin Baker, Daniel Lebhardt, Matthias Balzat, Goldfield Ensemble (Delphian)
Having enjoyed Matthew Kaner's much-delayed Proms debut Pearl in 2022, I was looking forward to this disc of his chamber music. I wasn't disappointed, although this is unshowy, private, slightly elusive music, quite different to the modern medievalism of the Proms piece. It certainly has a starry cast of performers, who are eloquent advocates for Kaner's music, and the album boasts the high recording quality you expect of Delphian. Mark Simpson plays Flight Studies on basset clarinet. His virtuosity makes light of the swoops and jumps of these evocations of the swift and the kestrel. There is narrative in these pieces – as in everything on the disc – but also a melodic grace, which is perhaps less evident elsewhere. Guy Johnston plays the Suite for Cello, whose eight short movements segue into each other, with a ghostly otherworldliness. This is not the cello in heroic mode but rather as quizzical outsider, and it makes sense that its tentative lyricism emerged from the lockdown of 2020.
The Piano Trio, played by Benjamin Baker (violin), Daniel Lebhardt (piano) and Matthias Blazt (cello) is languid for the first two movements before bursting into activity in the third, finding unlikely interest in ribbons of ascending scales. The Goldfield Ensemble, led by clarinettist Kate Romano (who also contributes the thoughtful booklet essay), find the mercurial narrative in At Night. The first movement depicts a child winding down before bed, the second star-gazing, and although I wouldn't have deduced these scenarios from listening alone, as with the whole disc there is characterful momentum that makes musical sense, whatever the story it conjures up for any particular listener. – Bernard Hughes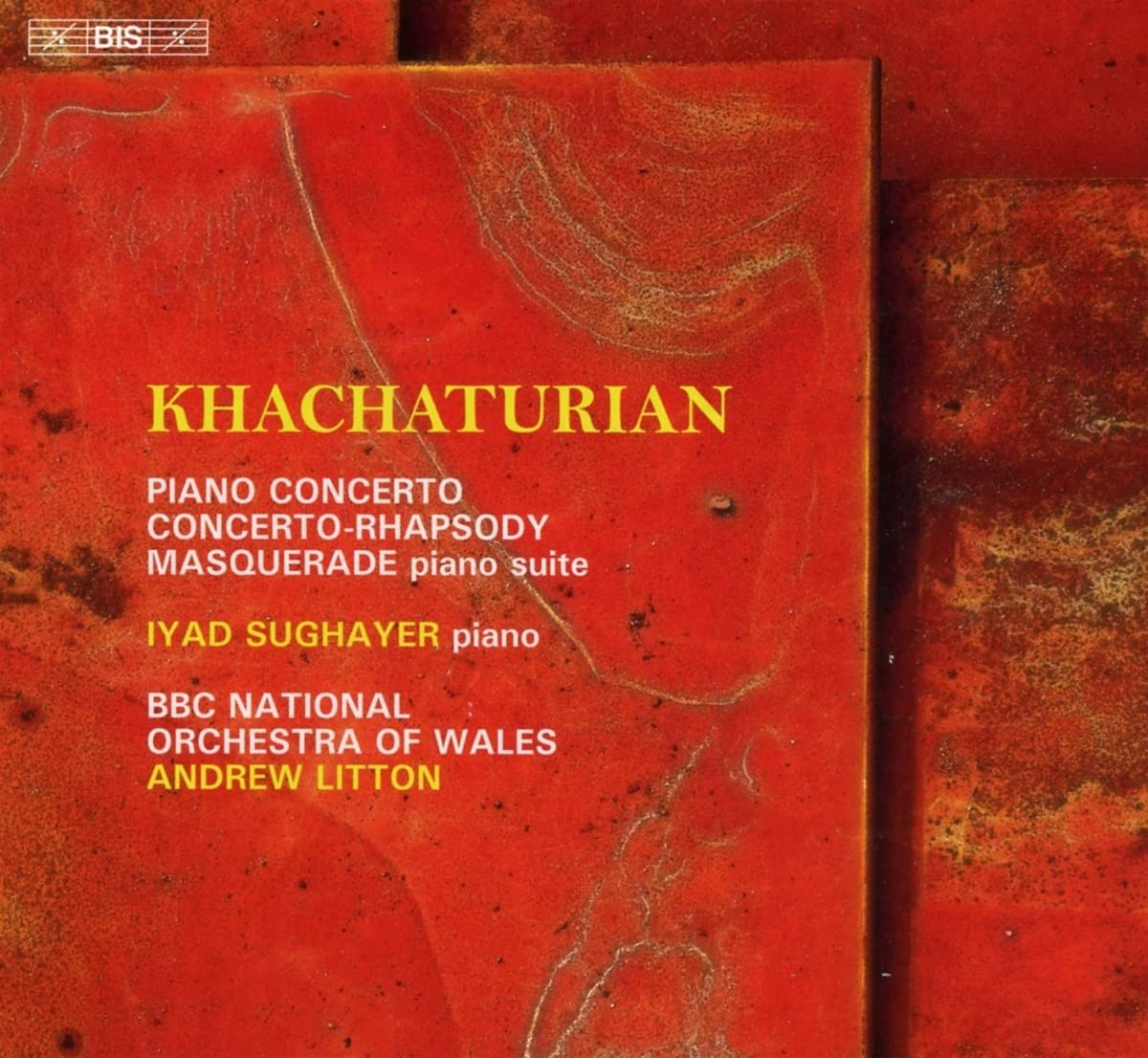 Khachaturian: Piano Concerto, Concerto-Rhapsody, Masquerade Suite (arr. for solo piano) Iyad Sughayer (piano), BBC National Orchestra of Wales/Andrew Litton (BIS)
Flexatone or musical saw? We'll get to that shortly. The 1936 Piano Concerto was the work that brought Khatchaturian international recognition, and it may surprise those who've only heard the suites to the ballets Spartacus and Gayene. Those pieces are fun, but the concerto is more musically interesting, Khachaturian's language bolder and sharper-edged. This performance doesn't disappoint: Iyad Sughayer's incisive, colourful playing is what the work needs and Andrew Litton draws rich, brassy sonorities from the BBC National Orchestra of Wales, trumpets letting rip in all the right places. This is one of those recordings that's worth buying just for one moment. In this case it's just 2'18" into Khachaturian's "Andante con anima", when cellist Su-a Lee enters on a musical saw. It's an unsettling, unearthly sonority, like an analogue theremin. Khatchaturian's score states that the part should be performed on a flexatone, but the consensus is that he actually wanted a saw. There's even a website where you can compare the two instruments side-by-side. The flexatone sounds tinny and unintentionally comic, while the saw swoons and sings. This concerto really should be performed more, Sughayer and Litton pulling out the stops in the finale's closing minutes.
The Concerto-Rhapsody was published in 1967, an expansive single movement unfolding like a four-movement concerto. It's less rich melodically but brilliantly orchestrated, Khachaturian's writing for tuned percussion especially striking. As before, it's Sughayer's and Litton's conviction that makes the work convince. As light relief, there's a fun transcription of Khachaturian's five-movement Masquerade suite, the closing "Galop" a riot. An enjoyable compilation.
Shostakovich: String Quartet No. 5, Bacewicz: String Quartet No. 3 Dudok Quartet Amsterdam (Rubicon Classics)
Selfishly, I'd have liked three quartets by the top-notch Polish composer Grazyna Bacewicz (1909-1969) rather than a match with a (to me) familiar one by Shostakovich. But the Dudoks know exactly what they're doing with this mix, even if I only hear an "abundance" of what cellist David Faber's liner note describes as "virtuosic fun" and "playfulness" shared with the Shostakovich Op. 34 Preludes selection in Bacewicz's finale. It's a brilliantly varied rondo which could stand on its own as an encore, since there's only the vaguest folksy connection with the melody the oddly-structured first movement finally settles on; this opening sleight-of-hander could stand as a quartet on its own.
Shostakovich's Fifth Quartet is, of course, a unified masterpiece, and the Dudoks clarify the thematic connections and returns in the most perfectly balanced of interpretations – bittersweet, fierce, singing and jabbing, turning the screw even more in the finale's development which brings back at its height the first's climactic quotation from pupil Ustvolskaya's Clarinet Trio. It doesn't really matter what Faber has to say, in rather sticky academic terms, about Shostakovich's place in musical history; the performance is everything, and simply perfect. The arrangements of seven of the earlier set of piano preludes by Faber and first violinist Judith van Driel – who makes them sound as if they were conceived for her instrument in the melody-lines in the first place – are also an ideal bridge, and the natural sound allows the textures to stay equal throughout. A winner. – David Nice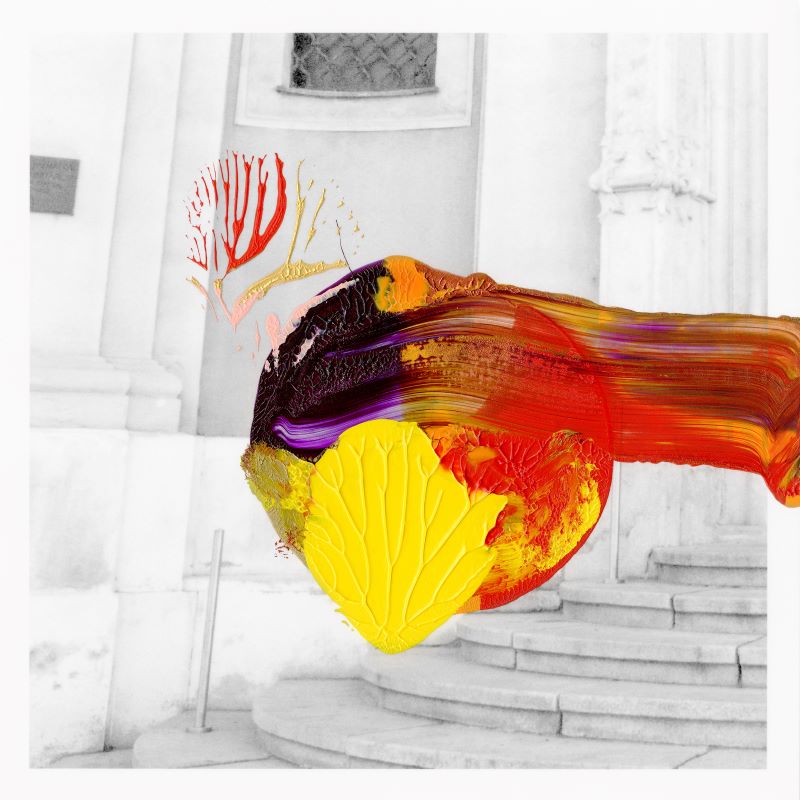 Daniel Pioro: Saint Boy (Platoon)
Violinist Daniel Pioro's debut, Saint Boy, begins in sweet, understated fashion, the pastoral opening of Tartini's "Devil's Trill" sonata giving little hint of what's to come. Pioro sees this album as a demonstration of music's potential to tell stories. He dispatches the slow movement and finale as if he's barely survived a terrible experience, the rawness really serving the music. This is a shrewdly sequenced anthology, Pioro following Tartinian chills with "Kołysanka" by Nick Martin, an elegant, meditative miniature scored for organ, string quartet and solo violin, and Tom Coult's arrangement of "O Ecclesia" by Hildegard von Bingen, Katherine Tinker's chamber organ providing discreet support.
"A Glimpse of an Open Heart" by Lilja María Ásmundsdóttir, arranged here for solo violin, finds consolation after an anguished middle section. The sixth of Biber's cycle of Mystery Sonatas, "The Agony in the Garden", uses scordatura tunings, though Pioro manages to bring some reassuring warmth into this chilly music. It's refreshing to hear a soloist who can enthral with the simplest of gestures: Pioro's slow oscillation between two notes at the start of Laurence Crane's "2020 Music" is mesmerising, he and the chamber organ playing as a single entity. Pioro's self-penned title track is a celebration of his musical relationship with regular duo-partner Tinker, an "unashamedly weird piece" which unexpectedly takes wing in almost jaunty fashion halfway through and reaches an understated but affirmative conclusion. Pioro's exquisite arrangement of Bach's "Erbarm' dich mein, o Herre Gott" is sweetly done, solo violin supported by organ and string quartet (including violinists Jonathan Morton and Clio Gould). Playing and production values throughout are outstanding: this is an enthralling and enjoyable album.
And here's a bonus Christmas disc: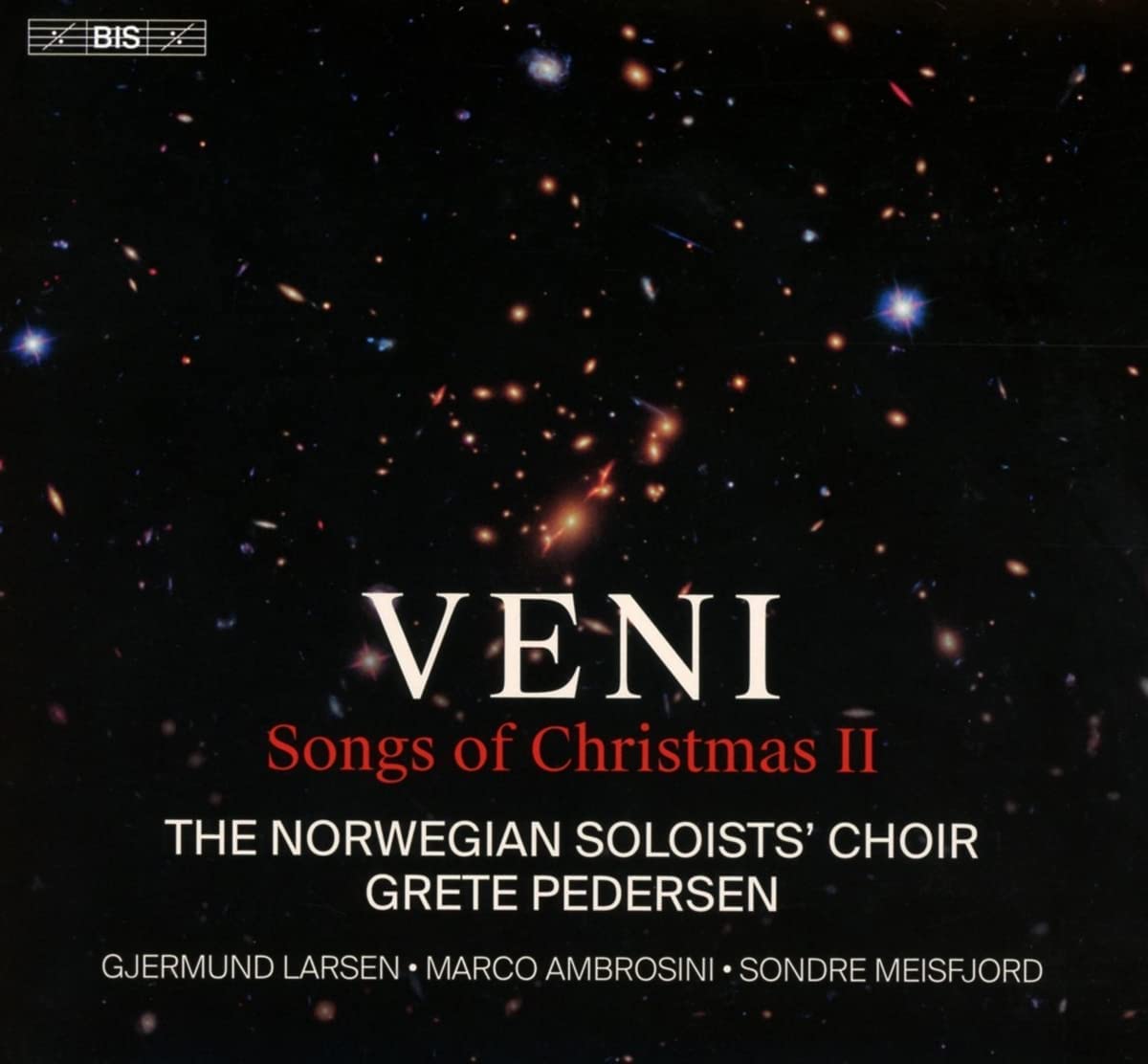 Veni: Songs of Christmas II Norwegian Soloists" Choir/Grete Pedersen (BIS)
Veni: Songs of Christmas II is the follow-up to 2014's volume 1, which was an exquisite if somewhat austere collection of Norwegian folk music and medieval and renaissance "classical" Christmas music. Yes, it's January, but recordings like this should be enjoyed all year round. This new disc maintains the wonderful level of singing and the striking juxtaposition of musical styles, doing it via a programme which includes several carols that will be familiar to those who attend seasonal concerts in the UK and US. Even if this is no more than a canny marketing idea, the result is even more delightful than volume 1. The opening track, "Adeste Fideles" encapsulates the whole album delightfully: David Willcocks' ubiquitous arrangement (including that chord in the last verse) but delivered in Norwegian, driven along by a folk fiddle and jazzy double bass. The 26 voices of the Norwegian Soloists' Choir, under its longstanding conductor Grete Pedersen are also joined elsewhere by harmonium and the Swedish nyckelharpa – the "keyed fiddle".
There are straightforward choral items, such as Charles Ives's exquisite "A Christmas Carol", which demonstrates the nostalgia and simplicity that are not commonly associated with Ives, but which are always there behind his trademark modernism and complexity. Then there are more complex conceits, such as track 6, which interweaves Willcocks' "The Infant King" with lullabies from Bulgaria and the Basque Country. The result is entrancing. Some items are instrumental – such as a lightly dancing "Ding Dong, Merrily on High", some pit solo voices against instruments, and "Julestov" is for solo voice alone, soprano Ingeborg Dalheim holding the attention without histrionics. The whole thing is redolent of fellow Norwegians Bjarte Eike and his Barokksolistene, whose The Playhouse Sessions I recently reviewed in this column, both in its musical meldings and conception as a whole album, not just individual tracks. Norway is clearly the place for new perspectives on old music, at the moment. – Bernard Hughes
This opening sleight-of-hander could stand as a quartet on its own
Explore topics
Share this article