Classical CDs: Symphonies, suppers and knitting needles |

reviews, news & interviews
Classical CDs: Symphonies, suppers and knitting needles
Classical CDs: Symphonies, suppers and knitting needles
Two conductors celebrated, plus accordion, bass trombone and string quartet
Saturday, 28 January 2023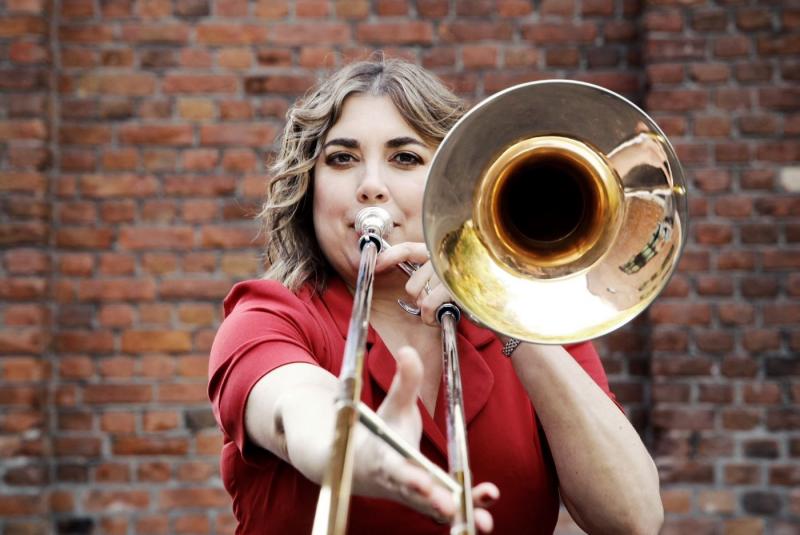 Lush darkness from bass trombonist Clare Farr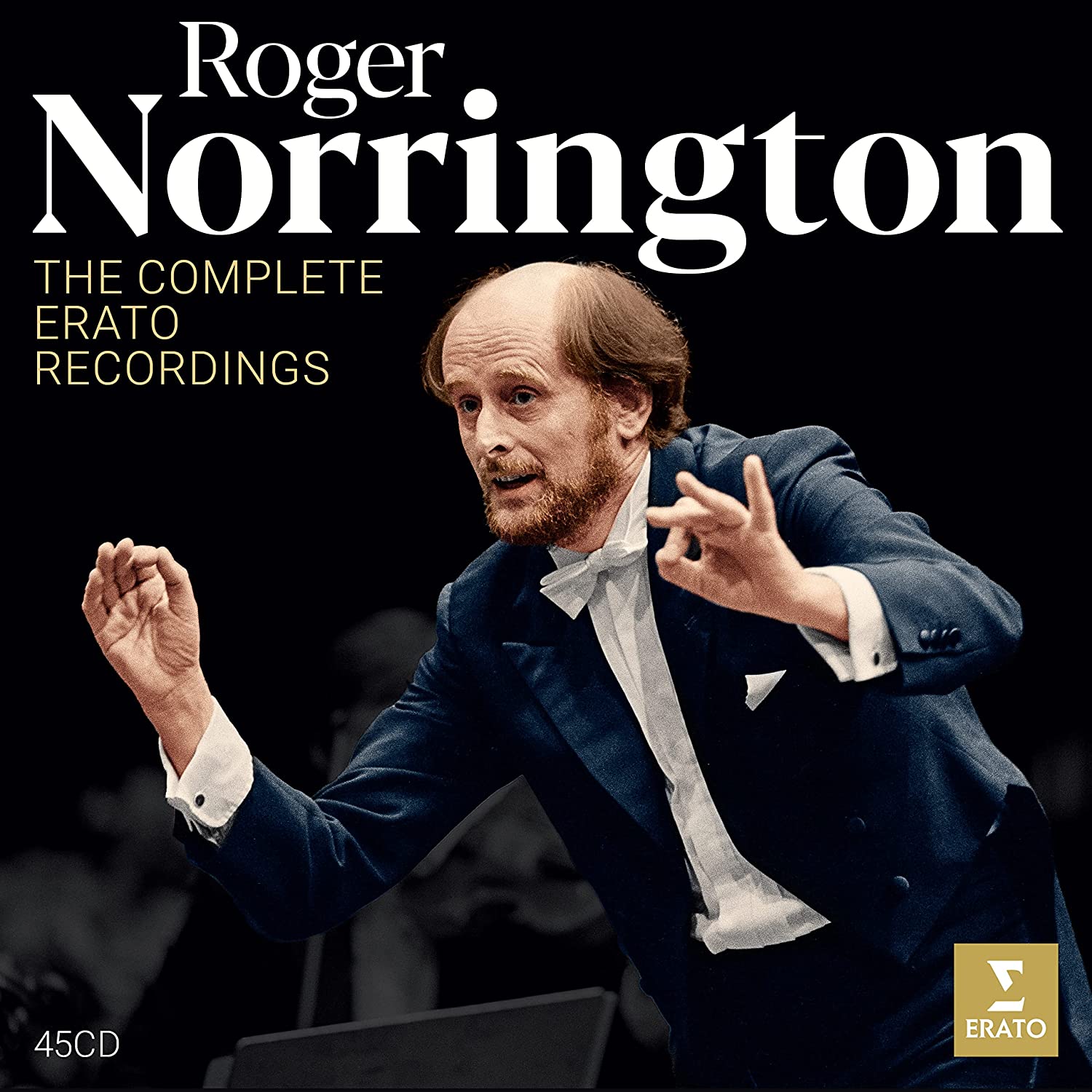 Roger Norrington: The Complete Erato Recordings (Erato)
Richard Osborne's booklet essay contains some telling words from Sir Roger Norrington, tucked away at the end of the final paragraph: "I don't mind if a performance is unhistorical; I do mind if it isn't fun." And, whatever your opinions on Norrington's hard-line, zero-vibrato approach, there's plenty of fun spread over these 45 discs, all recorded with the conductor's own London Classical Players. Dipping into his Beethoven symphony cycle takes one back to the late 1980s when the individual discs were bestsellers on EMI's Reflexe label (this box's title is a misnomer; Norrington didn't record anything for Erato). Symphony No. 2's slow introduction is imposing, the ensuing allegro perky and witty. The shorter, quirkier symphonies are the standouts. No. 4 and 8 are fun, the latter's "Allegretto scherzando" nicely pointed. Think of Norrington as a genial, "fun" alternative to Gardiner and Harnoncourt. One's ears quickly adjust to the dry string sound, and there's some outstanding playing from winds and horns. Much of Norrington's Schubert shares the same virtues, the lightness of touch in Nos. 5, 6 and 9 winning. But 4 and 8 lack weight.
A Brahms cycle is variable. Narrow-bore trombones have plenty of presence in Symphony No. 2, though the strings often sound undernourished. No. 3's soft coda is effective, and Norrington's brusque, punchy finale in No. 4 works for me. Schumann 3 and 4 are a mixed bag, No. 3's upbeat mood better suited to Norrington's temperament than its minor-key successor. Berlioz's Symphonie Fantastique features suitably crude brass sonorities (listen out for the ophicleide!) in the "March to the Scaffold" and an exciting finale. A selection of Rossini overtures feels a bit scrappy in places, and the light string tone in Bruckner's 3rd Symphony and a selection of Wagner preludes can create balance issues. Still, Norrington's brassy, exuberant take on the Lohengrin Act 3 Prelude is difficult to resist.
There's loads more, including an effective collection of early romantic overtures and Smetana's complete Ma Vlast. Melvyn Tan plays five late Mozart piano concertos, and we get fast-moving accounts of Die Zauberflöte and Don Giovanni, both with decent casts. Mendelssohn 3 and 4 zip along, and we get Norrington's lively versions of Haydn's last six symphonies. The Schütz Choir, founded by Norrington in the early 1960s, sings the requiems by Mozart and Brahms. Everything comes squeezed into a compact box, Erato reproducing EMI's original sleeve art. I've had issues with Norrington's later discography, particularly some bizarrely unidiomatic Mahler with the Stuttgart Radio Orchestra on the Hannsler label. This set shows the conductor at his enthused, energetic best: not every interpretative decision works, but you're rarely bored. The recordings, mostly made at Abbey Road are full-bodied and well-balanced.
French Baroque Music – Music by Leclair, Lalande, Couperin, Rameau Jean-François Paillard (Erato)
I'm a little suspicious of orchestras named after their conductors, though it was recently pointed out to me that for every Geoff Love or Ray Conniff there's often a John Wilson, or a Jean-François Paillard. Most of the remastered LPs in this intoxicating 14-CD box set of French baroque repertoire were recorded by the Orchestre de Chambre Jean-François Paillard, the name given in 1959 to an ensemble formed six years earlier as the Ensemble Instrumental Jean-Marie Leclair. Their 1953 disc of Charpentier's Te Deum was hailed as "one of the glories of the French record industry" and effectively launched the Erato label. That performance isn't included here, though discs 13 and 14 do contain a selection of items taped with the earlier group in decent mono sound. Paillard was a genuine polymath, earning a maths degree from the Sorbonne before enrolling at the Paris Conservatoire as a musicologist. This set makes for fascinating listening, Paillard's interpretations offering a snapshot of what constituted historically informed practice from the mid-1950s onwards. One of the earliest recordings here is a 1956 performance of a suite from Michel-Richard de Lalande's wonderfully-named Symphonies pour les Soupers du Roy. Speeds are on the stately side but there's never any feeling of heaviness, Paillard's rhythms nicely-pointed. Lightness and colour are constants across these discs – compare that LP with a further selection of Lalande suites taped in the early 1980s and the style is recognisably the same. A lovely 1959 disc features some indecently rich-sounding orchestral Couperin, though you can't imagine wanting to hear this music played differently. It's the same with a 1962 album containing orchestral transcriptions of Rameau keyboard music. Try Paillard's brilliantly vivid take on the familiar "La poule" – if you enjoy it, (and who wouldn't?), you'll want the whole box.
There's some familiar-ish repertoire from Lully, Rameau and Couperin, but much here is stuff you simply won't find anywhere else. Gérard Jarry (Paillard's long-serving principal violin) plays 11 concertos by Jean-Marie Leclair, finding something of interest in each one. If you've never encountered Dauvergne, Aubert, Naudot, Francœur or Dampierre, start here. I kept returning to a 1967 album of wind and brass music "pour La Grande Écurie a Versailles", the massed trumpets, hunting horns and winds wonderfully unhomogenised. Paillard's oboes and bassoons sound like bagpipes in Philidor's little "La Marche des Dragons du Roy" and a Parisian troupe of "trompes de chasse" will make your windows rattle. Starry soloists include flautist Jean-Pierre Rampal and trumpeter Maurice André, and the great baritone Gérard Souzay sings a quartet of cantatas. Unmissable, and a real bargain, the individual CDs with original sleeve art. Warners have also released a box set of Paillard's vintage Bach recordings. Buy that too.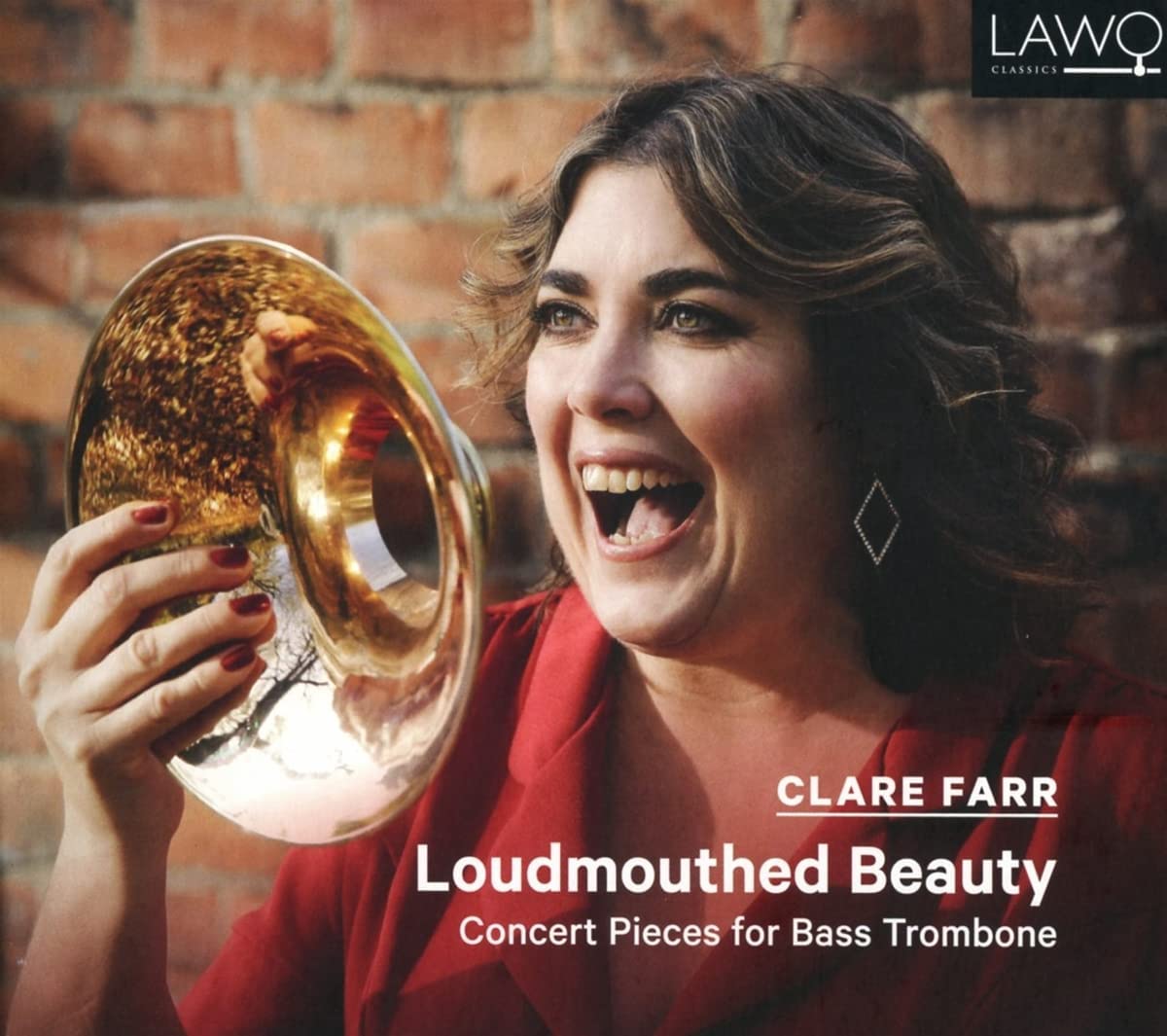 Clare Farr: Loudmouthed Beauty – Concert Pieces for Bass Trombone Clare Farr (bass trombone) (LAWO)
The contrasting repertoire on this disc from different eras and for very different instrumental combinations is held together by the characterful, lively and top-quality bass trombone playing of Clare Farr. Born in Stockport Cheshire, she moved to Norway as a teenager. She studied there, graduating with a master's degree in 2001, and has since been a member of the main Oslo orchestras. The opening solo piece "Lush darkness – glaring light (because the loudmouthed forgot the beauty of a simple tone)" (sic) by Bente Leiknes Thorsen gives the album its title. The piece is a recent commission from Farr herself, and, according to the composer, was written according to Farr's specific brief, to show off both the power and the beauty of the bass trombone. For the next track we are suddenly off somewhere completely different: a concerto by Ernst Sachse (1813-1870) with a tumpty-tum orchestral accompaniment, reduced here for church organ. Then darker and slower and eerier: Henri Tomasi's Shakespearean rumination from 1963 for Bass Trombone (or Tuba) and Trombone Trio, "Être ou ne pas être".
And then on to the most overtly virtuosic: "The Daughters of Erda" by Torstein Aagard-Nilsen. The first of the three pieces here, "Urd" is another Farr commission; she played the piece for her final master's recital. The gentlest and most lyrical playing is in "Sång till Lotta" (Song for Lotta) by Swedish composer Jan Sandström of "Motorbike Concerto" renown, with Farr accompanied on the harp by her colleague from the Norwegian Radio Orchestra, Sidsel Walstad. Charles Small's "Conversation" ventures into the jazzier territory which is familiar to her fellow members of the Norsk tromboneensemble, who join her here (see Clare Farr's video channel for more of them in everything from Abba and Jobim to a Mozart overture and Telemann). The album closer, a concerto by Russian Alexej Lebedjew (the tuba god, 1924-1993, rather than the piano player b. 1980) is another opportunity to show Farr's and the bass trombone's more lyrical side. Farr is a strong, powerful and highly effective advocate for her instrument. In this album she has set out to showcase its range and its appeal. And has done so very well. - Sebastian Scotney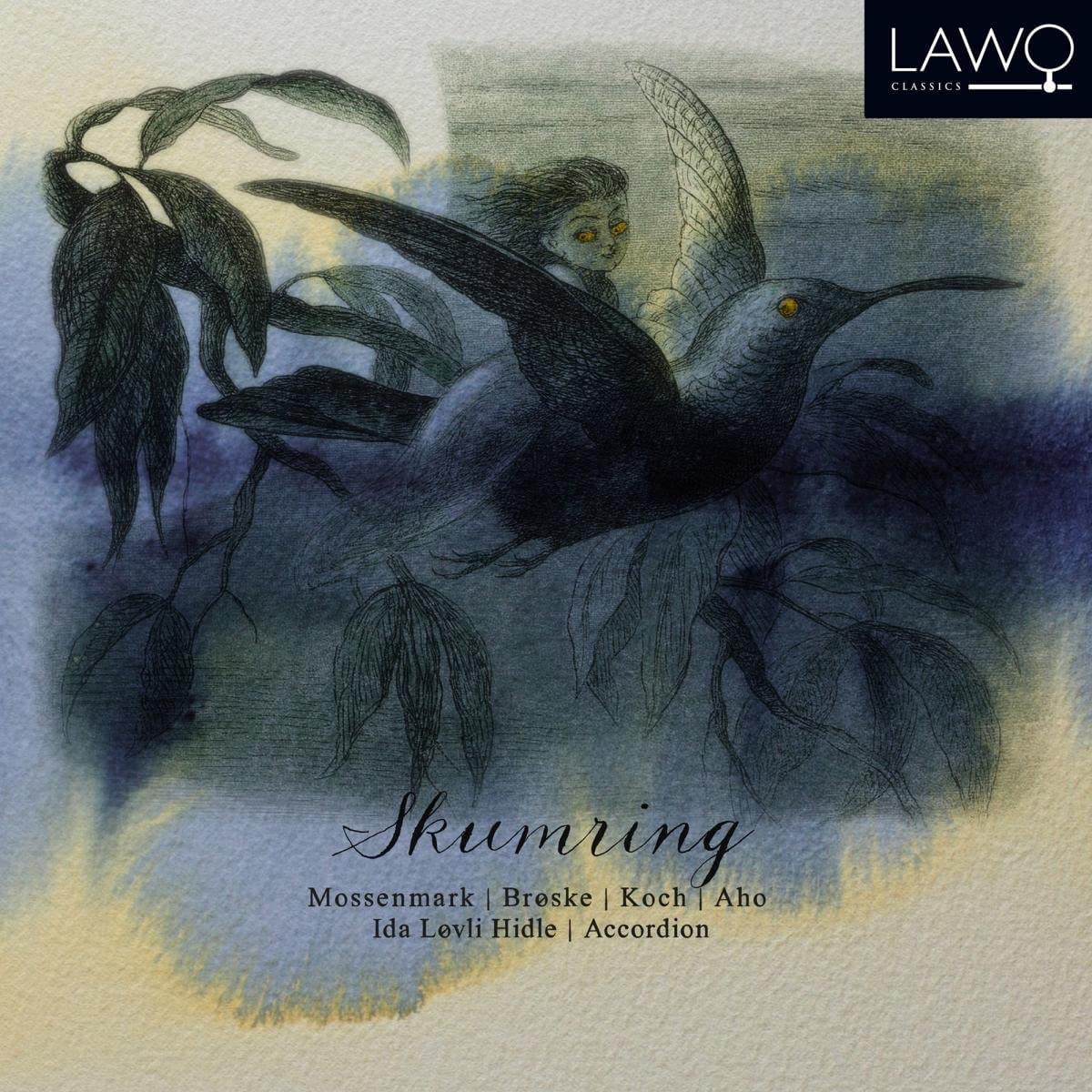 Ida Løvli Hidle – Skumring: Music for Accordion by Nordic Composers Ida Løvli Hidle (accordion) (Lawo Classics)
Skumring (the Norwegian word for dusk or twilight) is the debut solo album from Ida Løvli Hidle. Her accordion-playing was one of the joys of Susanna (Wallumrød) & the Brotherhood of Our Lady's album Garden of Earthly Delights (2019). Here she absolutely shines as the only protagonist. The linking idea is that all of these contemporary composers, each from a different Nordic country, are inspired by their proximity to nature and all its darkness, mystery and enchantment. I thought that the best of that came towards the end of the album. The opening section of the last movement of Kalevi Aho's Second Sonata ("Mustat linnut"/ Black Birds) is wonderfully, eerily, overwhelmingly atmospheric.
Perhaps best of all, however, are two pieces which draw their inspiration from a very different source. Danish composer Jesper Koch declares he has been "absorbed" by Lewis Carroll and the Alice books for many years. In both "The Garden of Live Flowers / The Red Queen" and "Wool and Water/Humpty Dumpty" Ida Løvli Hidle shows complete mastery of vivid story-telling, flow and variety in tone colour. In the latter piece, the red queen is transformed into knitting needles and then into oars, a story which elicits some truly magical playing from this very fine accordionist. - Sebastian Scotney
Steve Reich: Runner, Music for Ensemble and Orchestra Los Angeles Philharmonic/Susanna Mälkki (Nonesuch)
In October 2021 I reviewed Steve Reich's Runner (2016) as part of a concert by the Colin Currie Group, where I found it "comfortingly familiar", especially when set against the startlingly atypical Traveler's Prayer of 2020. It is firmly set in the sound world of Reich from the late 1970s, and this is very much not a criticism – works such as Variations for Winds, Strings and Keyboards and Octet (1979) are absolute favourites of mine. Here, Runner is paired with Music for Ensemble and Orchestra (a more characteristic Reich title), to which it is a first cousin, making a short album of 35 minutes playing time. This second piece is like an expansion of Runner, using the same constructional principle but with a supporting orchestra of strings and trumpets added to the soloist group, as a kind of concerto grosso. The structure they share is a five-movement arch, which decelerates from a prevailing semiquaver movement, through quavers to crotchets, and then a matching acceleration. The simplicity of this conception also ties it to early process-driven Reich.
The music is full of the overlapping canons and slow-moving underlying harmony of those 1970s classics. The skittering of the upper parts, the rich resonance of the sustained chords: Reich is so assured in handling these materials in this way he doesn't seem to be stretching himself, but so what? It is very enjoyable to be in the hands of a master doing his thing. The playing, by the Los Angeles Philharmonic under Susanna Mälkki, is neat and lithe. They too are working within themselves, but again not in a bad way, just that they know what they are doing, and do it. I was not bothered by the short running-time of the album. I remember CD reviews of old that would lament being short-changed, but that is of course not a problem in the age of streaming, and I would not be interested in music that was there for the sake of bulking out. I did however feel the CD booklet was a bit undercooked. An interview between David Lang and Steve Reich threw up some interesting things, like the role of bass in these pieces, but it was otherwise on the thin side. - Bernard Hughes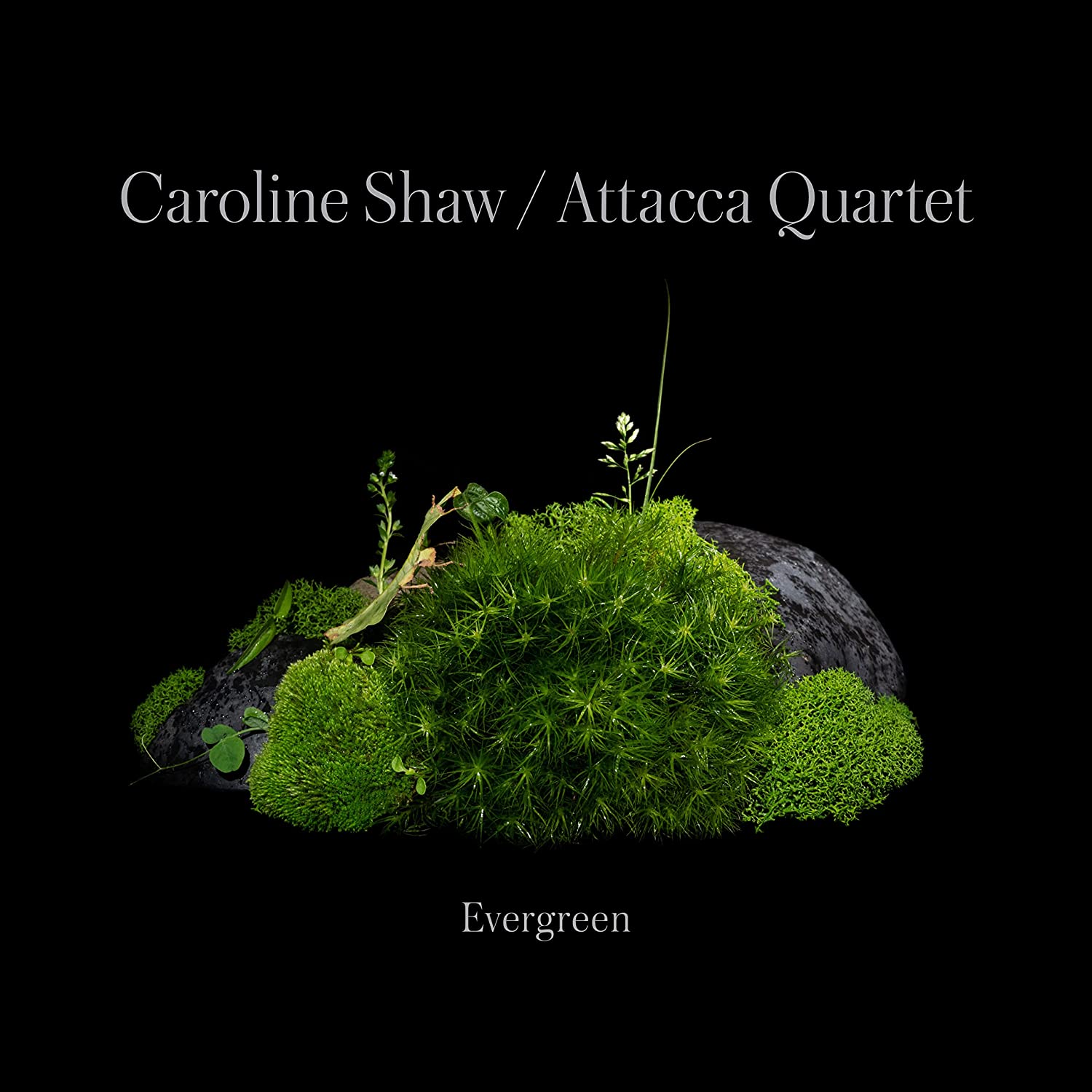 Caroline Shaw: Evergreen Attacca Quartet, Caroline Shaw (Nonesuch)
Caroline Shaw has a very distinctive sound, which is hard to capture in words but unmistakeable when you hear it. Whether you like it or not – and I mostly do – it can only be her. Evergreen is Shaw's second album with the Attacca Quartet, after Orange of 2019 and, having staked out her field, she is happy to plough her furrow. There are no big surprises on this album, but on the other hand it delivers an hour of 100% Shaw. The sound owes something to the minimalists: she dares to be simple. There is an obsessiveness about pursuing an idea that recalls someone like Kevin Volans. Shaw has a quirky harmonic sense that eschews things like melody and perfect cadences while remaining consonant, if always somewhat aloof, and always on the verge of quotation. She writes well for strings, exploring a range of playing techniques that keep things fresh. The Attacca Quartet respond enthusiastically: their pizzicatos really bite, they can sound like a consort of viols, they can summon a distant warmth.
Evergreen, like Orange, mixes instrumental items with vocal numbers – "songs" doesn't feel quite right – where Shaw joins the ensemble. (I once reviewed a live concert of her music for theartsdesk where she not only featured as composer and singer but also proceeded to join the quartet on viola, to play Mendelssohn.) As a singer she is unaffected and immediate – helped by the close miking – with a clean sound that fits the simple lines of her songs, for which she also provides the words. The opener, Three Essays, has a fluidity of construction, the music growing and morphing organically. I like the sternness of number 3, "Ruby", which keeps bursting out into moments that feel like pop choruses. The 20-minute The Evergreen is a four-movement celebration of a particular tree on Galiano Island in Canada. It achieves a fitting monumentality even with just four players: the "Water" movement has a delightful elegance and "Root" a quiet profundity. They finish with Cant voi l'aube, setting 12th-century trouvère lyrics, which is beautiful – I'd love to hear Björk sing it. - Bernard Hughes
The sound owes something to the minimalists: Shaw dares to be simple
Share this article