Classical CDs Weekly: Bruckner, Holst, Piazzolla |

reviews, news & interviews
Classical CDs Weekly: Bruckner, Holst, Piazzolla
Classical CDs Weekly: Bruckner, Holst, Piazzolla
Austrian symphonic gravitas, English exotica and tangos from Ireland
Bite and brio from the Irish Chamber Orchestra
Bruckner: Symphony No. 9 Pittsburgh Symphony Orchestra/Manfred Honeck (Reference Recordings)
I'm midway through exploring a cycle of symphonies by Heinz Winbeck, a German contemporary composer very much in the Bruckner tradition. I'll report back next week, but, as a stopgap, here's an incandescent live recording of Bruckner 9. The recent Berlin Philharmonic box set includes Rattle's second account of the piece, including the completed finale. I find it pretty convincing, but Manfred Honeck's Pittsburgh Symphony Orchestra opt for the standard three-movement version. The playing is marvellous, and Honeck's sober, clear-sighted approach is compelling. There's the playing, too – few conductor/orchestra combinations regularly release recordings which sound this spectacular. Lower strings have incredible resonance and weight, and the Pittsburgh brass don't disappoint, horns and Wagner tubas immaculate in the slow movement's exposed corners. Getting Bruckner 'right' is a notoriously inexact science. It's not about tempi, or dynamics, but something more intangible. Honeck gets it, sensing just how long to linger in the corners where Bruckner stands still and bringing out the fleeting lyricism. This is a dark work, and without fleeting glimpses of sunlight it becomes a suffocating experience. So, while the stygian cathedral-like opening rightly invokes awe, Honeck follows Bruckner's directions and gives us a second subject which really is 'Innig' ('intimate and tender'), looking back to Schubert. The long first movement is brilliantly controlled, the coda both agonising and spectacular.
There's little relief in the nihilistic scherzo, though Honeck does his best to bring out the black humour, comparing moments in the Trio to Strauss's Till Eulenspiegel, written just two years later. Bruckner's vast slow movement is a symphony in itself, the threads leading inexorably to a bone crunching dissonant chord rivalling that in Mahler 10. You may disagree with Honeck's very personal take on the music's spiritual subtext, but the results are compelling, and incredibly moving. Wonderful, in other words. The sound quality is astonishingly vivid. Honeck's articulate sleeve note is fascinating, and you don't need a magnifying glass to read it. This is the best three-movement Bruckner 9 I've heard, happily sharing shelf space with Rattle's take on the complete symphony.
Holst: The Cloud Messenger (chamber version arr. Joseph Fort) The Choir of KIng's College London, The Strand Ensemble/Joseph Fort, with Caitlin Goreing (alto) (Delphian)
Holst took inspiration from an eclectic range of sources, his large scale choral ode The Cloud Messenger described by some as "the crowning glory of the composer's Sanskrit period." Holst's knowledge of Sanskrit was good enough for him to be able to make his own translations and adaptations, and he based The Cloud Messenger on a fifth century poem by Kālidāsa. In it, an exiled nature spirit petitions a passing cloud to take a declaration of love to his distant wife. Part travelogue, part lovesong, it's a disarmingly lovely work, the cloud's eventual arrival initially set to music of hushed restraint ("I, the cloud, bring thee tidings of him who is ever thine... loneliness increases his love.") before a rapturous, love-sick coda. Holst's mixture of the homespun and the exotic throws up plenty of arresting music, with several passages sounding thrillingly contemporary. How can such a striking, individual work be so little known, and who could ever accuse English composers of being parochial and insular? Alas, the 1913 premiere was a disaster, the choir having to sight-read the Cloud's closing message and the performance breaking down. Holst's original used a large orchestra with restraint. Here we get conductor Joseph Fort's new chamber reduction, effective because so much was already lightly scored. And using a crack chamber choir means that every word is audible, Fort's Choir of King's College London boldly taking ownership of the piece.
Holst's Five Partsongs were composed a decade earlier, their simpler idiom partly an attempt by the composer to write music which stood a chance of being published and readily performed. They're delightful, Holst's language invariably perfectly matched to the texts' demands. "Ye little birds" is an earworm, as is "Now is the month of Maying", both joyous here. The closer, "Come to me", sets a melancholy Christina Rosetti poem to music of consolatory beauty. Excellent notes, full texts and impressively warm sound too.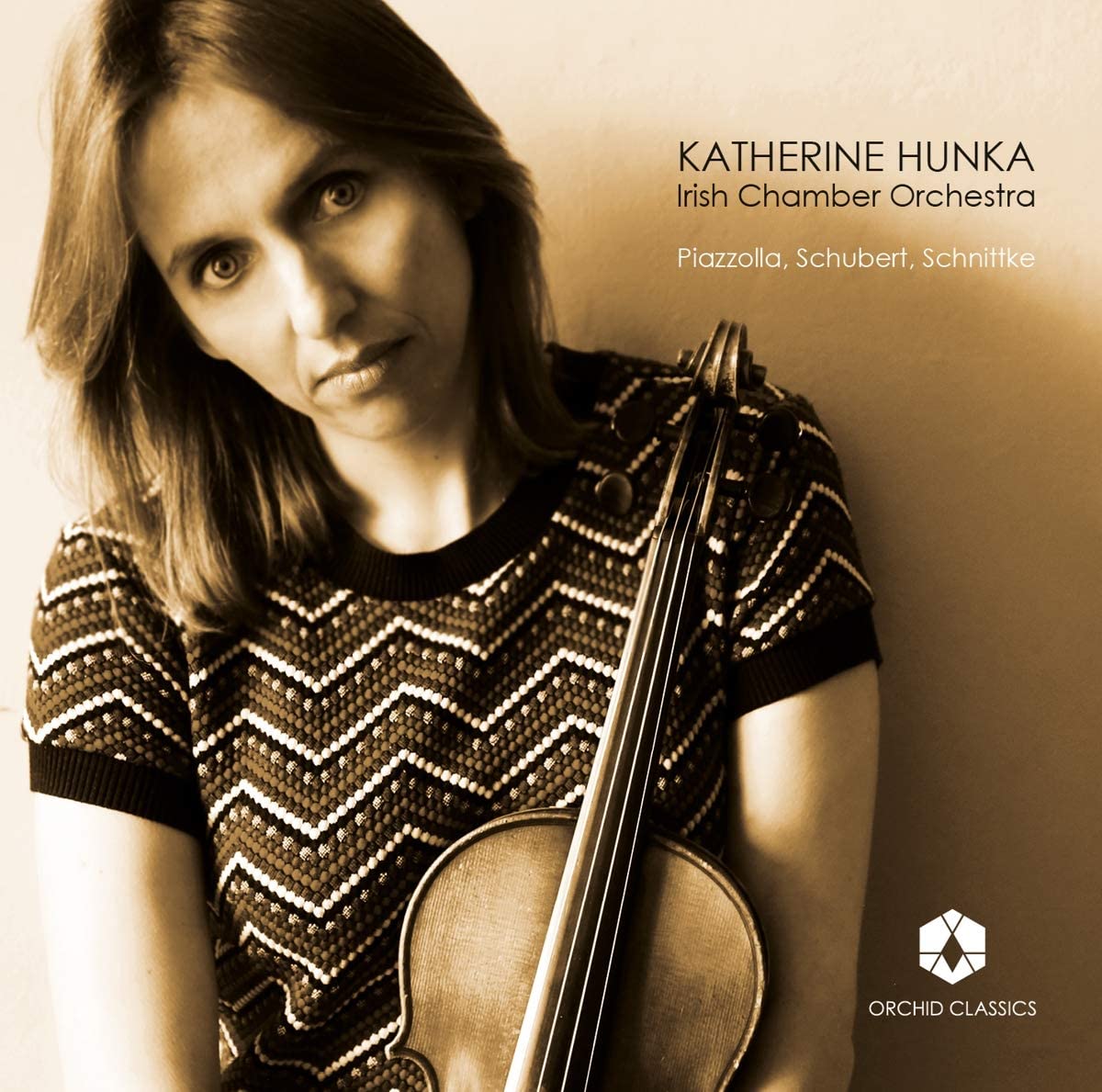 Astor Piazzolla: The Four Seasons of Buenos Aires Irish Chamber Orchestra/Katherine Hunka (violin/director) (Orchid Classics)
Astor Piazzolla's family skipped from Buenos Aires to New York in 1924, his father Vincent opening a barber's shop. What better place for a young musician could there be, and it's tempting to think that Piazzolla's gift for fusing classical and vernacular idioms took root here. His The Four Seasons of Buenos Aires wasn't conceived as a complete work, its four movements composed separately in the 1960s. It's become best known in this arrangement for violin and strings made by Leonid Desyatnikov for Gidon Kremer, Desyatnikov cheekily inserting references to Vivaldi's original. Kremer's Nonesuch recording is excellent, but I'd suggest that this new one, taped in Limerick by Katherine Hunka and the Irish Chamber Orchestra, matches it in terms of bite and brio. Listen to the percussive scrapes and squeaks in low strings which begin "Autumn", and how well Hunka matches them in terms of attitude. The ensemble is so tight, but the results have such spontaneity. How can you not smile at the descending plucked bassline at the slow centre of "Winter"? The cheeky nod to a ubiquitous canon which ends the section never sounds arch. A blast.
Interesting couplings too. Schubert's Rondo in A can't help seeming a little bland after Piazzolla, however sweetly Hunka performs it, but Schnittke's Moz-Art à la Haydn enlivens proceedings no end, Hunka's co-soloist her colleague Nicola Sweeney. This inventive riff on Haydn's 'Farewell' Symphony needs to be seen as well as heard, though Andrew Keener's production almost compensates. Listen through headphones and you can visualise the departing orchestral players shuffling across the studio floor. Piazzolla's late tango Oblivion makes for a bittersweet encore. As with the Holst, Orchid Classics' sleeve notes are erudite but accessible, and the production values are impressive.
Getting Bruckner 'right' is a notoriously inexact science
Explore topics
Share this article