Crabb, BBC Symphony Orchestra, Hrůša, Barbican Hall |

reviews, news & interviews
Crabb, BBC Symphony Orchestra, Hrůša, Barbican Hall
Crabb, BBC Symphony Orchestra, Hrůša, Barbican Hall
Outlandish new work by Rolf Hind sits between big, lush Janáček and Rimsky-Korsakov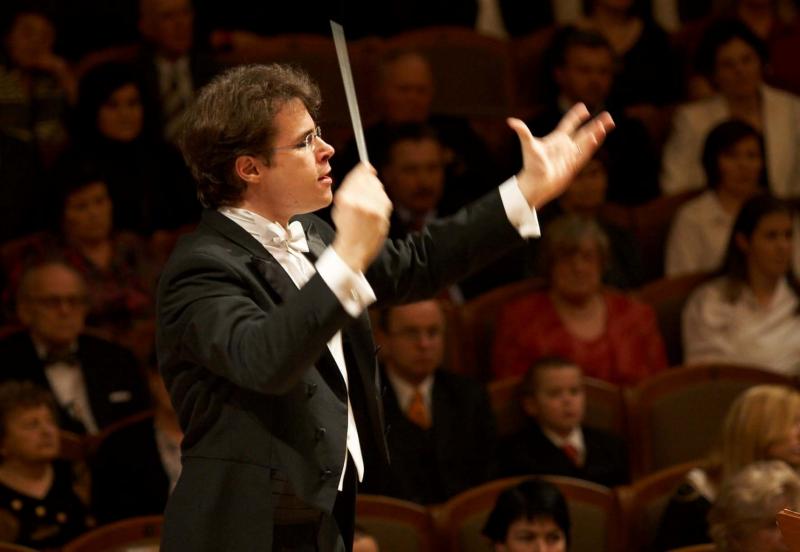 Jakub Hrůša: a youthful instinct to paint big, bold pictures
There are always risks involved in the uncompromising side of the BBC Symphony Orchestra's family-friendly concerts. Succulent slices of fox-meat in the form of a suite from Janáček's The Cunning Little Vixen gave the kids a nourishing start, and Rimsky-Korsakov's Scheherazade was always going to seduce them with her effervescent narrative, especially given Czech conductor Jakub Hrůša's youthful instincts to paint big, bold pictures.
But would they sit still through the thrashes and mystic meditations of the latest BBC commission, composer-pianist Rolf Hind's
The Tiniest House of Time
?
Fellow audience members might be incredulous if I say that the answer was a resounding yes, especially since there was one not entirely inappropriate vocal contribution from the stalls to reflect back the trombone slides, and a fit of giggles at the (actually very magical) strings' bow-swishing and percussionists' water-pouring in a hopefully transcendent conclusion; the extra contributions will be spliced out of the Radio 3 broadcast on 2 December. But the majority seemed riveted, and not just by the visual stimuli of James Crabb's not-so-solo accordion, the Japanese rin or small bowls and the flailing of the whirlytubes (I remember them well as a schoolground craze so many years ago).
Hind's outlandish, sometimes subterranean, integration of qawwali and Roma band-music (the composer pictured right) as well as his response to haunting poems by Rumi and Kabir – whose reflection on seeking God in the moment gives the work its title - is a bit lopsided at first; the multi-metre opening is followed by a couple too many riots in which the accordion's part can't be clearly deciphered, not at least from where I was sitting. But once Crabb (pictured below) began his deep-breathing exercises, following the Tibetan meditation practice of inhaling suffering and exhaling happiness, in the second "Tonglen" movement, I was hooked.
A second slow ritual, launched by tuba sounding tritones and fifths, developed as a kind of passacaglia. In building the tension, Hind honourably followed the tradition of other great admirers of that repeated-bass form: Shostakovich, Britten, MacMillan and Ades. "Sky-Circles", the final winging-free, had Crabb describing birdsong against the barely-audible nature noises of the percussionists. It would be welcome as well as kind, given the hitches of the unanticipated audience participation, if the orchestra were to give the piece a second airing as soon as possible.
Hrůša's penchant for sweeping gestures and saturated sounds which sometimes overwhelmed in the Barbican's magnifying acoustics wasn't ideally showcased by František Jílek's quarter-hour selection from Janáček's wise operatic fable of life's recurring cycle. Unlike the more familiar Talich Vixen suite, which focuses on the largely orchestral first act, Jílek's goes for the emotional plums of three scenes, finale included: ecstatic in youthful burgeoning, poignant in the human awareness of disillusionment and passing time. Hrůša favoured expansive emotional swamping over subtler heartache, serving up a small box of very rich chocolates. But, given little over a quarter of an hour as opposed to the bigger symphonic canvas of Henk de Vlieger's Wagner Ring synthesis convincingly rendered by this orchestra under Mark Wigglesworth the other week, it was always going to be a tall order.
Hrůša has plenty of time to ease in to the gifts he already so consciously wields In Rimsky-Korsakov's dizzying concerto for orchestra, one which it takes a live performance like this to remind us favours real musical substance over flimsy cod-exoticism, the young Czech's huge promise loomed larger. So much of the "symphonic suite", at least until the finale, mines single themes for long stretches. That need not be a disadvantage, and Hrůša really mastered long-term shaping of the first-movement canvas that transforms the bloodthirsty sultan's theme into Sinbad's ship billowing on a vast ocean. Clearly he's capable of distinctive work on string sound, too: the never too languid infinite melody of "The Young Prince and Princess" showed violins especially producing a moulded sensuousness you don't often hear from this orchestra.
Best of all was the leisure given to the many instrumental soloists. Leader Stephen Bryant's tale-telling Sultana could at first have taken a cue from some of his colleagues in relaxing to enjoy the space Rimsky-Korsakov gives him for fantasy; but he excelled in the double-stopping embroidery of the third movement, and pulled off the miracle of unflagging pitch in those high notes which signal Scheherazade's final, calm victory. The Kalendar Prince's many solo manifestations were peerlessly ushered in by bassoonist Julie Price's audacious freedom; and to mention otherwise only Martin Owen's luminous horn and the clarinet arabesques of Matthew Hunt is to do the rest of the orchestra a disservice. As for Hrůša, he has plenty of time to ease in to the gifts he already so consciously wields; we'll be seeing much more of him.
This concert is due for broadcast on Radio 3 on Sunday 2 December, and available to listen again for seven days afterwards
Once accordionist James Crabb began his deep breathing exercises, inhaling suffering and exhaling happiness, I was hooked
rating
Share this article