'In every concert, I want to try to tell a story': Conductor Omer Meir Wellber at the BBC Philharmonic |

reviews, news & interviews
'In every concert, I want to try to tell a story': Conductor Omer Meir Wellber at the BBC Philharmonic
'In every concert, I want to try to tell a story': Conductor Omer Meir Wellber at the BBC Philharmonic
The new man in Manchester discusses past, present and future
Thursday, 12 December 2019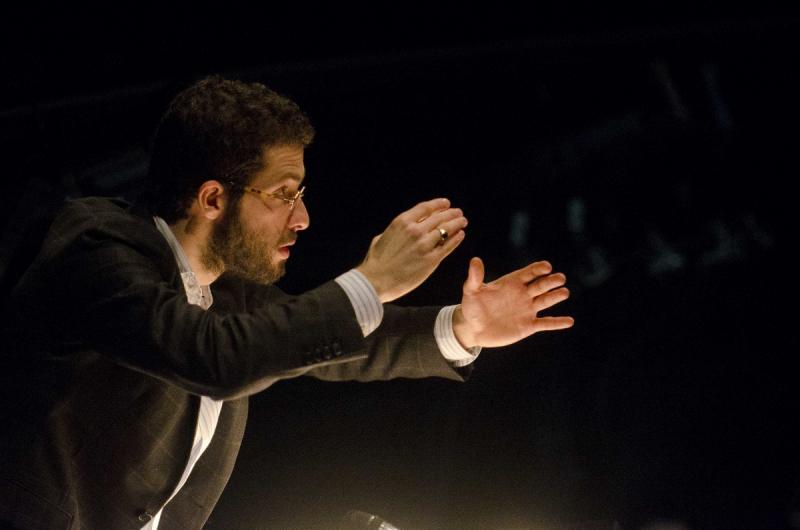 Man of mystery: Omer Meir Wellber ... conductor, soloist, jazz musician, writer, novelist, model rail enthusiast, magician - and maybe even politician
Omer Meir Wellber may be the first chief conductor of a major orchestra to have begun his tenure with a children's concert.
But
the young new music director of the BBC Philharmonic wa
s proud that this was how his first public appearance since officially taking the reins in Salford worked out. It was the launch of the BBC's "Bring the Noise" school music streams and podcasts (followed by a studio concert live-streamed on iPlayer and the Philharmonic website). The Bridgewater Hall audience in Manchester can finally savour a big concert tomorrow. .

On one level it's because he had existing commitments with just one week available in the early autumn to be on-site with the North West band – but these unusual inaugural performances were also symbolic of a spirit of youthfulness and a zeal to communicate he's bringing to his task. The Phil may feel they are only just beginning to find out what hit them when Wellber (seen in rehearsal, below) got the top job.
That studio concert, for instance. He conducted Schoenberg's Five Orchestral Pieces and Schumann's Fourth Symphony (the latter from memory) in the second half – pretty much what you might expect from a new chief conductor with a strong track record in the Austro-German classics.

But the first half had not only the Summer movement from The Four Seasons with a mandolin solo instead of violin (Jacob Reuven, with whom he works in an educational project called "Strings of Change" to help Bedouin children, based in Beer-Sheva, was the soloist), but also the most off-the-wall version of Mozart's Piano Concerto No. 12 (K414) I have ever heard.
He was his own soloist, but, instead of the written cadenzas available for each of its movements, Wellber produced a succession of improvised interpolations for a jazz-klezmer group including trumpet, clarinet, solo violin, accordion, bass, drum kit and his piano, which took us stylistically a long, long way from 18th century Vienna.

There may be fun in it, but Wellber takes fun seriously. "If you have spontaneity in yourself, it's wrong to cover it," he says. 'My background is that of a gypsy. If there's something in you, then this is what you bring. When I was younger I used to do magic shows with music – I would do the tricks and play my accordion. I'm now at a point in my life when I can bring out new things as a conductor."
So who is this self-confessed gypsy with an accordion, preparing to do magic with one of the UK's top broadcasting orchestras? It goes back to a childhood in the south of the state of Israel, a family with a remarkable range of talents and connections, and a musical training that gave him a rock-solid grounding and respect for gifted teachers.

His mother and family were both from Israeli families who'd lived in the land for generations before the founding of the state in 1948, and answered the call of David Ben-Gurion to make the desert bloom, moving from Tel Aviv to Beer-Sheva, which was where Omer and his sisters grew up.

"That was the biggest decision made in my life – the kind of thing that makes you a different person. My school wanted me to go to Tel Aviv as a kind of prodigy, but my parents wouldn't have it. I grew up in a place where you have people from 20 different backgrounds and a basically poor economic environment. And my upbringing was in a free style: each of us did what they wanted to do, we were never pushed into anything. I was ambitious, but I have one sister who is not and one who is as much as me.

"Music was always there for me. But so was the theatre – in my family about 70 per cent were involved in teaching, including my parents, and the rest were in acting, so I was familiar with the backstage side of theatre life."

Omer learned to play piano – and accordion – from the age of five, and the violin and mandolin from the age of 12, because, he says, he was already a composer and wanted to find out how those instruments worked. He stayed in 'normal' schooling, with extra teaching at the music specialist school in Beer-sheva until the time came for national service in the army (as all Israeli youngsters do) – but his time in uniform was cut to a year and a half so that he could join the national Jerusalem Music Academy.

Below: playing piano and accordion with members of the Israel Philharmonic Orchestra at the Dresden Music Festival
He studied with Michael Wolpe (himself taught by Alexander Goehr at Cambridge) because at that point he wanted to make composing his main interest (and he does have a string of compositions to his name), but gradually shifted to conducting.

From 2008 to 2010, he was assistant to Daniel Barenboim, both at the Staatsoper in Berlin and La Scala (he and his family now have their home in Milan), and he acknowledges the importance his mentors have had in his development: "Since the age of eight I've benefited from really big people as teachers – I don't think an artist can ever be an auto-didact, and I still speak to my first teacher back in Beer-Sheva.

"Oscar Wilde said 'A fine artist imitates, but a brilliant artist steals,' and I took as much as I could from Barenboim, but now I imitate him less and less. I've been professionally conducting for 15 years, but in the past five I have found what is my priority and what 'fits' for me."

Those 15 years have included a remarkable range of experience and activity – music director at the Palau de les Arts Reina Sofia in Valencia, conducting Verdi operas in Vienna three years running, appearances at the Bavarian State Opera in Munich and frequently at the Semperoper in Dresden, where he is now principal guest conductor; and he's been seen a number of times with the City of Birmingham Symphony Orchestra and conducted at Glyndebourne (Madame Butterfly last year), in addition to orchestral concerts worldwide.

Oddly enough, he has memories of a brief previous stay in Manchester as a 12-year-old, when his father, a trade union leader and socialist politician in Israel, was offered a diplomatic job in the UK and came to the city. "He hated the job and went back to Israel after a year, and I was not here all that time anyway, but I attended King David School and got to eat Kentucky Fried Chicken for the first time!"
He says he also started making model railway sets as a hobby then – another unexpected characteristic of a man of many parts, so it's almost no surprise to learn that he's a published author, too. He's written about Mozart's three Da Ponte operas (The Marriage of Figaro, Don Giovanni and Cosí fan tutte), in a book called Fear, Risk and Love: Moments with Mozart, and has a novel about to appear in German, Italian and English.

And what will the BBC Philharmonic see in terms of future programmes and projects from Omer Meir Welber? It's early days yet: his 14 December programme at the Bridgewater Hall includes the UK premiere of Sofia Gubaidulina's Triple Concerto for violin, cello and bayan (a Russian kind of accordion), along with Bruckner's Seventh Symphony. He'll be back in March with a Beethoven programme and in April with Richard Strauss, Schnittke and Shostakovich (also touring to Nottingham): the rest of the autumn-winter-spring season was pretty well sorted when he was offered the top job earlier this year.

He says in the programme booklet for Manchester "in every concert, I want to try to tell a story" and refers to "political themes we'll be exploring over the next few year". As we spoke he was discussing plans for next year's BBC Proms and the season to follow them with the orchestra's general manager, Simon Webb, and his staff. But it's probably safe to expect the unexpected.

My background is that of a gypsy. If there's something in you, then this is what you bring
Explore topics
Share this article