First Person: Angela Slater on reaping the rewards of the LPO's Young Composers programme |

reviews, news & interviews
First Person: Angela Slater on reaping the rewards of the LPO's Young Composers programme
First Person: Angela Slater on reaping the rewards of the LPO's Young Composers programme
Working with the best musicians towards one of a number of premieres on Thursday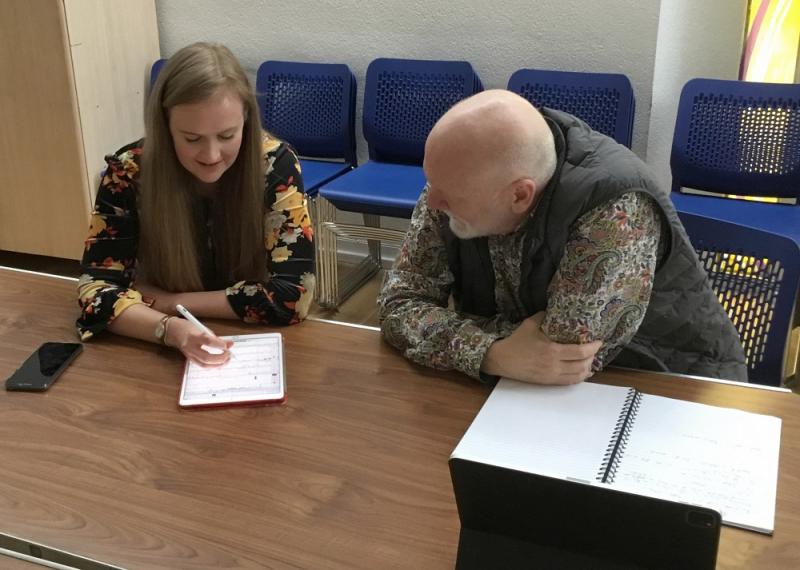 Angela Slater with LPO composer mentor Brett Dean
When I applied to the London Philharmonic Orchestra's Young Composers programme and found out that I had been accepted, I was expecting to be working on a new orchestral work as in previous years. However, this year, we were invited to explore the concerto form instead.
I was delighted by this news, as it combines my two favourite modes of composing: writing for a soloist and writing for orchestra. Writing for a solo instrument allows you to delve deeply into the sonic potential of a single instrument. The apparent limitation offers a fascinating opportunity to seek an orchestral palette of colour within one voice. When combining this mindset with composing for orchestra it is wonderfully exhilarating. As a composer you have the chance to exploit (or subvert) the natural characteristics and resonance of the instrument, whilst also working with the rich sonic variety of a full orchestra.
For the five LPO young composers – myself, Conrad Asman, Rafael Marino Arcaro, Alex Ho and Yunho Jeong – the programme started off with deciding which solo instruments we would like to write for. Having recently finished my own project called Connected skies – in which I wrote six solo works for six soloists in six months for double bass, cello, accordion, percussion, flute with glissando headjoint, and mezzo soprano – I knew I wanted to take the opportunity to explore writing for a different instrument. (Pictured below by Adam Whittaker: Angela Slater in front of Maggi Hambling's Scallop on Aldeburgh Beach)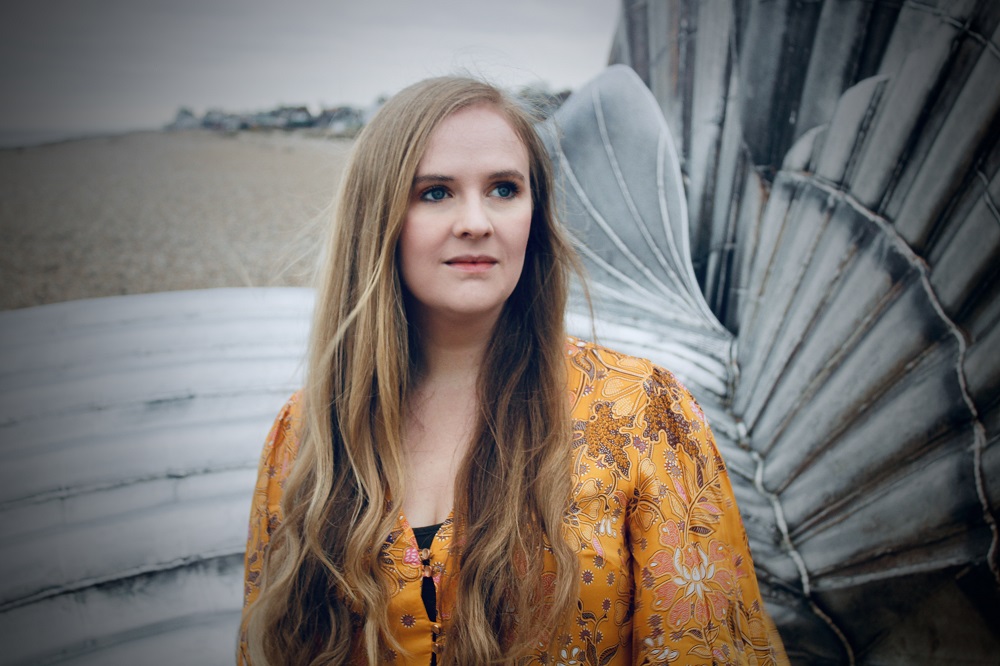 Back in 2017 I had written an impassioned string quartet called Eye o da hurricane. This piece foregrounds the viola as the protagonist in a story about a crofter's wife trapped by the turmoil of the First World War and in a storm that surrounded her on Shetland. I was captivated by the way the viola could carry such impassioned, dramatic, and mournful lines and I knew I needed to return to it. The viola has such an intimate quality, which is distinctively rich, mournful but also playful with a sense of trying to come out of the shadows to be in light. It has a unique voice different from the violin or cello and that demands violists and composers alike to approach it uniquely.

Before I start composing, I often use another artform to help get started in the compositional process. This leads me to sometimes write a poem or create a small visual artwork, allowing me to explore, and map out, aspects of pacing, rhythm, form, colour and texture through the lens of another artform. I find this allows me to focus my mind on how I want the architecture to evolve, and how the musical ideas could be developed.
For my viola concerto Through the Fading Hour, I did exactly this, taking my time to find the right concept, the right title and writing a short poem that became the springboard for my inspiration for the work:
Through the fading hour
Whispers morph and mould
A flickering light gives one last breath
Before being blown into the ether.

Through the Fading Hour explores the light qualities and hues that we see during the twilight hour, the onsetting of darkness and the fading of light. In this piece I was also imagining the twilight hour of the earth, at least with our presence on it, as the realities of climate change and atrocities repeating becomes increasingly evident.
As I was finding this direction for the work, I was grateful that a friend loaned me a viola. I often like to find the material directly on the instrument I am writing for as this helps me fully appreciate the tactile nature of what I am asking the player to do, and hear how it resonates, even with very beginner-ish attempts. This allows me to explore, play and experiment freely to find material that is idiomatic for the instrument.
The greater part of my piece is driven by, and based upon, the frame of the solo line; the orchestra, and its commentary, are extensions of the soloist's expression. The orchestra is not simply an accompanist but part of the make-up of the sound of the solo lines. It is sometimes a force that briefly escapes the gravitational orbit of the viola line, before this material is eventually pulled back to the viola.
Over the course of the year, I had a change of soloist from David Quiggle to Richard Waters (pictured above in rehearsal) and I am immensely grateful to have benefitted greatly from both musicians. David's input at the start of the project was invaluable, allowing me to hear my ideas come to life, explore the details of each musical moment, and get feedback on how to achieve my artistic intentions in idiomatic ways for a soloist. David and, later, Richard went into such great detail to make the sounds I wanted to create happen and helped me to realise new possibilities. It has been wonderful to experience such a creative dialogue with the soloists to create the solo work and its timbral colour explorations.
I have dedicated the work to all three violists that have helped shape and support me in its creation; Richard, David and Brett Dean. Brett was the mentor for all the composers and has been wonderfully supportive in his advice. Indeed, his approaching my work with the multiple hats of composer, violist and conductor has been invaluable in helping me direct and shape the work into what it is today.
It has been really enjoyable to observe the other composers develop their works and I know that their experiences have been similarly supportive and stimulating. The discussions and perceptions of how to approach writing for concerto has also been varied. To get a sense of how my fellow composers approached their works, I asked each of them for a short summary of their intentions and processes throughout the LPO scheme. (PIctured below, the group with Brett Dean)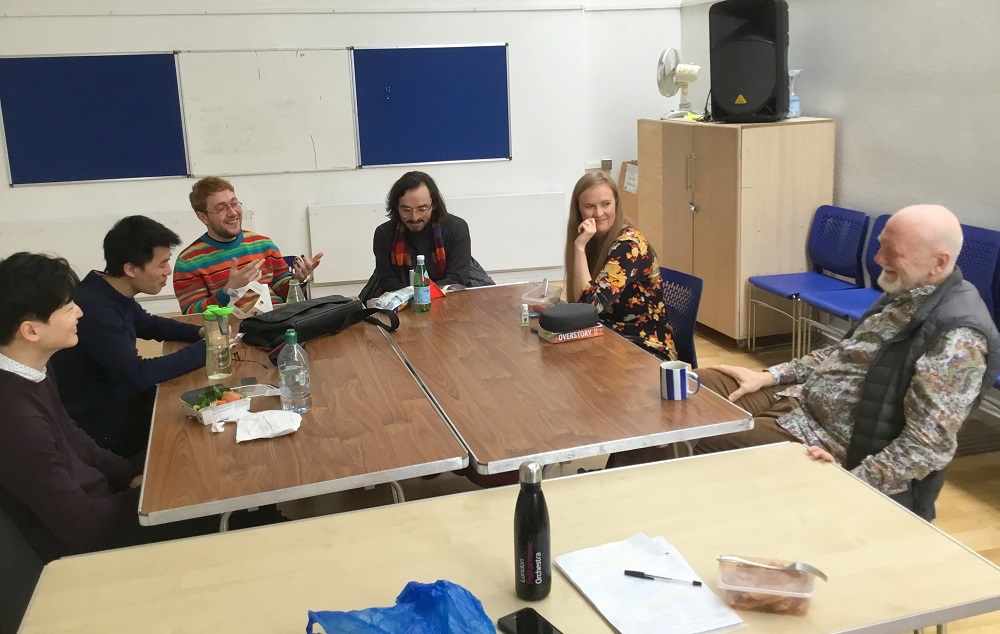 Alex Ho writing for double bass concerto expressed how he "wanted to avoid the narrative of the soloist acting as an all-conquering hero in a traditional sense. This was why I chose to compose for solo double bass – an instrument that is underexplored compared to its string siblings. Navigating its wonderfully rich sounds and looking to explore alternative relationships with the orchestra became the starting point to my double bass concerto, Splinter."
Yunho Jeong's Clarinet Concerto explores aspects of psychological tension, noting that "the concerto allows for diverse metaphors to be applied in the relationship between solo and orchestra. I got an idea from a sort of psychological concept when I wrote the Clarinet Concerto – the solo clarinet presents the ego and the orchestra describes another unconscious world."
Relatedly, Rafael Marino Arcaro's Violin Concerto Op. 14 foregrounds the soloist to be "the propeller of musical material", achieving this through contrasting timbral realms between the soloist and orchestra. Describing an aspect of his first movement "the string section plays with wood mutes calmly against an untethered and volatile solo violin – elements that here guarantees the sonic independence of the soloist." The work also takes inspiration from his childhood memories; he notes, "In the concerto the violin plays the part of the child and the orchestra, its ever-changing environment. Therefore, the issue of separation and unification between these two entities – solo and tutti – came to be a symbolic one which is at the forefront of the piece."
Conrad Asman's Piccolo Concerto emerged from Asman's self-described obsession "with shapes, and how their perception can influence anything from one's own perspective to that of an entire society. With this Piccolo Concerto, I wanted to explore how something of symmetry can be perceived as 'normal' or 'regular', and something lopsided, as 'irregular' or even 'strange' and 'weird'… This Concerto for Piccolo and Orchestra aims to outline, expose, subvert, blend and extend our general understanding on what is considered 'Western' and 'Non-western' elements of music… This gives a platform on which the piccolo can explore all its capacities; not only as a western flute extension, but an instrument in its own right, with timbres borrowed from Gaelic tin whistles to African pennywhistles, and everything in between."
The range of approaches and the explorations of the relationship real and metaphorical between the soloist and orchestra are sure to make an exciting transformational musical journey in our upcoming Debut Sounds Solo Tutti concert. Join us on Thursday at the Queen Elizabeth Hall.
The orchestra is not simply an accompanist but part of the make-up of the sound of the solo line
Share this article