Gillam, Manchester Camerata, Kuusisto, Stoller Hall online review - calm and exhilaration |

reviews, news & interviews
Gillam, Manchester Camerata, Kuusisto, Stoller Hall online review - calm and exhilaration
Gillam, Manchester Camerata, Kuusisto, Stoller Hall online review - calm and exhilaration
Time stands still and enthusiasm cheers the spirits in a concert for the present
Glorious sunrise: Caroline Pether, Hannah Roberts and Manchester Camerata conducted by Pekka Kuusisto in the Stoller Hall, Manchester
Manchester Camerata's performance with Jess Gillam at Chetham's School of Music was filmed in private on 9 January (and the sound was broadcast on BBC Radio 3 on the 19th), but to see it in its full visual glory we had to wait until a one-off
esk">streaming on Friday. No harm in that: good things are worth the wait, and it was all well filmed (credit to Apple and Biscuit Recordings) and very well presented by Linton Stephens. His interviews with the Camerata's new leader Caroline Pether and principal cello Hannah Roberts, and later with Jess Gillam and Pekka Kuusisto, were intelligently presented and made interesting listening – not the case with all such talk sessions.
The music was two meditative, time-stands-still pieces for strings (the presentation derived its title of "All Time is Eternally Present" from T S Eliot, quoted by Daniel Kidane to introduce the second of them, a piece commissioned from him and receiving its world premiere) and two lively and very cheerful ones: the latter no doubt intended to lift the spirits, and very effective at doing so, too.
Dawn, by Dobrinka Tabakova, was written for Gidon Kremer and Kremerata Baltica in 2007 and this time featured solo violin (Caroline Pether) and solo cello (Hannah Roberts). It's meant to evoke sunrise, being part of a dawn-day-dusk triptych, and with its slow pulse, rich sustained harmonies and effective use of the strings' sonorities it does so quite gloriously. The soloists' lines dovetailed and duetted sensitively with each other, while Kuusisto's own string playing experience bore skilful fruit in the flow of suspension and resolution in the orchestral sound.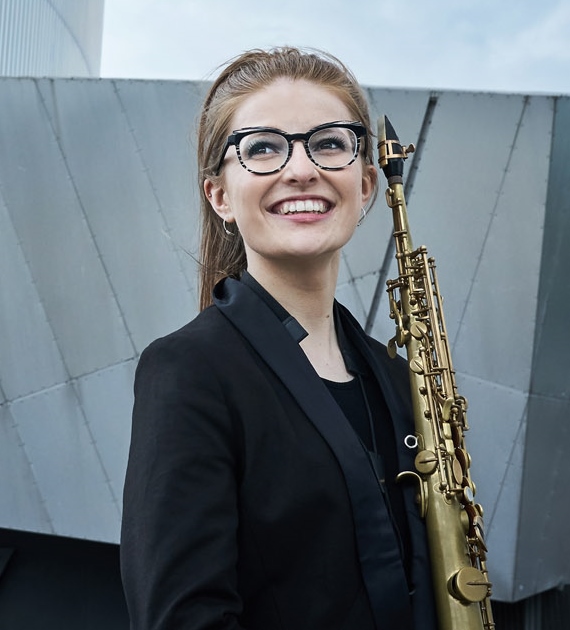 Knowing there was Aaron Copland's music to come, it was tempting to hear something of his voice in the melodic intervals and tonal chording of Tabakova's music – but the real thing, in the form of the Symphonic Suite from Appalachian Spring (reduced back to the ballet's original 13-instrument scoring) was a breath of fresh air. Maybe the opening and recurring scene-setting numbers sounded a trifle pedestrian, with no stage presentation to see and no audience even to imagine it (and the piano's balance level was very prominent), but the dance rhythms were so perky and such fun that the absence of actual hoofers hardly left one any sense of missing out. Mandy Burvill's clarinet and Amina Hussain's flute solos were tender and evocative, and the muted solo violin from Caroline Pether at the end was beautifully played.
Daniel Kidane's Be Still, for string orchestra and bowed crotales, is quite definitely the music of 2020, reflecting (as he says) on the experience of lockdown and losing the everyday markers of passing time: but it's also intended to create inner stillness and calm. Beginning with high tremolo strings, almost pulse-less, it extends their sound through the orchestra's compass, as a rhythm begins and chords form fleetingly, building to a crescendo and ending with a lofty solo violin over a sustained sound carpet. It's no criticism to say that with that title and such stated intentions, it does exactly what it says on the tin.
Jess Gillam's role in the performance (the saxophonist pictured above) was to bring her soprano saxophone to the solo role in Michael Nyman's 1991 one-movement concerto, Where the Bee Dances (originally written for John Harle). She brought her familiar charm and virtuosity to its engaging melodic variations and foot-tapping rhythms, with the now chamber-orchestra-sized Camerata responding in precision and enthusiasm – and at the end with their applause and even a few whoops. Rightly so: they'd together created a kind of heart-filling exhilaration, which is just what we all need now.
The dance rhythms were so perky and such fun that the absence of actual hoofers hardly left one any sense of missing out
rating
Share this article