Ivana Gavrić, Wigmore Hall review - more earth than air |

reviews, news & interviews
Ivana Gavrić, Wigmore Hall review - more earth than air
Ivana Gavrić, Wigmore Hall review - more earth than air
Rugged song and dance from Haydn to Grieg, but this Schumann was too prosaic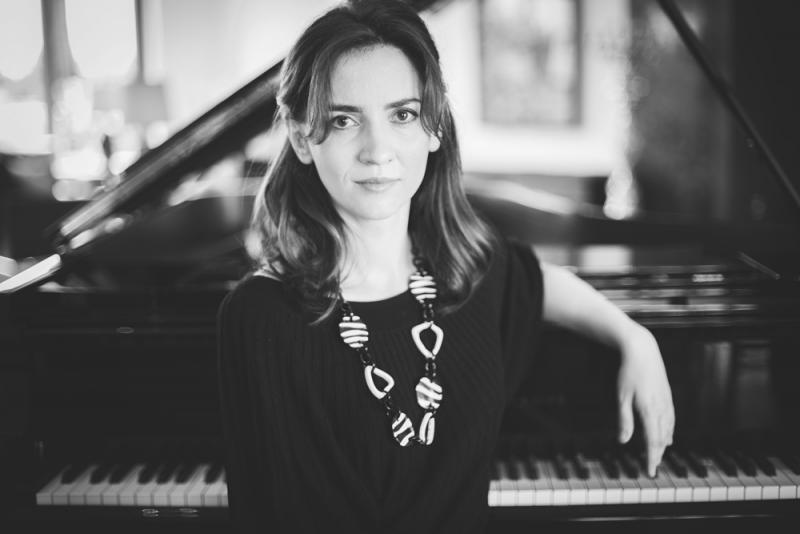 Gavrić: powerful articulation
Power and intelligence combined make Sarajevo-born British pianist Ivana Gavrić stand out from the crowd. Bass lines are clear and strong; right-hand melodies move in keenly articulated song.
The first half of her recital progressed with well-earthed, dancing energy to a strong clincher in
Chopin
's B flat minor Scherzo. What a pity, then, that the transcendence we hoped for didn't emerge in
Schumann
's
Kreisleriana
.
It may well be that Schumann's eight pieces, strongly connected here, reveal both the troubled, manic side of the composer's personality and a poised inwardness. But they do, after all, take their name from ETA Hoffmann's fantastical Kapellmeister, and that supernatural dimension simply didn't register. Though she can punctuate well, Gavrić is just a little short of space in welters like the restless opening number. There was, at least, a rapid adjustment to its more introspective central sequence, but the poetry implied by Schumann's "very intimate" in the loveliest of the group, No. 2, didn't have enough room to emerge. As for the rest, it would be hard to fault what Gavric chose to reveal in clear textures, and the lower-register musings were handsome indeed; but the double-portraits remained prosaic.
The same could be said of the Chopin scherzo – articulate but never quite demonic, the pace just a fraction too hectic. A pity because the path to it was intriguingly programmed. Gavrić went for meat rather than prettiness in Haydn's F major Sonata HXVI:23, rounding off sections very stylishly and underlining the sudden chromatic quirks in the first movement's development. Grieg's late arrangements of Norwegian folk dances were decidedly open-air, evoking the sound of the Hardanger fiddle, and over in a flash, which may have been the point. (Pictured above: Halfdan Egidius's Play and Dance of 1896. Gavrić's second choice of encore was a folk melody about the dancing maidens of Kivledal, turned to stone for luring a congregation away from God)
One or two more would have been welcome; and perhaps Gavric could have gone straight on to the first of Chopin's Op. 24 Mazurkas, also redolent of al fresco fiddling and likewise based on traditional music (the Mazurka encore made an even more surprising connection with Grieg). Here a determined straightforwardness paid off, setting the strangeness of the fourth Mazurka, in the same key as the ensuing Scherzo, all the more into bold relief. If I personally prefer the greater refinement of young Pavel Kolesnikov, whose Chopin Mazurkas are a thing of constant wonder, Gavrić's earthy approach certainly has its own merits. Of rugged dances she is unquestionably a master, and I'd like to hear more in that vein.
Gavrić went for meat rather than prettiness in Haydn
rating
Explore topics
Share this article