Best of 2017: Classical concerts |

reviews, news & interviews
Best of 2017: Classical concerts
Best of 2017: Classical concerts
UK orchestras on top form, while there's a bright future for enterprise elsewhere
Wednesday, 27 December 2017
Soprano Ruby Hughes, composer Kate Whitley and bass-baritone Michael Sumuel with the Multi-Story Youth Choir and Orchestra in the Peckham Prom
But it's vital to observe that another orchestra and chief conductor have been carrying on equally important and sometimes groundbreaking work in the same hall. The two other main London orchestras over at the Southbank, and the rest around the UK, all in excellent hands, have continued to deliver at the highest level. We're currently living in the strongest times, artistically speaking, for classical music across the board – let's hope it can weather the potential storm.
The BBC Symphony Orchestra's Chief Conductor Sakari Oramo is no stranger to this annual column. His Nielsen-plus series in the 2015-16 season consistently stunned, a worthy successor to the Martinů cycle from the orchestra's previous head Jiří Bělohlávek (who enlightened us all with a Dvořák Requiem of growing power shortly before his untimely death at the end of May). Similar treatment for Sibelius around the 100th anniversary of Finnish independence has been at the same peerless level, with only one concert to go on 6 January; the Sibelius Second can't beat the blistering performance I heard from Paavo Järvi and the Estonian Festival Orchestra in Pärnu this summer, remarkable especially for an electric slow movement, but it should be first-class in a different way.
Hard to choose one from the five so far, but in terms of cracking the most mysterious nuts, the instalment giving us a winged interpretation of the mountain-spring Sixth Symphony and austerity to heartbreak in the sparest symphony, the Fourth, offered the Sibelius performances of a lifetime (mine so far, at any rate). The relatively recent work in between delivered the "wow!" factor so rare in contemporary music, with Georgian violinist Lisa Batiashvili proving the most rewarding player a composer (in this case Anders Hillborg in his Second Violin Concerto) could ever hope to write for.
London's Finnish masters came together in a BBC Total Immersion event devoted to the music of Esa-Pekka Salonen, Oramo's counterpart over at the Philharmonia (the two pictured above at the BBCSO concert by Ellis O'Brien) and an equal communicator when he writes as well as conducts music. It's rare for any composer to hold an entire concert convincingly, but both the preparation of Oramo and the BBCSO and the balance of four works – overture, tone-poem with voices, concerto and quirkly cantata-epic – featuring the best possible soloists made sure this one did.
Salonen's own Philharmonia concerts over at the Festival Hall have been more hit and miss, but Gavin Dixon hailed his championship of the recently-unearthed Funeral Song by Stravinsky, which the composer's leading biographer Stephen Walsh has selected as his 2017 concert work of choice for theartsdesk. Vladimir Jurowski continues to get away with programmes of rare audacity; Mahler's Eighth may not be of that ilk, but it's certainly not easy to pull off and Peter Quantrill found that Jurowski hit all targets.
It was hard for the Southbank teams to get a look-in when the Rattle circus finally hit the Barbican (the conductor pictured above at the Proms by Chris Christodoulou). What surprised all of us who attended one concert or more in the "This is Rattle" beanfeast was the new engagement with which the otherwise emotionally unreadable London Symphony Orchestra players threw themselves into big programmes.
The BBCSO players all purport to be in love with Oramo, and whether that's true of the LSO/Rattle partnership, it certainly makes a difference to see sheer pleasure in the playing from them. Bernard Hughes predicts great things ahead from the opening gallimaufry of British music, and the rare, so far unique chance to hear the three Stravinsky ballets performed in a single concert brought constant cause for wonder, though Petrushka brought the most remarkable playing out of the three.
Rattle's Proms performance of Schoenberg's gargantuan Gurrelieder just misses this list by virtue of a certain uneasiness in pacing – he's less good in late romantic scores – but Mark Elder's championship of the same work with the combined forces of his own Halle Orchestra and the BBC Philharmonic impressed our man in Manchester, Robert Beale. Lichfield-based Richard Bratby has been keeping amazed eyes and ears on the progress of Mirga Gražinytė-Tyla in Birmingham (Mirga pictured above at the Proms by Chris Christodoulou); I heard her live for the first time at the Proms, in a perfect programme including Leila Josefowicz in a live-wire Stravinsky Violin Concerto, Allan Clayton in the UK premiere of Gerald Barry's funny but ultimately also moving Canada, and a Beethoven Fifth in which Mirga communicated her novel ideas brilliantly (though one reader didn't agree with me). That's Richard's choice, as well as one of mine.
This year's Proms season was the best I can remember for both varied planning and stunning execution. It seemed unlikely that there could be perfection equal to 88-year-old Bernard Haitink's Prom with the Chamber Orchestra of Europe and Isabelle Faust (the two pictured below by Chris Christodoulou) making me think again about the value of Mozart's ubiquitous Third Violin Concerto; but along came Mark Wigglesworth transforming the BBC Philharmonic in a journey which moved from a novel partnership with Stephen Hough in Brahms's First Piano Concerto to the light fantastic of David Sawer's The Greatest Happiness Principle and the deftest touch of all in a miraculous Haydn Symphony No 99.
Another stunning sequence came in Jakub Hrůša's Czech odyssey around variations on a Hussite chorale, including Martinů's shatteringly moving Field Mass, on an afternoon and evening of extraordinary Proms riches – only excelled lengthwise by the superb Reformation Day. The Czechfest was preceded by Christopher Stark's Multi-Story Orchestra playing in a wonderful venue (with some of the best views in London from its rooftop, complete with art and refreshment), the converted Peckham Multi-Storey Car Park. An educational project at the highest level, co-founder of the MSO Kate Whitley's I am I say for 100 local schoolchildren and the orchestra succeeded in all its aims, while John Adams' demanding three-movement symphonic masterpiece Harmonielehre held a truly diverse audience. The future is bright with groups like these.
As it is with my young performer of the year, guitarist Sean Shibe (pictured below by Colin Hattersley). His softLOUD project, some of which I heard in his joint concert with clarinettist Julian Bliss at Anstruther Halls as part of the always superlative East Neuk Festival before officially launching at the Edinburgh Fringe, took acquaintance with the finest advocate of the instrument I've ever heard one stage further. Yes, there was still the subtlety of his multi-hued soft playing, drawing a spellbound audience in as it had at the Wigmore Hall and the Southrepps Festival; but the LOUD was something new, including an unforgettable arrangement of Julia Wolfe's LAD, transcribed from the original forces of nine bagpipers as music for nine electric guitars (Shibe in person and eight recorded selves).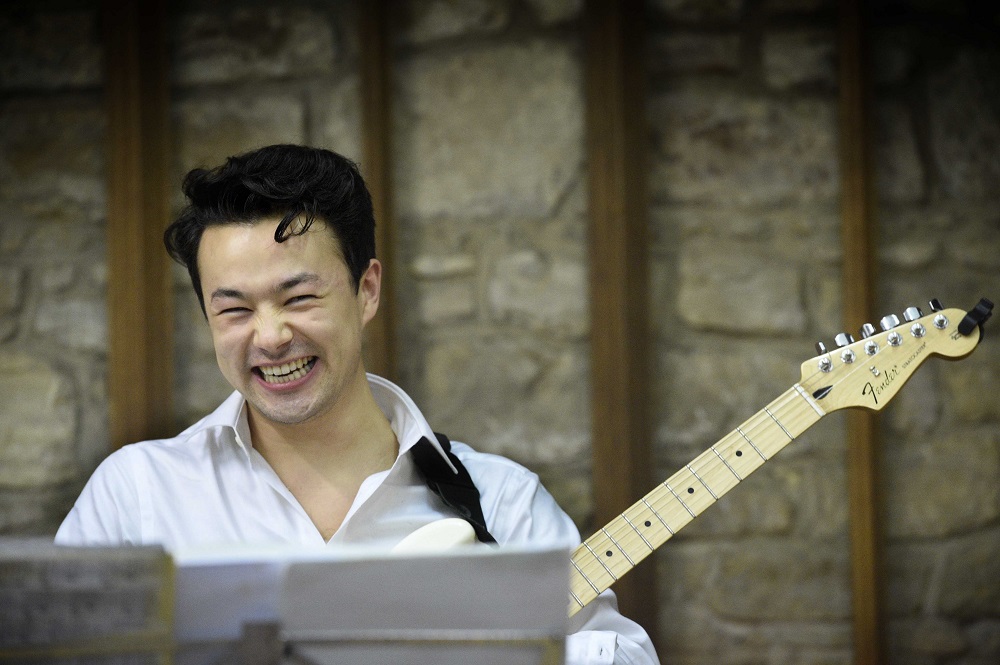 Festival music-making in Scotland remains exceptional; in addition to East Neuk, where the peerless Elizabeth Leonskaja was the long-term guest of honour in Schubert, there's also the Lammermuir Festival, James MacMillan's quickly successful Cumnock Tryst and the annual Tectonics adventure in Glasgow, which Scotland correspondent David Kettle chooses as his event of the year.
Other unforgettable soloists in recital include mezzo Christine Rice (pictured below by Patricia Taylor), kicking off the year in unsurpassably expressive song and opera (Poulenc's La voix humaine, but in the piano version, so it has a place here) with Julius Drake at the Middle Temple Hall: what a privilege it was to be so close to the drama she and Drake conveyed so vividly. That's also the cue to praise, yet again, Rice's soprano equal in creating special magic, Lucy Crowe, in Mozart arias and the special work she owns, Mozart's Exsultate, Jubilate, with the English Concert, the cold environment of Milton Court in this case flooded with brilliance and warmth. At the other end of 2017 to Rice's winter heat, Gavin Dixon was impressed with tenor Mark Padmore teaming up with Mitsuko Uchida at the Wigmore Hall for an exceptional Schubert Winterreise.
Among piano recitals, Boyd Tonkin enjoyed almost two hours in heaven with Andras Schiff playing Book One of the Well-Tempered Clavier at a late-night Prom. There was impressive work from young Pavel Kolesnikov in Chopin Mazurkas at a lunchtime Prom and Roman Rabinovich. The latter's Wigmore programme was preceded by a concert of some of the same works on three of the Cobbe Collection pianos at Hatchlands, Surrey – Haydn on what seems certain to be the piano the composer took back to Vienna from London, Rachmaninov on a 19th century Steinway (in this case the Wigmore contemporary model surpassed it) and, best of all, Chopin Ballades on the composer's best-loved Pleyel, pure magic.
Another young talent is Iranian-Austrian cellist Kiam Soltani, whose characterisation of Strauss's Don Quixote was quite the most vivid I've heard live, though Barenboim and the West-Eastern Divan Orchestra offered more of a mixed bag. Blazing authority among young conductors is Santtu-Matias Rouvali, whom I first heard in his first season as the Gothenburg Symphony Orchestra's Principal Conductor in a Sibelius Kullervo of theatrical vividness (he also drew an instant standing ovation back here, as one of the Philharmonia's Principal Guest Conductors, in an out of the ordinary Musorgsky-Ravel Pictures at an Exhibition).
Over to Stockholm, finally, to let seniority have the last word, in my legendary performance of the year – composer, double-bassist, conductor and chansonnier HK Gruber exercising the last two capacities to the limit in the chamber version of his classic Frankenstein!! at the Royal Stockholm Philharmonic Orchestra's latest annual composer festival. He'll be 75 on 3 January 2018, and theartsdesk will be marking his birthday with an in-depth interview.
This year's Proms season was the best I can remember for both varied planning and stunning execution
Explore topics
Share this article