Last Night of the Proms, BBC review - a feast of unusual morsels in a traditional wrapper |

reviews, news & interviews
Last Night of the Proms, BBC review - a feast of unusual morsels in a traditional wrapper
Last Night of the Proms, BBC review - a feast of unusual morsels in a traditional wrapper
15 composers and more in the latest take on a worldwide phenomenon
Monday, 13 September 2021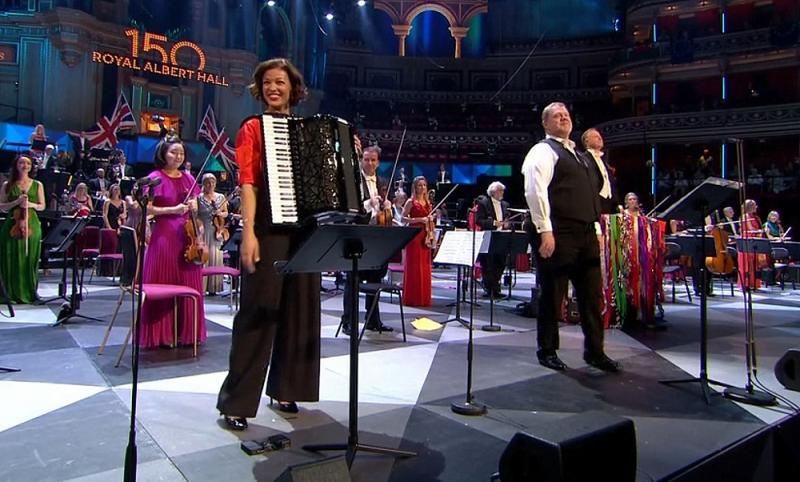 Ksenija Sidorova, Stuart Skelton, Sakari Oramo and members of the BBC Symphony Orchestra in apres-tango mood
In some deep imagined past, watching the Last Night of the Proms on telly was one of those national collective experiences, like watching the Morecambe and Wise Christmas special.
But that was pre-indyref1, pre-
Brexit
, and before it became unfashionable to celebrate our imperialist past with patriotic ditties like
Rule, Britannia!
Covid-19 has taken its toll too: the Albert Hall stage sparsely populated by the BBC Symphony Orchestra under principal conductor Sakari Oramo (pictured below), the chorus and BBC singers dotted at safe intervals around the choir stalls, and no huge "Proms in the Park" gatherings beamed in from the corners of the UK. Our national diversity was confined to three short pre-recorded contributions from choirs in Wales, Northern Ireland and most spectacularly Scotland, where the National Youth Choir of Scotland performed the Island Spring Song in the shadow of the huge kelpie sculptures next to the M9 motorway. A live link to cheerily lit revellers on a patch of Astroturf in Coventry, City of Culture, was as close as we got to the vast crowds of yesteryear.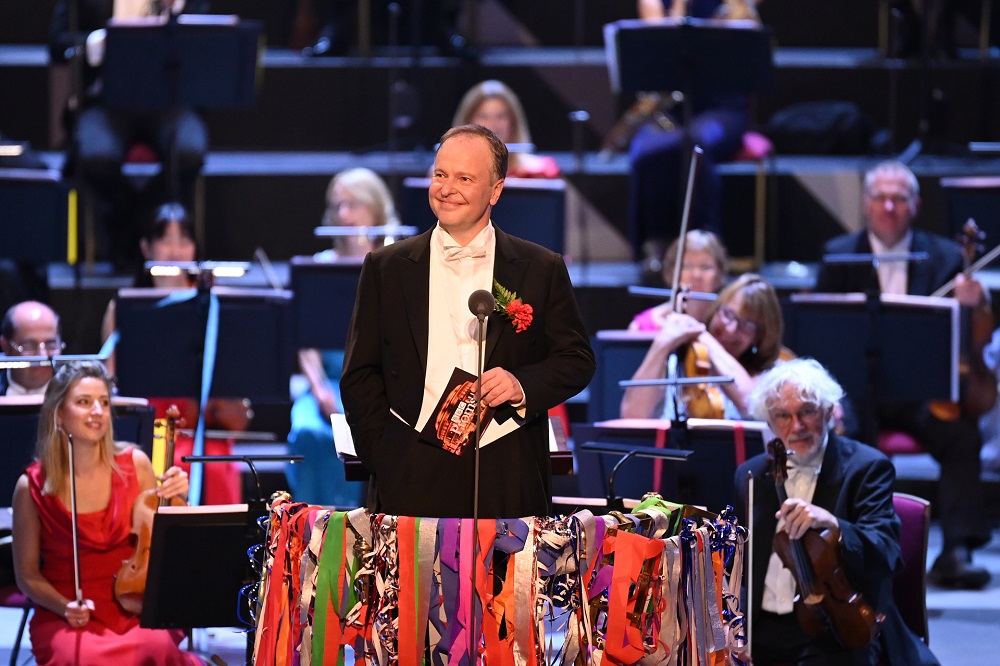 For all that it's slimmed down, the Last Night remains a broadcast phenomenon, disseminated throughout the world, even if Saturday's concert was in effect photobombed by the sudden decision to show the US Open tennis final live on Channel 4, Emma Raducanu taking the stage at about the same time as the Albert Hall was limbering up for "Land of Hope and Glory". Actually, who knows when anything actually happens any more. Digitisation has led to fragmentation, so Radio 3's Prom coverage was well under way and we were immersed in Gity Razaz's mesmeric new commission Mother while BBC Two was still showing a documentary about orangutans, joining the concert after a 15 minute time slip. And it's strange how BBC television controllers remain allergic to showing a full concert as it happens on one channel: the first half, deemed a bit highbrow, is tucked away on BBC Two and you have to jump to BBC One for the rest.
For most people, the Last Night may be all about unchanging traditions, but Saturday's programme included a truly astonishing range of unfamiliar composers and first Proms performances. I counted 15 composers, including several contributions from our old friend Trad., but the body count increases to 28 if you include the arrangers and homages hidden in the titles. Few pieces were longer than about five minutes, the notable exception being Malcolm Arnold's Variations for Orchestra on a Theme of Ruth Gipps, a 15 minute tussle between the sobriety of Gipps' theme and typically playful incursions from Arnold. (PIctured below, a fair few EU tam o'shanters among the Prommers).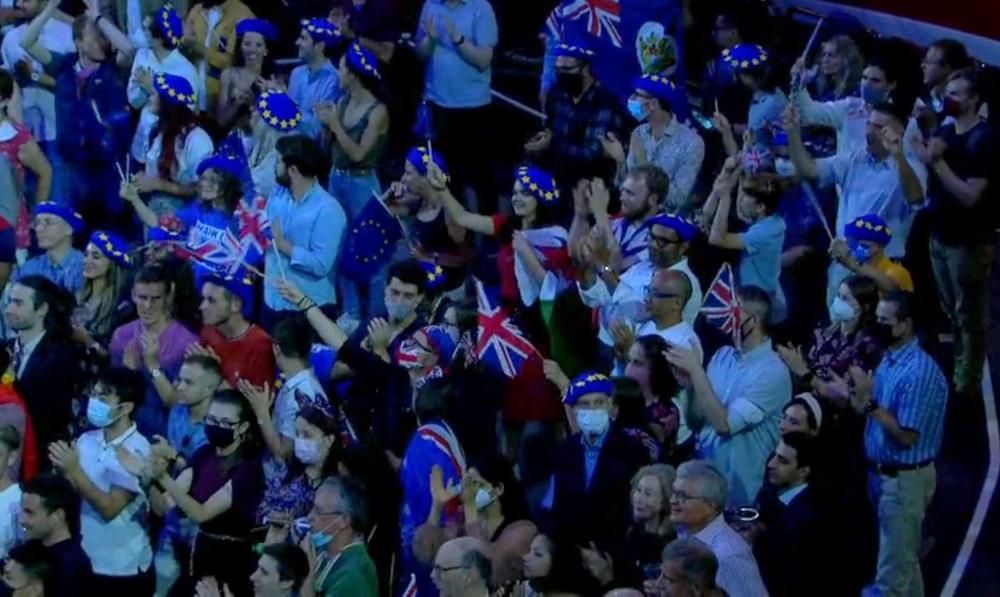 That piece, as you would expect given Gipps' impressive contribution to 20th Century music, repaid the concentration demanded of the audience. By contrast a gorgeous new choral and string version of Barber's Adagio demanded pin-drop silence for a reverential performance 20 years to the day after the attack on the twin towers in New York.
The arrival of Latvian accordionist Ksenija Sidorova flipped the mood from contemplation to celebration. Sidorova was unquestionably the most commanding presence on stage during the evening, perfectly at ease with a huge instrument over whose buttons and keys her fingers flew with blistering rapidity. Over the course of the evening she played several pieces, and if they all sounded a bit like variations on a Piazzolla tango it didn't matter a jot, so playful and instinctive was her relationship with the orchestra and audience. Conductor Sakari Oramo , clearly quite taken with this Latvian vision, just smiled more than ever.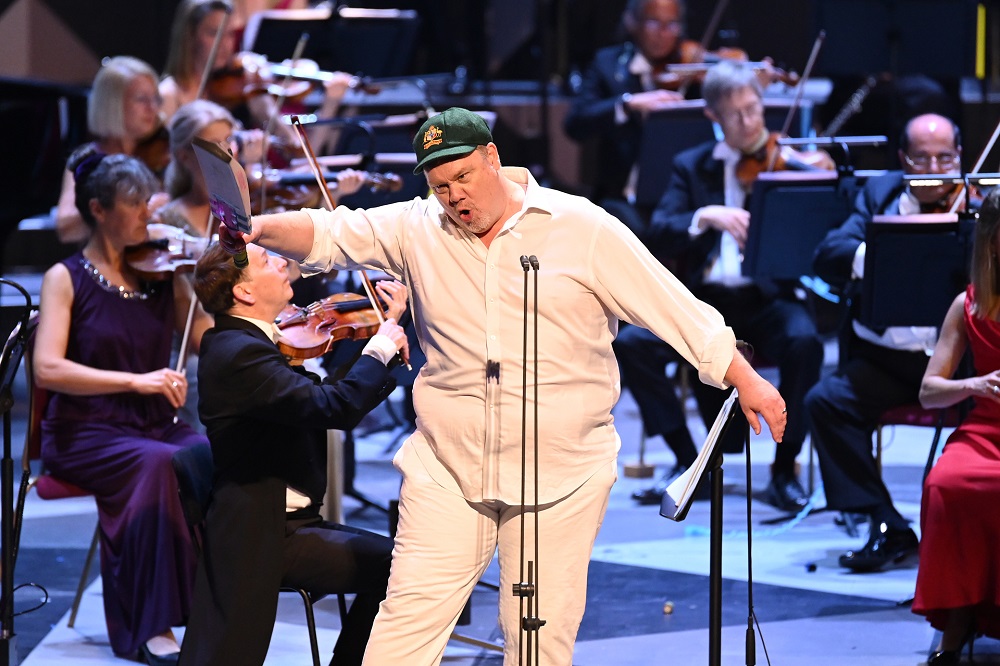 But first prize for sheer volume, not always easy to judge through the microphone, goes to Australian heldentenor Stuart Skelton, a great bear of a man who somehow managed five costume changes during the evening, his last manifestation being in cricketing whites, complete with bar (pictured above) for Rule, Britannia! After a lovely rendition of "Im Treibhaus" from Wagner's Wesendonck-Lieder, he slightly overstretched the voice in the Prize Song from Die Meistersinger von Nürnberg, but recovered fully for a later love duet by Anibal Troilo with Sidorova, and Peter Allen's sentimental ballad "I still call Australia home".
In this feast of miniatures there was still room for an exhilarating "Juba Dance" movement from Florence Price's First Symphony, Brigg Fair arranged for tenor and unaccompanied choir by Percy Grainger, a movement from Ravel's Le tombeau de Couperin, as well as all the traditional high jinks at the end. As the finale of a Proms season that has celebrated diversity like none other, this last Night brought all the ingredients of the past six weeks together in a joyful whole that was entirely fitting.
The arrival of Latvian accordionist Ksenija Sidorova flipped the mood from contemplation to celebration
rating
Explore topics
Share this article