LPO, Adès, RFH review - tempests and infernos |

reviews, news & interviews
LPO, Adès, RFH review - tempests and infernos
LPO, Adès, RFH review - tempests and infernos
Stormy passion abounds in Adès, Sibelius and Tchaikovsky
Thursday, 23 February 2023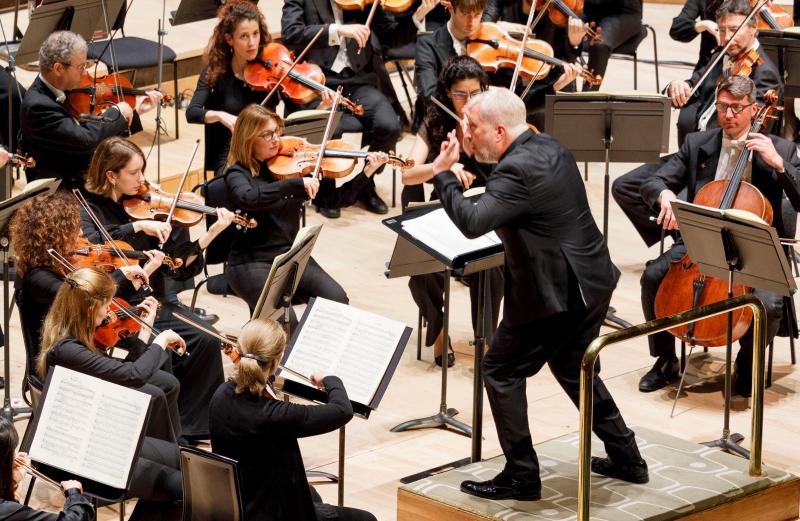 Thomas Adès conducting the London Philharmonic Orchestra at the Royal Festival Hall
I was really looking forward to hearing music from Thomas Adès's ballet The Dante Project again, after being so excited by it at the Royal Ballet last year. By contrast, I was seriously disappointed by his opera of The Tempest in 2003, and hoped to like it better in a new symphonic version.
On both counts I came away from the LPO's Festival Hall concert last night happy, with the bonus of discovering Sibelius's incidental music to The Tempest.
The programme was very nicely put together: the first half pitting Adès's take on The Tempest against Sibelius's, and the second, Adès's take on Dante against Tchaikovsky (in the form of the fantasy Francesca da Rimini). It is to my shame that I admit I hadn't previously heard the Sibelius – he's just not a composer I've ever quite connected with. But The Tempest blew me away (joke intended), right from its extraordinary intense, turbulent overture.
The music swirls and whirls, complex and unsettling, overlapping brass chords pushing insistently. Adès conducted like a sailor on deck in a storm, the roiling music carrying him along. It's nearly 100 years old but sounded as contemporary as anything in the whole evening. I loved it – as I did the rest of the Suite no.1, which is like a taster menu in a fine restaurant: a little bit of everything, but not too much of anything. "Caliban's Song", clearly a template for John Williams's Harry Potter music, was crisply articulated, the "Berceuse" a rapt trance, "Ariel's Song" building ineluctably.
Adès's conducting is never understated – like his music – and there are times when he seems to be directing traffic, but he was actually more restrained in his own Tempest. The opera is let down by a horrible libretto and some unsympathetic vocal writing, but, with both of these elements removed, The Tempest Symphony switches the focus onto Adés's orchestral writing, which is always exquisitely detailed.
His stormy overture is clearly indebted to Sibelius but the love duet between Ferdinand and Miranda is entirely individual, dissolving into a beautiful hymn. The beginning of "The Feast" movement is a contrast in its stratospheric polyphony for harp, piano, piccolos and crotales. Magical, in a different way. The tuba solo (Stuart Beard) above a choir of trombones was another lovely moment and the tranquil ending took us into safe harbour.
A lot of early Adès has a show-offy quality – which is also part of its appeal, for sure – whereby this lavishly gifted composer seemed more intent on impressing than delighting. I heard a softening of the edges in his piano concerto in 2019 and The Dante Project seemed to complete this journey of relaxation, arriving at a less brittle self-confidence.
The music of the Inferno Suite still has its complexities, and its masterful scoring, but it is less esoteric, more direct. There is a polystylism that I love – others may not – which sees quotation (from Liszt and others) and pastiche (it's often hard to tell the difference). The wonderful "Pope's Adagio" even has hints of Michael Nyman in its insistent chord sequence , although scored with a fine brush rather than Nyman's more broad one. There was a lovely cor anglais solo (Peter Facer) and the low brass were great throughout. The icy finish had echoes of Vaughan Williams in Antarctica, and the final bars, from hell's ninth circle, offer no consolation.
The final passage of the Tchaikovsky was also the best bit, although in a different vein: apocalyptic and terrifying, the playing utterly committed. Up till then I had struggled to be engaged, with lots of fire and passion flying around, Adès working hard throughout, but less of the magic of the earlier items.
Adès conducted like a sailor on deck in a storm, the roiling music carrying him along
rating
Explore topics
Share this article