Prom 27: Trusler, BBCNOW, Wigglesworth/Inspire Workshop, Royal Albert Hall |

reviews, news & interviews
Prom 27: Trusler, BBCNOW, Wigglesworth/Inspire Workshop, Royal Albert Hall
Prom 27: Trusler, BBCNOW, Wigglesworth/Inspire Workshop, Royal Albert Hall
Youth and experience take turns in lighting up Elgar, while a violinist dazzles in a lesser work
Supple mastery: Mark Wigglesworth commands Elgar's First Symphony at the Proms
A full day began and ended with Elgar the European, or rather the citizen of the world. After all, the Pomp and Circumstance March No.
1, played with panache by 180 young musicians in a morning meet-up, owes its swagger to the "Cortège de Bacchus" from French
petit-maître
Delibes' ballet
Sylvia
, while the First Symphony can hold its head high alongside very different masterpieces from the early 1900s by Mahler and Sibelius – though it needs a lift and a shape, which it got in excelsis from the consummate Mark Wigglesworth (****).
It's good to be reminded how Elgar lavished orchestral and harmonic piquancy on what has long been a Last Night staple (and how odd, delicious even, it felt to be standing in the arena hearing it over five weeks before its scheduled Proms appearance). Genial conductor Duncan Ward made us hear wonders as he took it apart in the morning's happy workshop: the chromatic descents of the brass, the swirl of harps (four, on this occasion) and glockenspiel at the end. Later, for Ravel's Boléro, a very small boy was persuaded to hit a very large bass drum so vehemently that it tottered.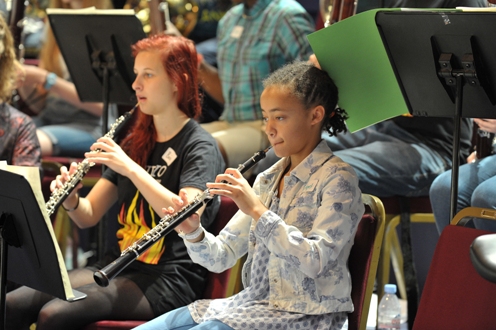 Encouraged to stand up and walk about playing as Ravel finally brings strings and wind together, the musicians (EUYO oboist and younger player pictured left) might have learned a thing or two from the Simon Bolivar Orchestra of Venezuela – probably because mastermind Marshall Marcus, now Chief Executive of the European Union Youth Orchestra, has been promoting the Venezuelan sistema in Europe for years. And after the EUYO's one-in-a-thousand Prom of Berio and Shostakovich the previous night, many of the players were back to give a backbone and a mentoring to young students from nine British youth orchestras. This is the way music for youth is going, and it's wonderful to see and hear it flourish. The younger players, and the other members of the EUYO involved, got a real encore treat, too from violinist Adrian Dima, viola player Sorin Spasinovici and double-bassist Victor Savca in a head-spinning, subtle, semi-improvised potpourri of Romanian tziganery.
With Wigglesworth in charge of a rather good BBC National Orchestra of Wales in the evening, there were guarantees that the Prom after the EUYO triumph would not fall flat by comparison. The only snag, in fact, was choosing a violin concerto by late Welshman William Mathias which has not an ounce of territory to truly call its own or a real reason to exist other than to give the soloist grateful lyrical music to play. The first movement weaves Walton with Prokofiev – not entirely surprising, since it was hearing that great, underrated violinist György Pauk playing Prokofiev that prompted Mathias to write his own concerto for the instrument – after which Mathias virtually cribs Shostakovich's First Violin Concerto in cadenzas and livelier moments (Shostakovich's personal monogram in music, DSCH, rampages around at various pitches).
The work may not have a burning desire to communicate, but Matthew Trusler (pictured right with Wigglesworth) absolutely did. This was a dazzling Proms debut. The violin tone reaches right to the back of the hall where I was sitting; harmonics bite, phrasing lives, intonation never falters, the partnership with the orchestra was razor-sharp throughout. Next time, Walton, Britten or MacMillan, Mr Trusler, please.
Who knew, other than those who have gone abroad to see it, that Wagner's second opera, Das Liebesverbot (The Ban on Love, transposing Shakespeare's Measure for Measure from a nominal Vienna to a sensual Sicily), had such a classical-pops overture? A percussion tattoo kicks off a romp modest by the standards of the Tannhauser orgy to come, but great fun in the French opera-ballet style; Wigglesworth drove an ardent love theme through the thick of it. Already an improvement on the first opera, Die Feen, and a crowd-pleaser which could occasionally supplant the Rienzi Overture in the repertoire.
Yet we were all there, I hope, for the Elgar. Wigglesworth's ardent sensibility brushed the pomp off the great motto theme, making it sound fresh but not rushed, guiding the conflicting angst with absolute certainty of purpose to its final climax and extinction, a shattering, extended apocalypse brilliantly capped by BBCNOW principal trumpet Philippe Schartz. The hurly-burly of the scherzo went at a hell-for-leather pace, with just enough room for the introspective water-music that delays its progress (again, good work from a principal, here flautist Matthew Featherstone). An if I'd missed the real introspection behind earlier pianissimos, and found a certain thickness in the BBCNOW string sound, the Adagio, surely the most tender- heartbreaking in the symphonic repertoire, Mahler included, made up for that.
There could be no better demonstration of Wigglesworth's crystal-clear art than the way he shaped the opening reverie in one supple paragraph. The longer vision puts him right up there with the two other best British conductors we have, the still-learning Robin Ticciati and Jonathan Nott, doing sterling work in Bamberg and so not so familiar to us here (note the ones I don't mention). Once the clarinet had signed off with infinite tenderness on the most inward slow-movement coda in the repertoire, we were off without a break – though rather too much coughing to mark the change – into the conflicted adventure of the finale, again winging its way to a fast, exultant triumph. Birds of a feather, this and Vasily Petrenko's Elgar Two last week – not to all tastes in their impetuousness, but absolutely capturing the divided soul of a truly world-class composer.
This is the way music for youth is going, and it's wonderful to see and hear it flourish
Share this article