Shibe, NYOS, Larsen-Maguire, Usher Hall, Edinburgh - young Scottish musicians storm the heights |

reviews, news & interviews
Shibe, NYOS, Larsen-Maguire, Usher Hall, Edinburgh - young Scottish musicians storm the heights
Shibe, NYOS, Larsen-Maguire, Usher Hall, Edinburgh - young Scottish musicians storm the heights
Transformative account of Mahler's most problematic symphony
Sean Shibe, Catherine Larsen-Maguire and members of the National Youth Orchestra of Scotland in rehearsal
One can only admire the National Youth Orchestra of Scotland for its steadfast indifference to the laws of box office gravity. A little known contemporary guitar concerto allied to a relatively unpopular Mahler symphony would be a hard sell even in an Edinburgh Festival context. On a distinctly chilly April evening in Edinburgh, it fell to a small but vocal audience of camp followers to make up for the disappointing rows of empty seats in the admittedly cavernous Usher Hall.
The evening had a slightly unusual format. At 80 minutes, Mahler's Seventh Symphony is long enough to stand alone (as Donald Runnicles proved not so long ago with a Sunday afternoon performance of the Ninth with the BBC Scottish Symphony Orchestra), but slightly too long to admit a conventional "first half" with an interval, so what we got was the guitar concerto followed by the symphony with only a mini-break while the stage was reset. It may have brought the concert to a close punctually at 9.30pm but it felt like a long time to be seated.
As a critic you could wait all your life for an opportunity to use the word "susurration", and then along comes Lotta Wennäkoski's guitar concerto Susurrus, an onomatopoeic title that aptly describes the susurration noises of an orchestra rasping, rattling, whooshing and scraping their instruments to produce an astonishing variety of sound effects. The percussion section included woodblocks and a Swanee whistle, and at one point the woodwind section brandished a forest of plastic rulers to produce a soft twanging sound.
The soloist was the Scottish-born star guitarist Sean Shibe (pictured above with Catherne Larsen-Maguire and the orchestra in performance) His instrument was hooked up to foot pedals leading to a rack of electronics which produced a strangely disembodied sound that, from my perspective at least, appeared to come not from the centre of the stage but from a large bank of speakers hanging above the double bass section. Even if you acknowledge that a guitar needs amplification to be heard against an orchestra, it has to be done more carefully than this.
But what of the music itself? There was precious little in the solo part to celebrate the guitar's capacity for fragile lyricism: Shibe was asked to scrape, thump and scratch his way through a forest of ancillary noises, with only the briefest hint, towards the end, of an emergent melody. It wasn't really so much a concerto for guitar as for a wooden box with strings. All credit to orchestra and conductor Catherine Larsen-Maguire for holding this strange piece together. Despite the unprepossessing nature of the score, it was clearly a highly complex construction, and the orchestral players acquitted themselves admirably, playing with both confidence and commitment.
After a charmingly elegiac Spanish encore – at last an opportunity to hear the guitar in its proper idiom – it was time to move on to Mahler. The Seventh has been seen as a problem work over the years, but in this performance by NYOS under Larsen-Maguire it was transformed, triumphant and utterly compelling.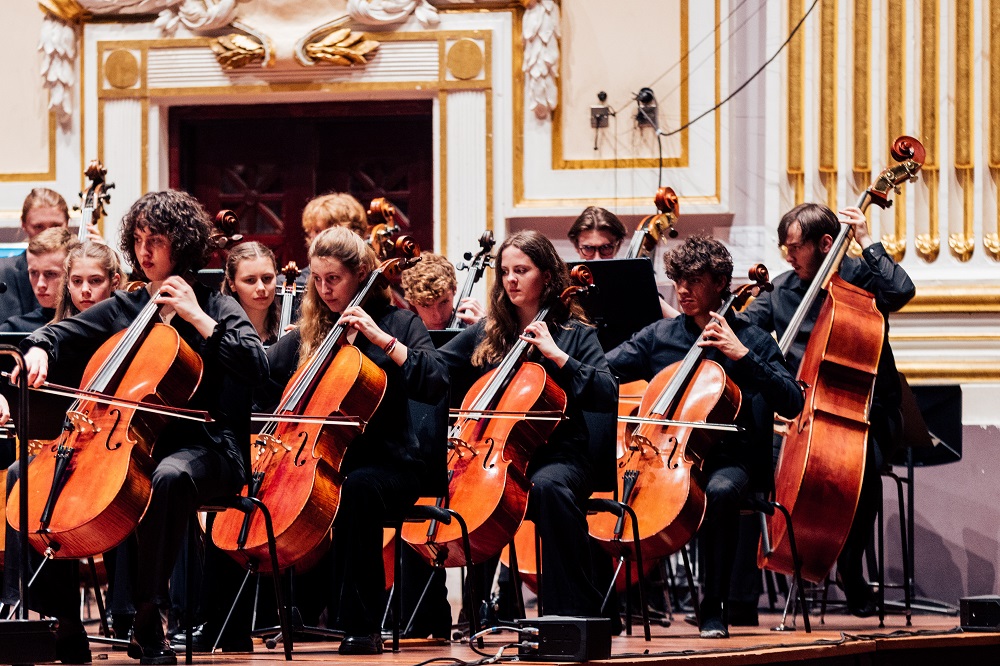 I cannot say what made this such a good performance. It goes without saying now that the players of NYOS are of a very high standard indeed, so the conventional weaknesses of a youth orchestra, such as a hesitant string sound, have been entirely banished. Key orchestral soloists such as the principal horn and trumpet players were very good indeed, but the entire orchestral sound stands up to comparison with all their professional rivals.
It was clearly immaculately and painstakingly rehearsed. With the barest of gestures, Larsen-Maguire controlled a multitude of dynamic contrasts, the music surging, retreating, and rebounding like the gathering power of waves on a stormy coastline. Her control of the overall pulse was probably the single most important ingredient that accounted for a viscerally exciting experience. Just when you thought the interest might be flagging, she would put her foot on the turbocharger and propel us through the moments of unease to the next moment of Mahlerian splendour.
I never thought I would have the themes of the last movement resounding in my head the next morning – it makes me want to hear the symphony all over again. I wonder, though, if I will ever come across another performance as good as this one.
With the barest of gestures, Larsen-Maguire controlled a multitude of dynamic contrasts
rating
Explore topics
Share this article