theartsdesk in Denmark - celebrating Nielsen in high style |

reviews, news & interviews
theartsdesk in Denmark - celebrating Nielsen in high style
theartsdesk in Denmark - celebrating Nielsen in high style
'Nielsen, Nielsen, Nielsen!' presents the greatest of symphonists in the round
Fabio Luisi conducting the Danish National Symphony Orchestra
Eight years ago I was privileged to be in Denmark on the 150th anniversary of Carl Nielsen's birth, experiencing for the first time live his masterly Saul and David. The return visit was too brief and unexpectedly fraught, including a complicated return to Odense to see work in progress for a new Carl Nielsen Museum. Not a success, but redeemed by an impressive concert in a big series from the Danish National Symphony Orchestra and its fine chief conductor Fabio Luisi.
The Odense leg was beset by problems. No trains heading from Copenhagen airport, so a twice-as-long taxi journey, and a return journey that started well until we were turfed off the regular train because of a problem on the line and told to get buses back (they were slow in materializing, so another taxi had to be called). I knew German trains could be as much of a liability as Avanti, but didn't expect it in Denmark. Always a joy, though, to walk through the streets of old Odense, where a bisecting big road has been replaced by a tramline and the district renamed in our great composer's honour (the tourist-magnate Hans Christian Andersen Museum is round the corner from the concert hall).
All was not ready a month or so before the new museum's opening. What we saw were lightbulbs, black curtains, sound equipment and a few models. The concept was to focus on the music, so projections and recordings were going to be paramount as you moved from one zone of Nielsen's composing life to another. I remembered the lovely, light-filled old museum. Had the sculptures of Nielsen's talented wife Anne Marie survived the move? Only a small bronze.
Wasn't it a bit odd to swim against the tide when composer's spouses should be more in the spotlight – and Anne Marie totally deserves to be? She needs a museum of her own, and I hear there are moves afoot to convert her studio near the Royal Palace in Copenhagen into a workshop for young artists. And what about the recreation of their study I'd so enjoyed seeing before? Gone into storage. On the plus side, curator Ida-Maroe Vorre spoke eloquently as before about Nielsen's life and work. I was intrigued to learn that a recording had been specially made of Nielsen's Nearer My God to Thee, a paraphrase on Lowell Mason's hymn tune (Bethany) composed for a benefit concert after the loss of the Titanic in 1912 (though we need it on CD, not kept unique to the museum). Anyway, I wish the new venture every success and hope to see it in finished form on a future visit when a concert calls in Odense (pictured below: the look of the museum, now open, since I saw it)..
Weirdly, the Danish Radio's extensive Nielsen retrospective couldn't be called "Nielsen Festival" because the Odense set-up had already claimed it (and in fact the most recent celebration of that name, featuring distinguished visitors, only offered a few shorter scores alongside bigger works by other composers). So "Nielsen, Nielsen, Nielsen!" it was, and that was a fair description of the concert I was lucky to attend (we got back to Copenhagen in just enough time to eat a bit in the foyer of the Jean Nouvel-designed DR Concert Hall (the auditorium in the interval pictured below), new when I last visited.
The series had launched with the delectable Springtime in Funen, always a great community experience; for me, it was most important to hear again the perfectly-proportioned Hymnus Amoris, so rarely done outside Denmark. It was good to get native adult and children's choirs, fresh from their success the previous evening. As he goes through the times of life and different kinds of love, Nielsen distributes the solo parts generously; the stand-out here was Clara Cecilie Thomsen , who would seem from her appearance as well as tone and expression to be the Complete Soprano.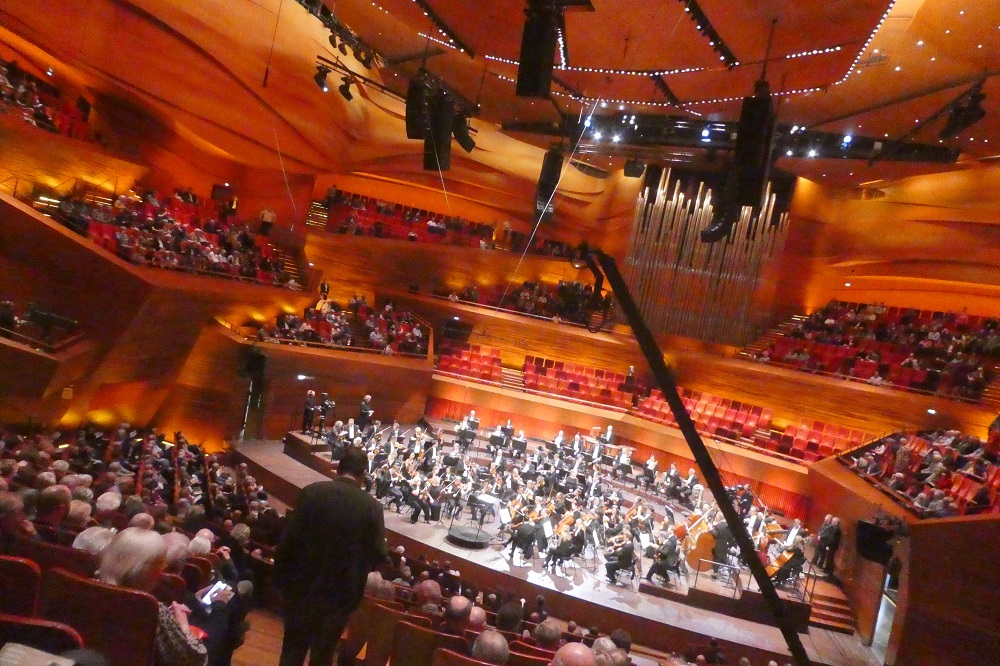 An Imaginary Voyage to the Faroe Islands, one of the composer's last scores and an occasional piece, but done with love and imagination, started with fine horn work and pure atmosphere in the acoustically generous spaces of the handsome auditorium before the fun folk stuff (the same tune Grainger uses in ).
The real gamechanger in the programme, though, was the Second Symphony (subtitled "The Four Temperaments", which all seem to be facets of Nielsen's own mercurial personality). There was a recent question on social media about which Nielsen symphony you'd choose for a newcomer, and I'd say 2 rather than 4 or 5, which are more complex. Luisi (pictured below with the orchestra by Agnete Schlichtkrull) was more solid than some in the choleric and phlegmatic movements, but we were knocked for six by the monumental tragic tone of the Danish strings in the melancholy giant of the third movement – Berlin Phil-worthy. I look forward to exploring his singular take on all six symphonies in the recently-issued Deutsche Grammophon CD set. All the Copenhagen concerts were broadcast, and the films will emerge on DG Stage and and several European TV channels.in the autumn.
Since everything before the concert had been a frantic rush, it was after the event that we had time to experience the Nielsen multi-media experiences in the generous and colourfully lit foyer spaces of the vast DR building. Sitting among chairs and music stands, donning 3D glasses, you were suddenly among the young players of the Absalon Quartet playing part of Nielsen's First String Quartet. Another display with a second, more elaborate virtual reality film from Ane Skak of Immersive Stories took you on a whistlestop tour of the composer's life. with compelling actor Lotte Andersen playing both Carl and Anne Marie. Stunningly designed, it's the sort of thing that could do much to vindicate the new presentation in Odense's revamp. But I'm always going to miss the old museum.
We were knocked for six by the monumental tragic tone of the Danish strings in the melancholy giant of the third movement – Berlin Phil-worthy
Explore topics
Share this article