theartsdesk in Dresden: Fire and Ice |

reviews, news & interviews
theartsdesk in Dresden: Fire and Ice
theartsdesk in Dresden: Fire and Ice
The restored German honeypot looks beyond its musical borders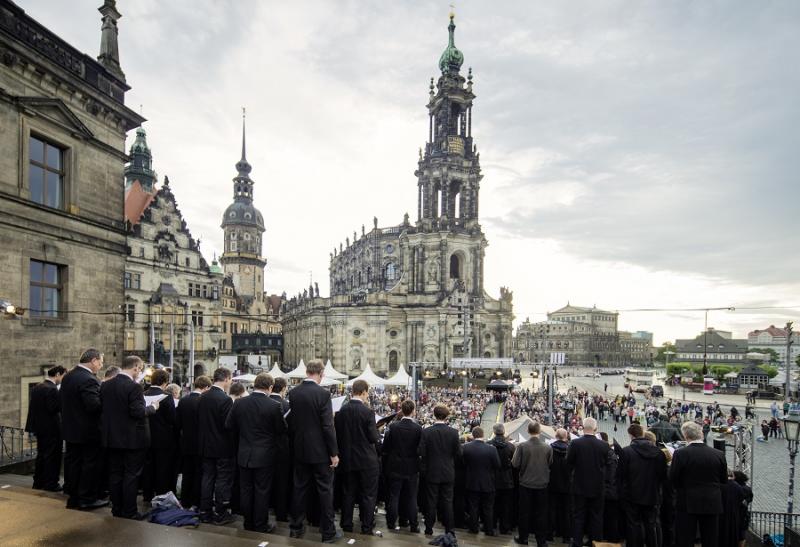 Street entertainments: musicians perform in Dresden
Dresden is slowly opening up to the world. All but destroyed by British bombing in the Second World War, locked away inside Communist East Germany for 40 years, it is now becoming a tourist honeypot. On a warm day in May, you can see the snap-happy groups of Japanese and Germans trailing behind their guides, marvelling at the imposing Baroque buildings in the Old Town. You see them queuing patiently for the extraordinary museums and poring over the the restaurant menus in the city's huge squares. One of the local specialities is potato soup, but then nothing's perfect.
There are buskers on every corner, of an extraordinarily high standard, as well as horse-drawn carriages, bicycle rickshaws and that most recent of tourist phenomena, caravans of Segways.
Part of this blossoming is the Dresden Music Festival, which started in mid-May and runs until 7 June, presenting 47 events at 25 different venues all over the city. Visiting orchestras include the Philadelphia Orchestra and the Academy of Santa Cecilia under Antonio Pappano, and the closing concert is by the Portuguese fado singer Mariza (pictured below © Archiv Kunstler)
Dresden, of course, already has an outstanding musical tradition. It is home to two orchestras, the Dresden Philharmonic and the Staatskapelle Dresden, whose chief conductor, Christian Thielemann, has been tipped to take over from Simon Rattle at the Berlin Philharmonic. Wagner was court conductor in Dresden until he had to flee following the uprising of 1849, and many of Strauss's operas were premiered there. JS Bach desperately wanted a job at the Saxon court, but failed to get it.
The Musikfestspiele is trying to reach out beyond that high-culture tradition. The first-night gala was hosted in an industrial exhibition hall, holding an audience of 2,000, on a vast fairground space outside the city centre. If you didn't have a car, it was possible to walk there along the grassy banks of the Elbe, where students picnic and canoodle.
It was an evening of popular classics and showstopping arias, but the highlight of the evening came from the Chicago street dancer Lil Buck, who bounced on stage to be interviewed by the festival director, cellist Jan Vogler, and immediately pointed at Vogler's winklepickers, beaming "I like your shoes!" He went on to perform an extraordinarily expressive dance to Saint-Saëns' The Swan, accompanied by Vogler on cello.
To be honest, the concert was more successful as a civic occasion than as an artistic one. The amplification was harsh, and the concluding ballet, performed to music from Carmen by over 100 local schoolchildren, can only have been truly enjoyed by their parents.
The following night's concert by the Swedish Radio Orchestra under Daniel Harding at the Semperoper was altogether different. This time the artistic standards were formidably high. The orchestra responded skin-tinglingly to the quicksilver music of Berlioz's Symphonie fantastique, which ended the concert. Before the interval, violinist Nicolaj Znaider, towering over the boyishly slim Harding (both pictured below), swept through the virtuoso passages of Sibelius's Violin Concerto as if he hadn't noticed how difficult they were.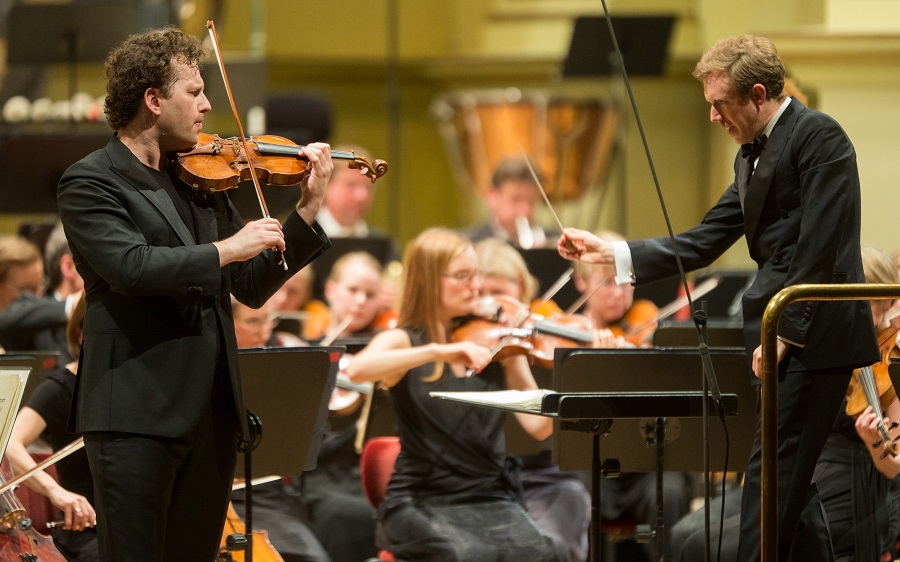 The concert illustrated the theme of this year's festival, "Fire and Ice". Orchestras from Sweden and Finland represent rugged Nordic coolness, while music by Italian, Argentine and French composers suggest Southern warmth. One surprising result is that the festival features very little music by German or Austrian composers.
Jan Vogler has been building up the festival since 2008, and he has just signed a new contract that runs until 2021. For a man with so much on his plate, he is surprisingly relaxed. Floppy-haired, youthful-looking and affable, he drags me over to the Semperoper so he can say hello to the Swedish orchestra, who are just about to begin their final rehearsal. Striding across the Theaterplatz, he greets colleagues and supporters while fielding a phone call about a possible replacement for a conductor who has fallen ill, but he still manages to talk eloquently about his hopes for the festival.
"Dresden has its own great tradition which is very appealing, but you have the Staatskapelle and the Philharmonic and that's it. I'm not against it, but I want to supplement that tradition, by bringing artists and top orchestras from all over the world and broadening what we offer. We'd like to offer affordable concerts and, without being too capitalistic about it, to offer people choice."
As well as attracting a wider local audience, he wants to bring foreign visitors in. Already 15 percent of the audiences are from abroad. He has also quintupled sponsorship since he took over and introduced world music by the likes of Mariza and the Lithuanian accordionist Martynas. "You can do that sort of thing so long as you maintain quality," says Vogler. "I'm obsessed with quality."
Dresden is a city steeped in history. The most obvious symbol of that is the magnificent collection of grand public buildings that dominate the centre of the Old Town. Monumental, sprawling and highly decorated, with statues in expressive poses along every rooftop, they include the Royal Palace and the Zwinger complex. The Zwinger houses the Mathematisch-Physikalischer Salon, full of globes, timepieces, navigational instruments and automata, as well as the Old Masters Gallery, which contains the Sistine Madonna by Raphael and two Vermeers.
Most of this dates from the time of Augustus the Strong, Elector of Saxony in the early 18th century and a man so powerful he could break horseshoes with his hands. But as you look at the buildings you notice that some of the stonework is blackened with age while some looks pristine, an effect that is particularly noticeable on the domed Frauenkirche (interior pictured by Sonja Werner), which dominates the Neumarkt in the Old Town. And that's because most of the historical centre is a triumph of restoration, partly using original stone and partly using new.
Dresden's historic buildings had been reduced to rubble by Bomber Command's controversial area bombing in 1945, which unleashed a firestorm that killed 25,000 people. The Frauenkirche was not finally restored until 2005, when it was reconsecrated with a golden cross surmounting its dome that was officially funded by "the British people and the House of Windsor". Perhaps a certain shame about the bombing explains why you see plenty of Russian and Chinese tourists, but not many British.
After the war, of course, Dresden became part of East Germany under Communist rule. Vladimir Putin was stationed there in his early days as a KGB agent. Today there is little sign of the city's Communist past, apart from an inscription commemorating the fall of the Berlin Wall in the pavement of a shopping street near the train station, where today street vendors sell doughnuts and beer, and performers at the Dixieland Jazz festival (quite separate from the Musikfestspiele) belt out American standards.
But history is still stirring in Dresden. Earlier this year the right-wing anti-Islamist movement Pegida held its biggest demonstrations yet in the city. They were immediately followed by an even bigger counter-demonstration, supported by the local authorities and Angela Merkel. But it was clear that not everyone welcomes change.
Which is why Jan Vogler was particularly pleased to have Lil Buck, a black American, at his opening gala. "You know, it's sort of a response to those demonstrations, but without being heavy-handed about it." It's not much, but it's a step on the road to the opening-up of Dresden.