theartsdesk in Oslo: Vasily Petrenko, the Leningrad Dynamo, comes to town |

reviews, news & interviews
theartsdesk in Oslo: Vasily Petrenko, the Leningrad Dynamo, comes to town
theartsdesk in Oslo: Vasily Petrenko, the Leningrad Dynamo, comes to town
Conductor plans to celebrate the Oslo Philharmonic's centenary with Shostakovich, Scriabin and Strauss
Wednesday, 24 February 2016
World class: Petrenko conducts the Oslo Philharmonic
I've never thought of myself as a Shostakovich fan, tending to regard what I know of his output as bleak and forbidding. Photographs of the stone-faced composer with the mortuary attendant's demeanour haven't helped.
I've never thought of myself as a Shostakovich fan, tending to regard what I know of his output as bleak and forbidding. Photographs of the stone-faced composer with the mortuary attendant's demeanour haven't helped.
All this changed after a night out with the Oslo Philharmonic under the wizardly baton of Vasily Petrenko, who yields to none in his commitment to Shostakovich's work. Their performance of the composer's Fifth Symphony was a revelation (to me, at any rate) in its heart-stopping leaps between minimalist shivers of strings and catastrophic detonations of brass and percussion, its structure rendered translucent by the super-real clarity of the melodic parts and the fastidious delineation of the orchestral sections.
For any city the building of a new concert venue is an investment for the future
But leaving aside the performance itself, perhaps it was Petrenko's talent for bridging the gap between podium and audience that helped to bring home the meaning of the piece. On stage, he makes listeners his co-conspirators with his repertoire of shrugs, nods, discreet hand gestures and perhaps an ironically-raised eyebrow. During an encore of Khachaturian's Lezginka, he joins the percussion section and enthusiastically bashes a tambourine. Off stage, he doesn't mind rolling up his sleeves and joining in. I'd interviewed him earlier in his private room in Oslo's concert hall building, after which he'd dashed straight out into a lounge full of wine-drinking concert-goers to deliver an off-the-cuff talk about how Shostakovich had fallen from favour in Stalinist Russia, and composed the reputation-salvaging Fifth Symphony amidst the crawling darkness of the Stalinist Terror.
Shostakovich "feared the black car in the middle of the night," Petrenko posited. Was the Fifth an expression of regime-placating joy at living in Stalin's obviously ideal society, or a kind of clenched-teeth rictus grin masking an acceptance that he had to find a way to exist there or die? And by the way (the Maestro went on), we should listen out for the way Shostakovich had built the "Habanera" melody from Carmen into the symphony, but had slowed it down until it was almost impossible to recognise. Then he suddenly remembered he had to rush off to change into his formal conductor's outfit. (Pictured by Bo Mathisen, below.)
A long, leggy and boyish-looking 39-year-old, Petrenko seems to spin across the world like a perpetual motion machine. He's been principal conductor of the Royal Liverpool Philharmonic since 2005, when he was the youngest-ever to take the post, and has steadily overhauled its repertoire, boosted attendances and helped to restore its finances (in 2009 he received the supreme accolade of being made an Honorary Scouser). In 2013 he became chief conductor of the Oslo Phil, marking the occasion with a performance of Stravinsky's The Rite of Spring, and he's briskly brushing the Norwegians up into one of the planet's most admired units. He makes guest appearances everywhere from Australia and Russia to Europe and North America.
After he'd scampered urgently into the Oslo concert hall building, running a few minutes late, he began our interview as if merely turning up the volume on an ongoing internal monologue. Looking ahead to his concert with the Oslo band at Saffron Walden's Saffron Hall next month, the conclusion of a six-date British tour featuring works by Grieg, Mahler, Sibelius, Shostakovich,Tchaikovsky and Rachmaninov, he wondered how on earth he was going to get to Stansted afterwards to catch a Ryanair flight to Frankfurt to rehearse with the Radio Symphony Orchestra the following morning. And he sounded slightly rueful as he described how he was too busy to accept an invitation to zip over to Chicago to deputise for an injured Riccardo Muti.
But let's stop the clock and reflect on his ongoing work in Oslo. Though proud of the way the orchestra is performing, Petrenko makes no pretence that any kind of perfection has been reached.
"Everywhere there's room for improvement of course, but I think the orchestra is progressing really quickly," he reports. "After 10 years in Liverpool I know a bit more about the mentality of the West and of the orchestras, and I also know how to improve the sound in the general way, so it's quicker than the same process was taking in Liverpool. As you'll hear tonight, it's already one of the best orchestras in Europe if not the world, just by its sheer quality." (Photo by Peter Adamik, below.)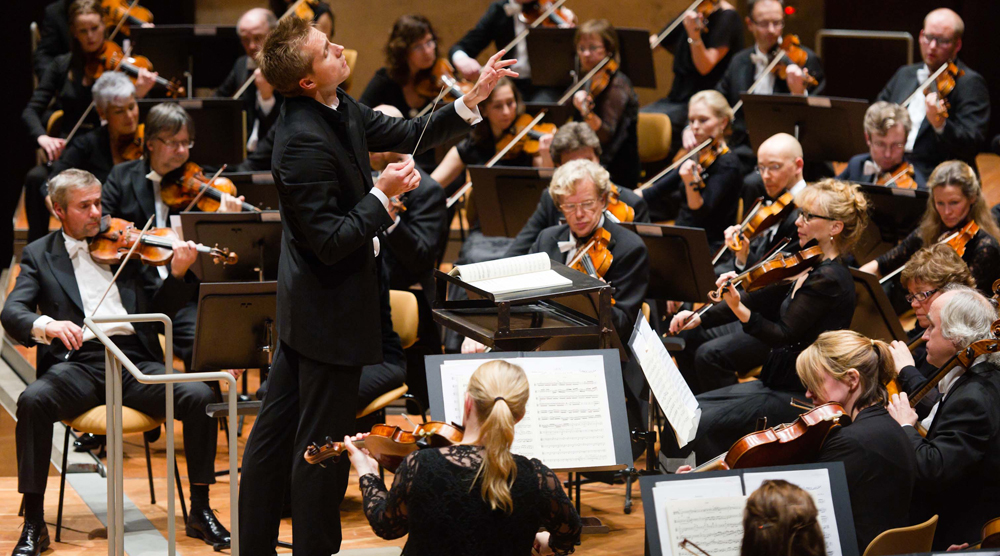 He has detected an interesting contrast between his experiences in the UK and Norway. In Liverpool he has been amazed by the way everyone (including his musicians) pours their off-duty energies into all manner of social activities, from the volunteer enthusiasts who have built a miniature railway near his home in the Wirral to horse-riding, nightclubbing or going to comedy shows. "In Britain in many ways it feels as if people are just trying to avoid getting bored, whereas in Oslo I think people are more focused exactly on what they do. For the rest of the time they might go skiing or fishing, something which isn't social so much as relaxing their mind and being alone."
Just as you might hear echoes of Tchaikovsky or Rimsky-Korsakov in the music of Finland's finest, Sibelius, Petrenko's Russian background has given him a natural affinity for this Scandinavian setting. "I was born at roughly the same latitude in Leningrad, and for me, dark nights... I have a habit for it. And because I have so many people around me in my work, moments of tranquillity and being alone are quite valuable. Of course the orchestra work is a bit different from Liverpool, but I base it on the same principles, that we all love music. Of course people in the orchestra have salaries, but they do it for their love of music first of all. My mission is to help them to fulfill this love and to show it to the audience." (Petrenko wins the 2012 Classical Brit Award for Best Male Artist, below.)
He offers a quick and remarkably candid survey of 30-odd years of the Oslo Phil's history. "It had a little bit of a slowdown I would say after Mariss Jansons [music director 1979-2002]. He had heart problems, and the orchestra was feeling like they slightly lost direction. Then there was André Previn, an amazing musician I think, but he felt he was on his way down from London. Then with Jukka-Pekka Saraste, he was amazing at the beginning and I think he's really a great musician, but putting all the screws in position to build this machine, it's not I think his strength – at least that's what the orchestra says."
Hectically busy as he is, one of Petrenko's defining traits is that he always has a plan. Having implemented a meticulous programme in Liverpool, in Oslo he's now building studiously towards the orchestra's centenary year, 2019. Currently he and the orchestra are in the middle of a project to record all Scriabin's symphonies, plus the composer's deliriously berserk and unfinished Preparation for the Final Mystery, for Norway's Lawo label. He has a plan in the studio too, amazing the players and recording engineers alike by his ability to tailor batches of recording sessions precisely to the time available. The first disc, containing the third and fourth symphonies, bears out Petrenko's contention that there was more to the slightly bonkers Scriabin than a clashing orchestral racket and delusions of his own divinity.
"He was mad, I think," Petrenko ponders, "but he was trying to find a new spiritual way at a time when the ideals of the middle ages and the Enlightenment were starting to disappear. His harmonic world is sort of ultra-Wagner, with also a lot from Richard Strauss and Rimsky-Korsakov in the orchestration. For me the most important thing is that in his music he never compromised. It's easy to play it just wild and loud, but there's more in it, and you need to work really hard with the orchestra to bring it out." (Photo by Bo Mathisen, below.)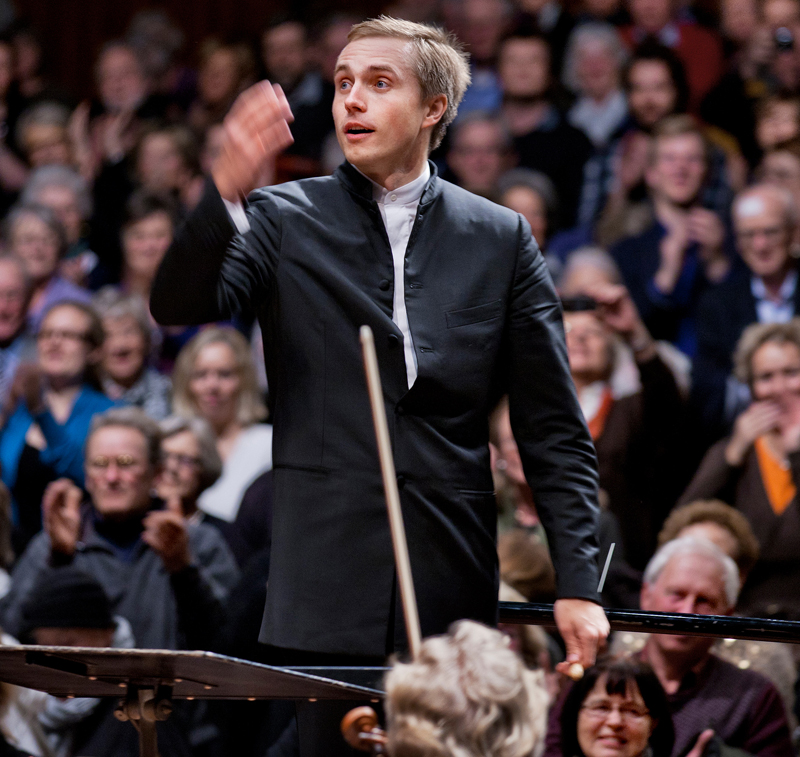 After all that, "from next season the big project will be all the Strauss tone poems, starting from Also Sprach Zarathustra and Ein Heldenleben and then going through the rest of them, the Alpine Symphony, Metamorphosen and so on, so it will take a couple of years. This orchestra was known for its tradition of playing Strauss, so for me this is exploring even further how it can be done, all heading towards the centenary in 2019. We already have plans for the celebration, you have to plan for the long term. When I extended my contract here it was because I could see where it could lead over several years, so there's a whole strategy."
Part of that strategy, the orchestra hopes, will be the building of a resplendent new concert hall on Oslo's dramatically developing waterfront, a partner-piece to the amazing iceberg-like opera house. Funding is already in place, and all it needs is the go-ahead from the city authorities.
"For any city the building of a new concert venue is an investment for the future," Petrenko declares. "I wish the same for London. I think it generates a return in taxes, in employment, and an improvement in the life conditions of the people. You just need to wait a number of years to see the effect." Remember – you always need a plan.
Vasily Petrenko conducts the Oslo Philharmonic at Manchester Bridgewater Hall (7 March), Basingstoke The Anvil (9 March), London Cadogan Hall (10 March), Bristol Colston Hall (11 March), Birmingham Symphony Hall (12 March) and Saffron Walden Saffron Hall (13 March).
My mission is to help the musicians to fulfill their love of music and to show it to the audience
Share this article